After finding my traveling and life partner Lizzy – we set out to show her some of my favorite places on earth, Indonesia and Micronesia. They may be in different oceans and have surf different times of the years but they are epic in their own right.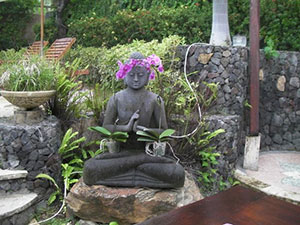 We started off the season in Bali saying at my home away from home the Jepun Bali villa. I have had a room there for about 5 years and the staff is like family to me. My boards and gear has lived in Bali for years now and I just bring down one new board a year to add to the 10 I keep on hand their. My great friend and neighbor bang bang cooked us some fabulous dinners and we got a few surfs in at Kuta reef before heading into gland surf camp.
It was Lizzys first time and she was crazy excited as was I to be on my first surf trip with my girl!! The reality of staying in a surf camp with a woman is way different than with the guys and once she got the hang of the bugs and the monkeys it was epic! The surf at gland is the most consistent place in the world that I have found – it very rarely is less than double over head and with 500 meters of peeks to choose from finding one uncrowded is not that hard.
After two weeks in camp and loads of epic surf the waves got huge. It was the swell of the season and it was all about speed reef. I have to admit that although I did get some great waves it was not a stand out performance on my part. 4x over head and a crew of young rippers made it hard for me to get the best waves (ya I know berky and —- got some of the best ones).
After a morning Surf at speed reef (and getting the shit scared out me) Lizzy, tiger tom, sex shop tony and I headed to 20/20s. It was going off 2x over head and perfect.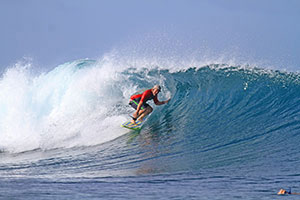 I was riding my 5'10" Gunther Rohn as a 5 fin. I have two of these identical epoxy boards that have been my go to small wave boards for a few years. The surf was great fun and we all took turns with a few of the other guys staying at one of the three camps on the point. We had been out an hour or so when the largest set we had seen came in. As we all paddled out to keep from being caught inside I realized I might have a chance to catch the first largest wave. As I looked toward the shoulder I could see that it was going to break wide and that I had no chance of making it. At that moment I felt that I just wanted to take the drop and that would be worth getting caught inside by the rest of the set. I wiped my board around and did a one paddle take off. Before I made it to my feet I realized that tony was right behind me and under me paddling like mad to make it under the wave. The stiff off shore winds held me up on the lip of the wave and I flicked the board out In front of me to keep from running down my good friend. As I was falling over the falls the wind then blew the board straight back at me and as I landed in the trough of the wave I felt my left arm get impaled by one of the 5 fins.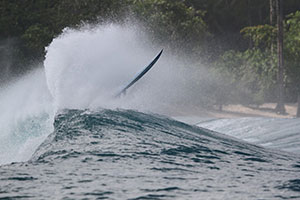 As I came up from under the water I knew that I had been cut and it felt like a bad one. I pushed my arm out of the water and saw blood squirt about 12 inches from the cut on the inside of my forearm. As I called to tony for some help I realized that the next wave was on me. I held my arm and dove under the next few waves until the set stopped at which point I was well inside most of the guys. I looked over and realized that a guy that had been surfing with us – I think from Santa Cruz – was close by so I waved him over. I showed him my arm and asked if I could use his cord to tie it off. I was afraid of using my cord and not being able to hold on to my board. At this point tiger tom had just caught a wave and having seen us floundering around paddled over to give us a hand. The guy from Santa Cruz paddled to the beach to organize transport back to camp and alert an Aussie doctor that we had made friends with staying in the camp. Tom and I tried to paddle straight in through the channel but the current was ripping out and with one arm I just could not make it.
With Tom and Tony's help we did a round back through the line up and let the waves push us straight on to the low tide exposed reef. Lizzy came out with my shoes so that I could make it across the reef. Now that I was out of the water the amount of blood was staggering and I could see the fear in her eyes. Strangely I felt at piece and did not feel the wound was as bad as I had first thought.
About half way back to camp we met the doc coming down the track on the back of a scooter. He took a quick look and confirmed that I had nicked a vein but not cut it. We made it back to camp and after a few beers, a pain pill and some clean up of kimbos clinic the doc sewed me up with nurse Lizzie's help.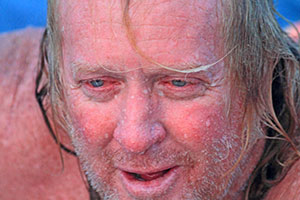 As the surf continued to pump the next day and I was completely out of the water for at least a few weeks / I got the hell out of dodge (gland). Well what to do – stuck in indo with a broken wing and two weeks of time left? Jagjakarta baby!!
Boudabodure, Parompadan and the sultans palace are must sees for any serious Indonesian traveler. The history is incredible – the monuments them selves are unbelievable. We spent a week enjoying the wonderful sights, people and food of Central Java before heading back to Bali and back to Maui.
Gland September 2013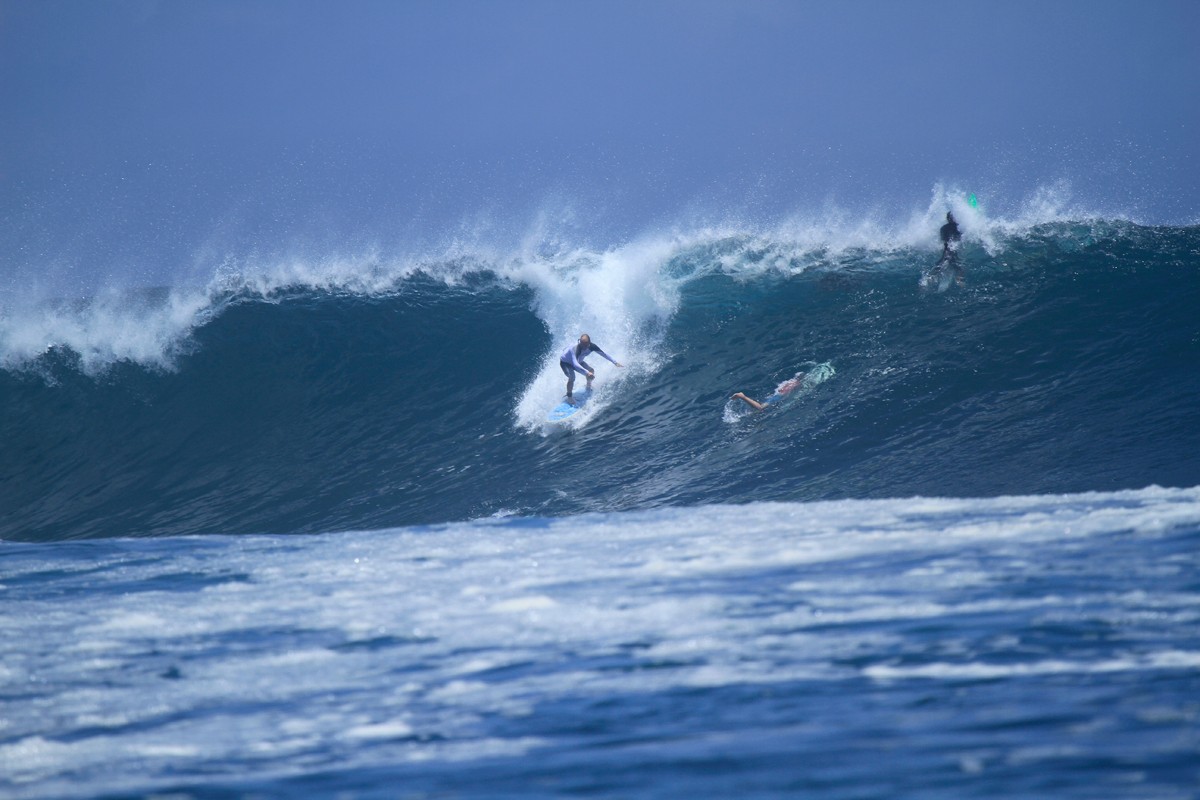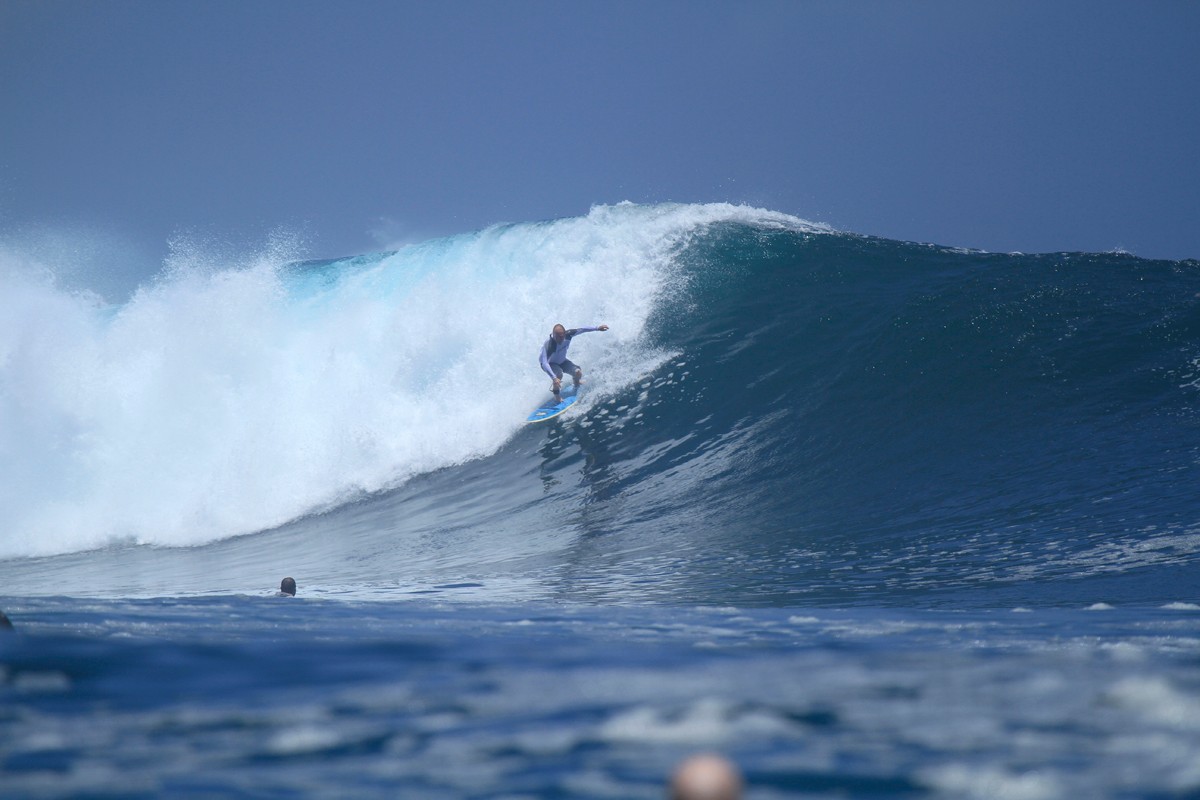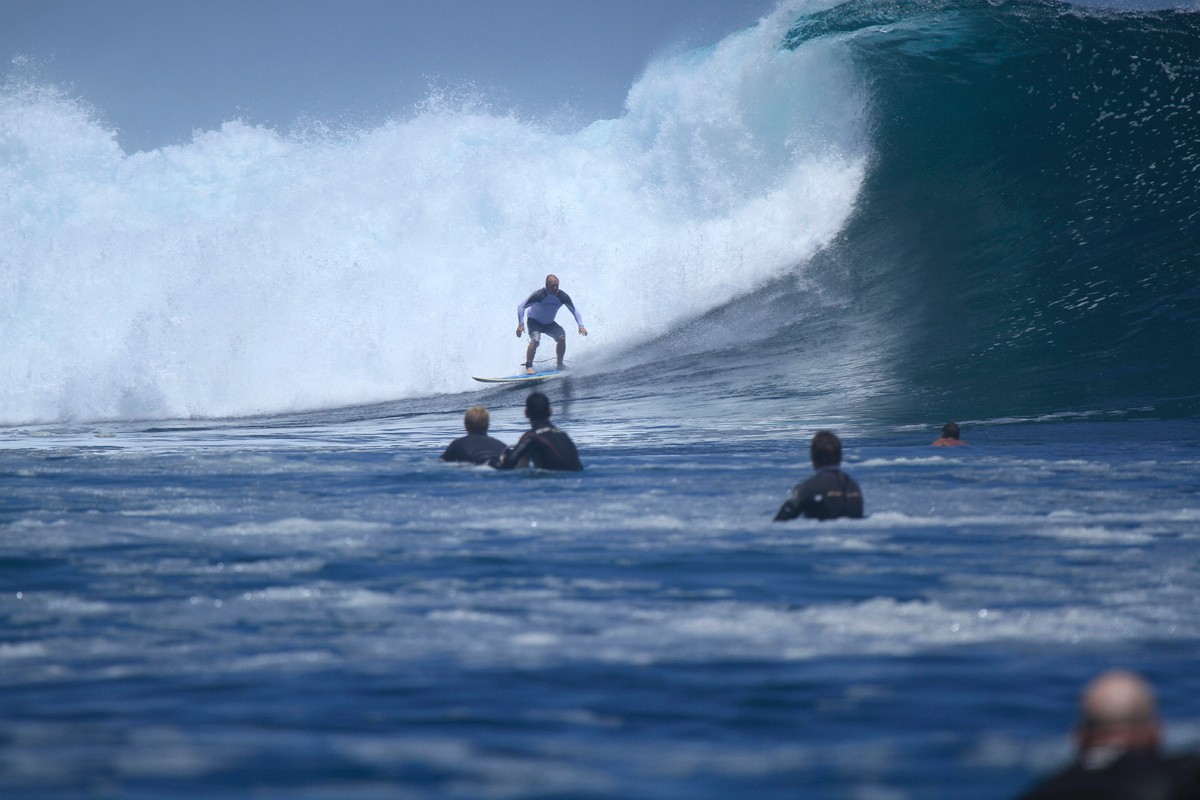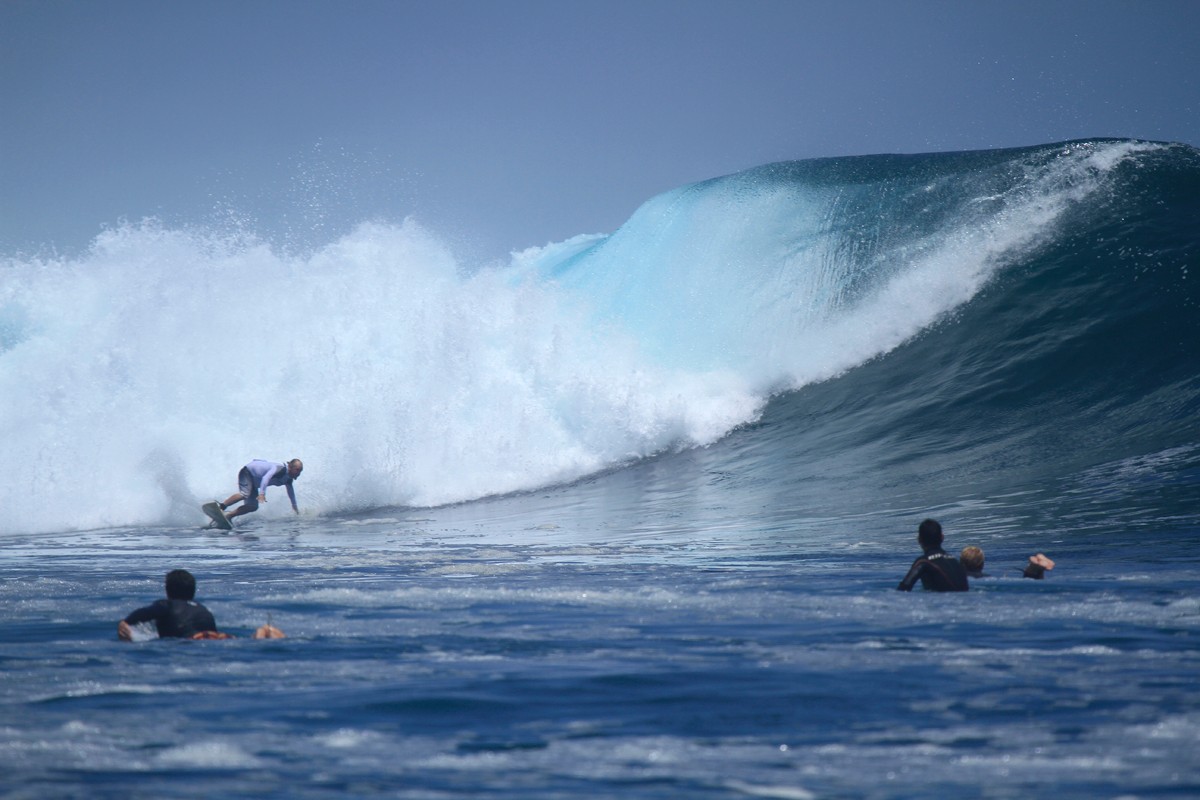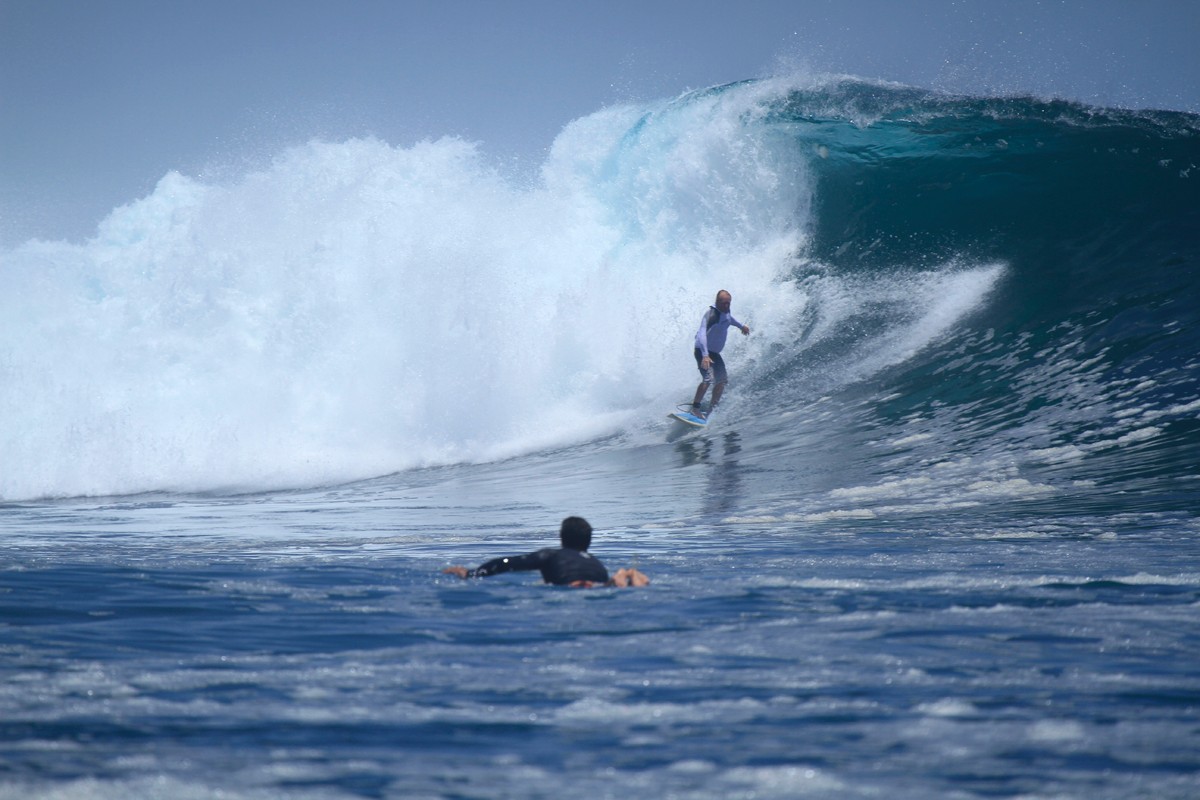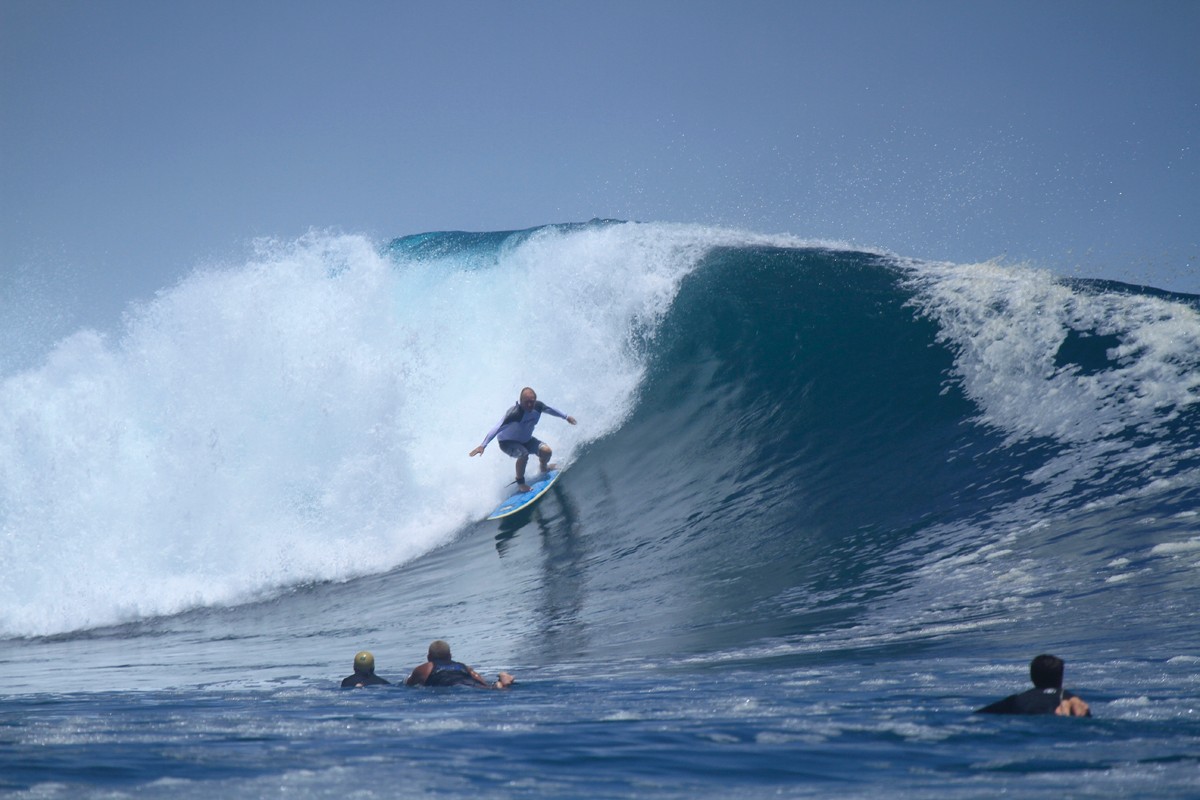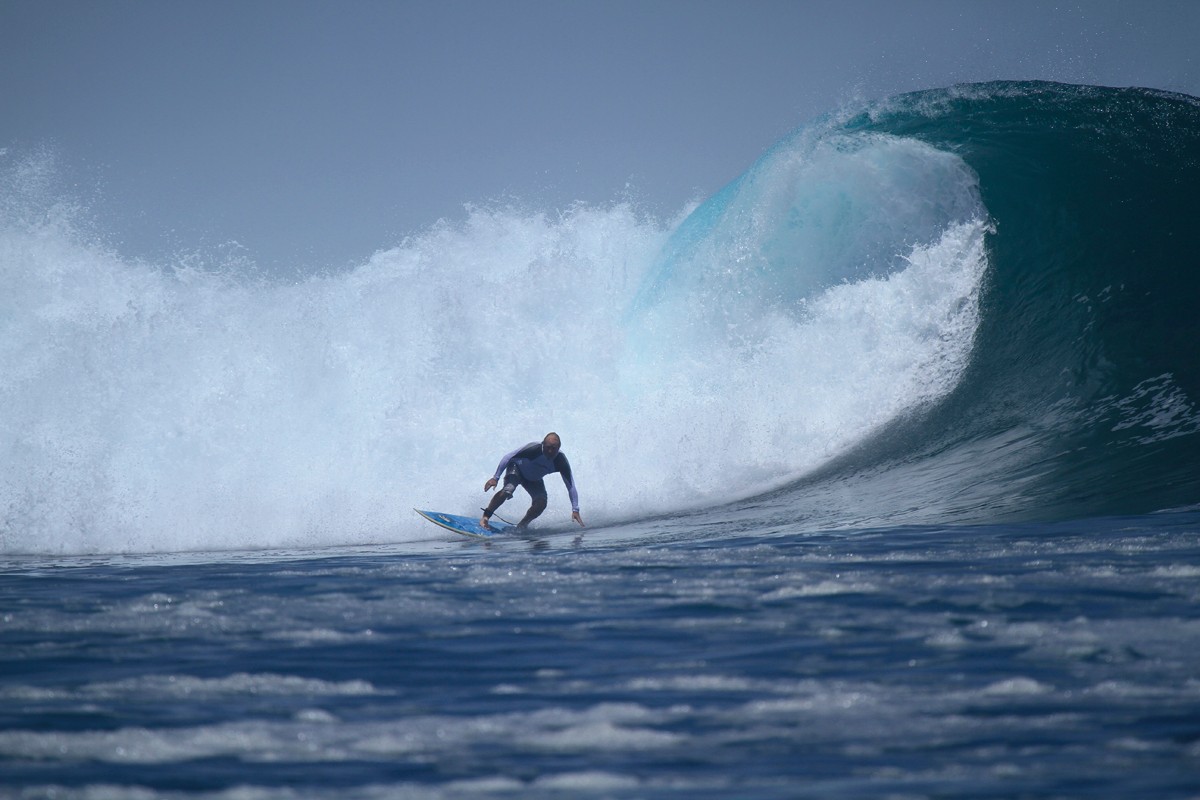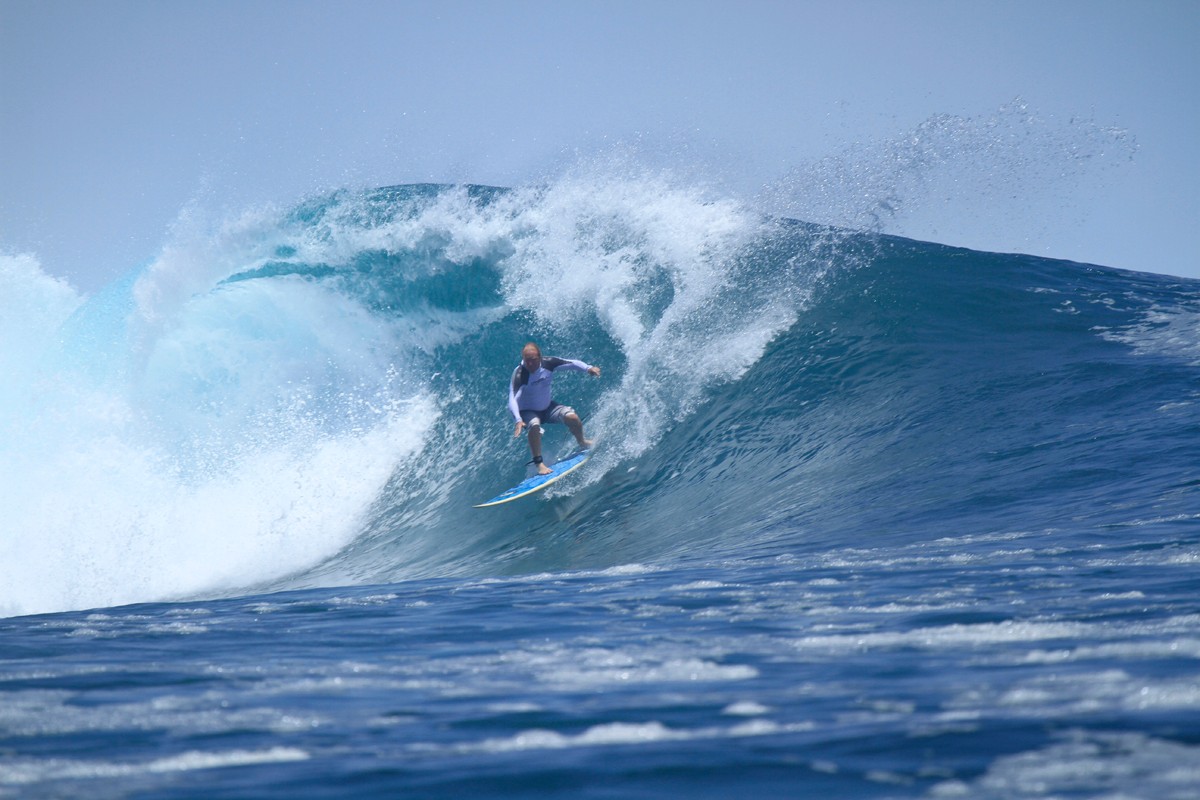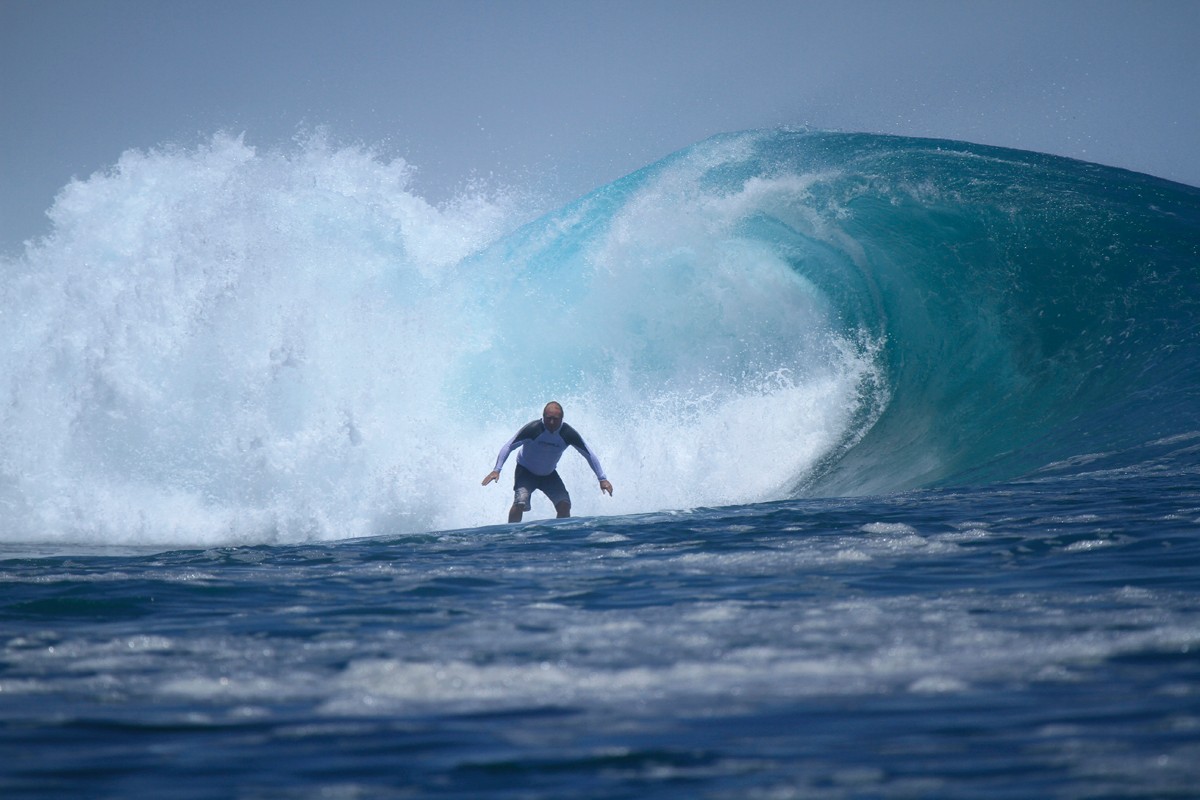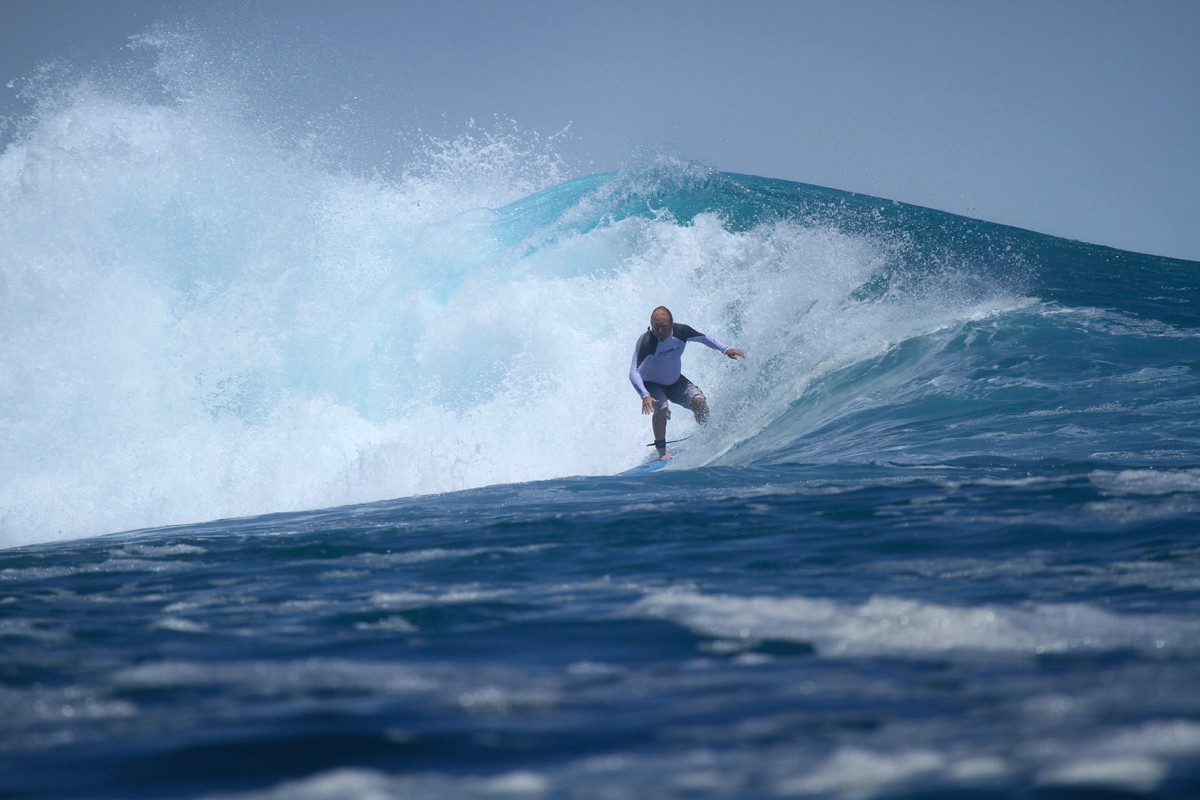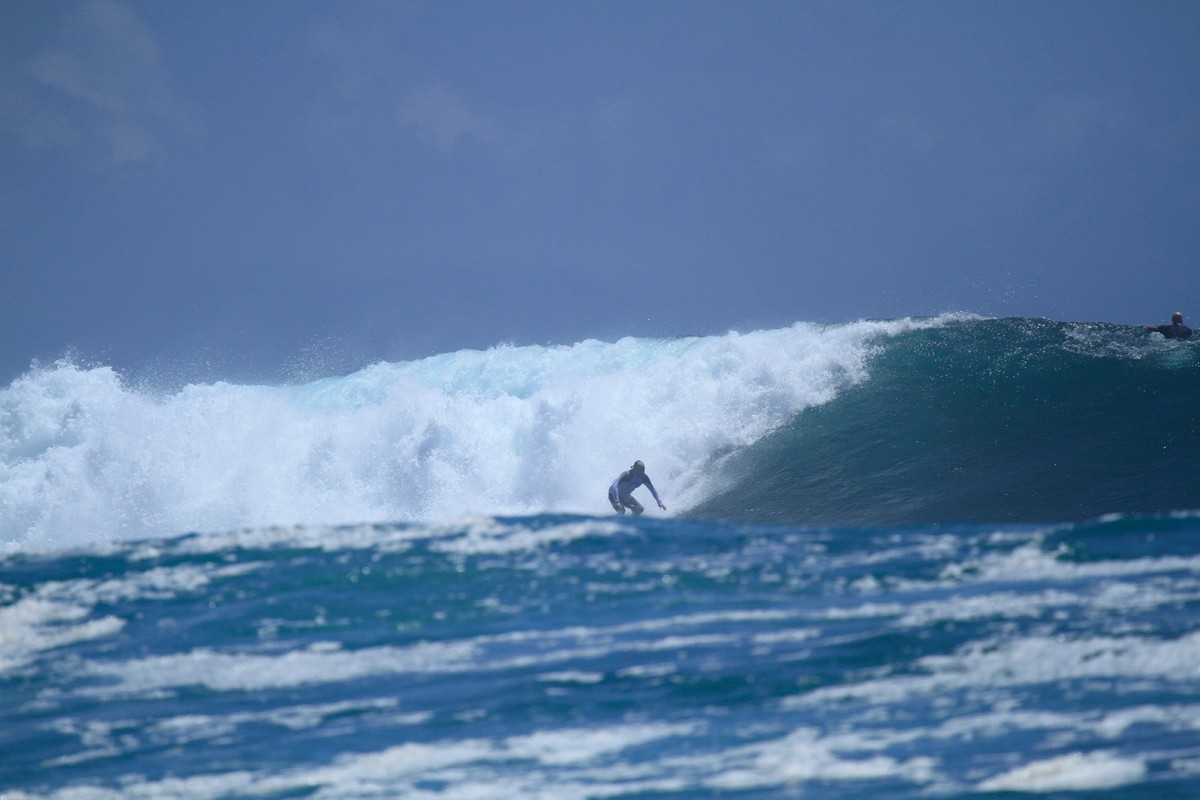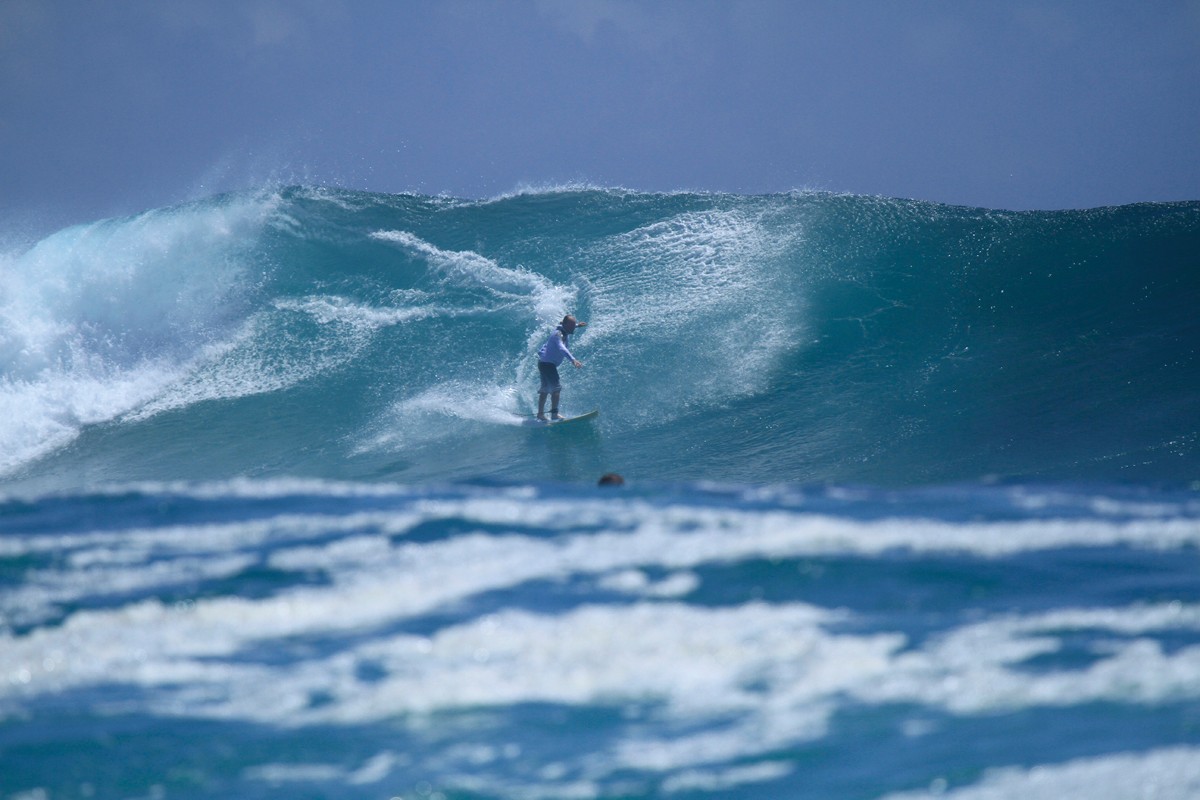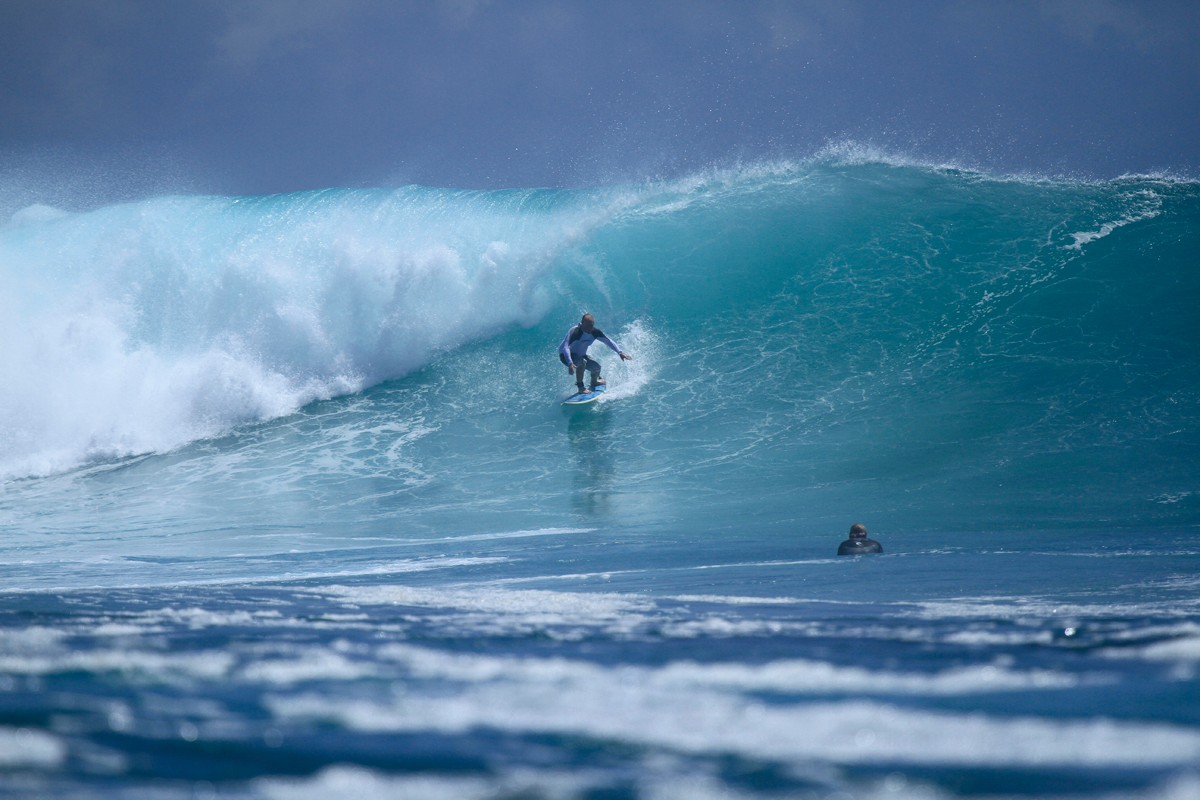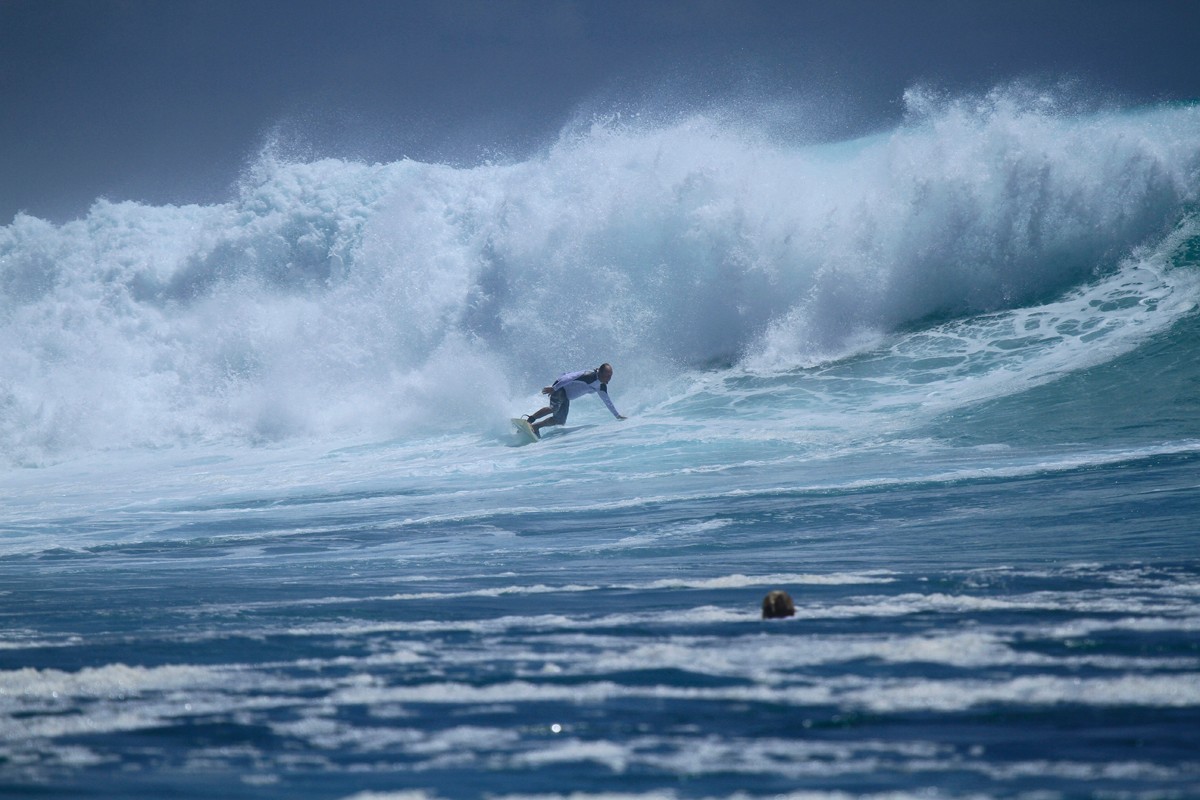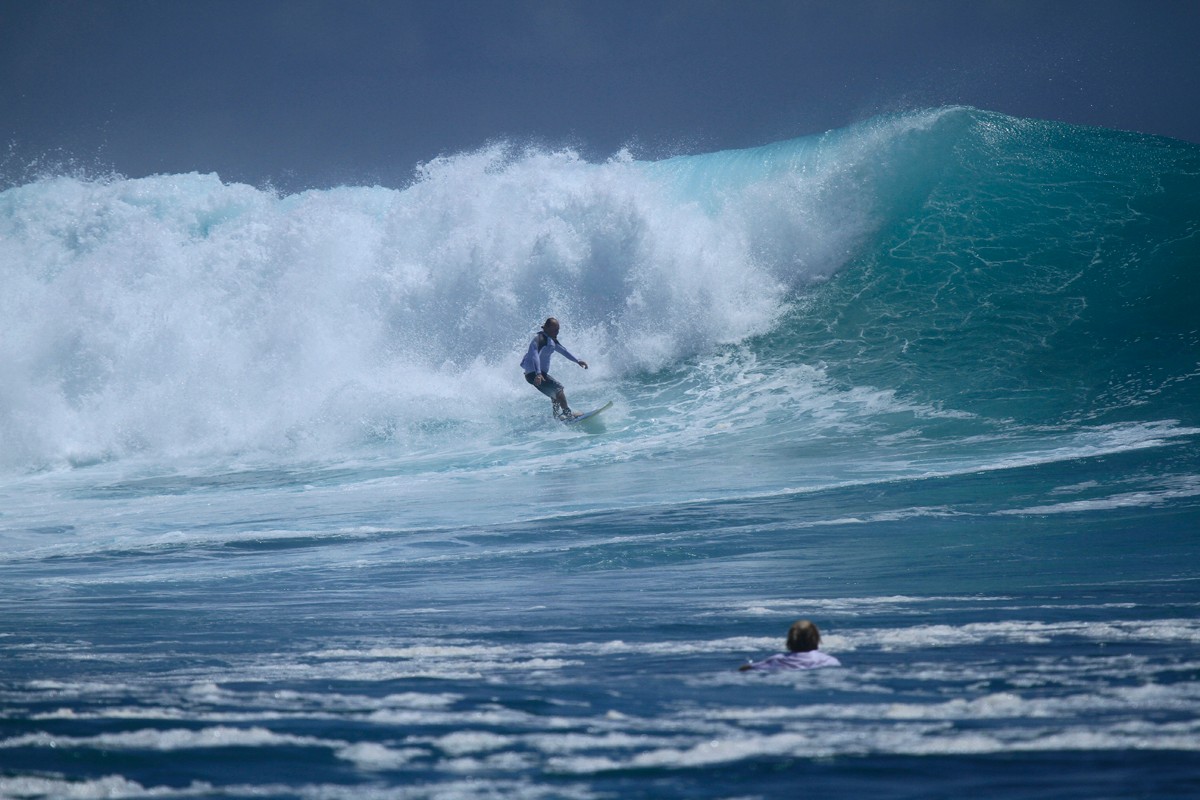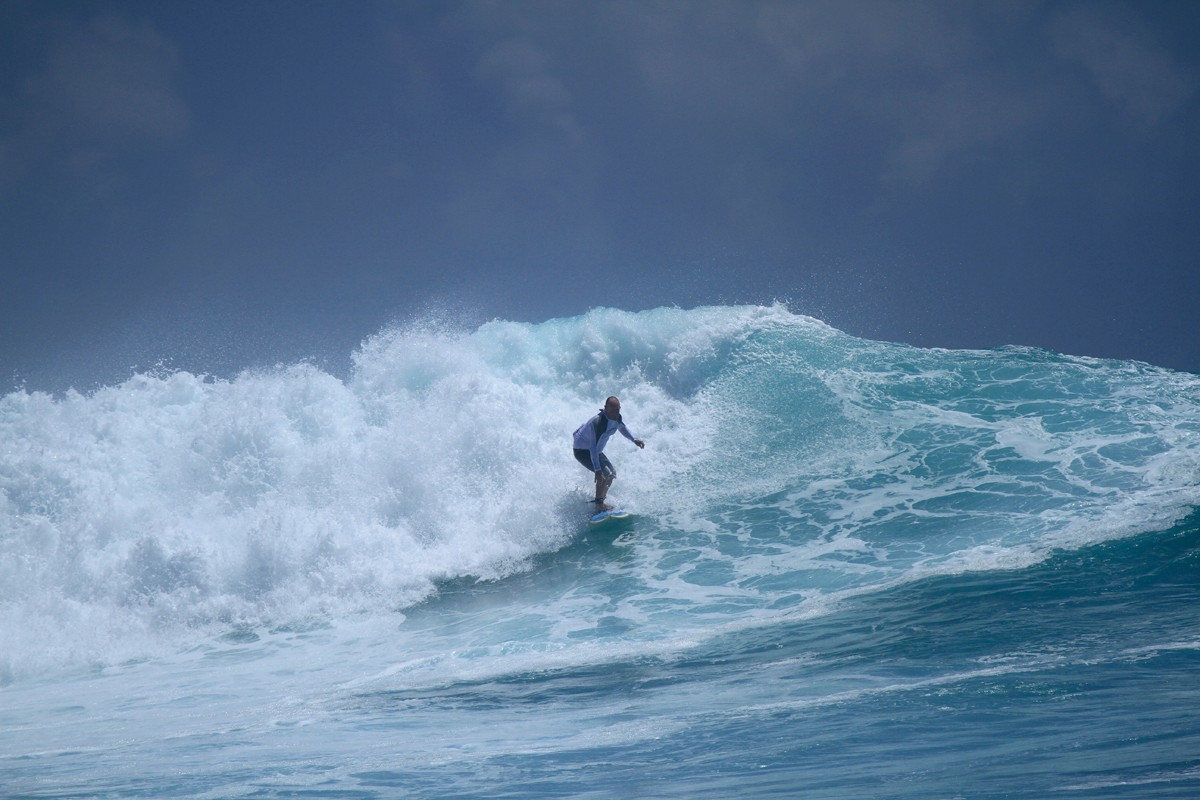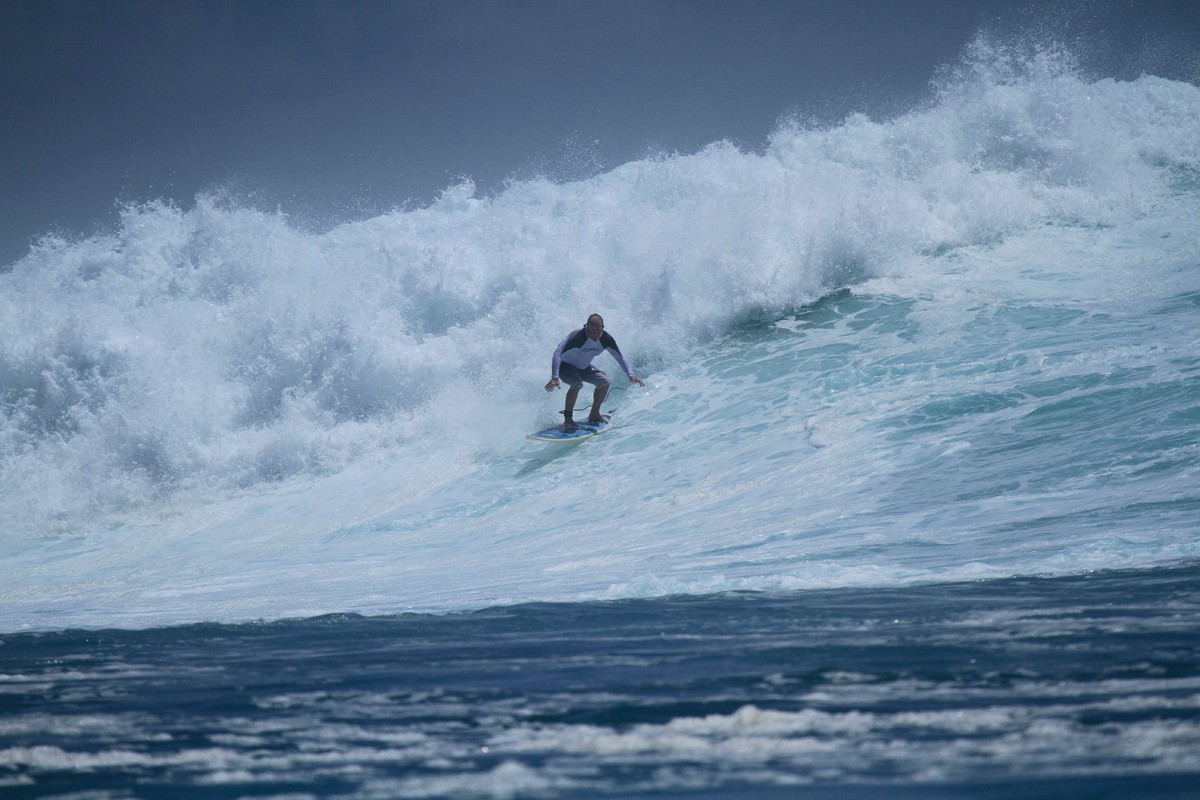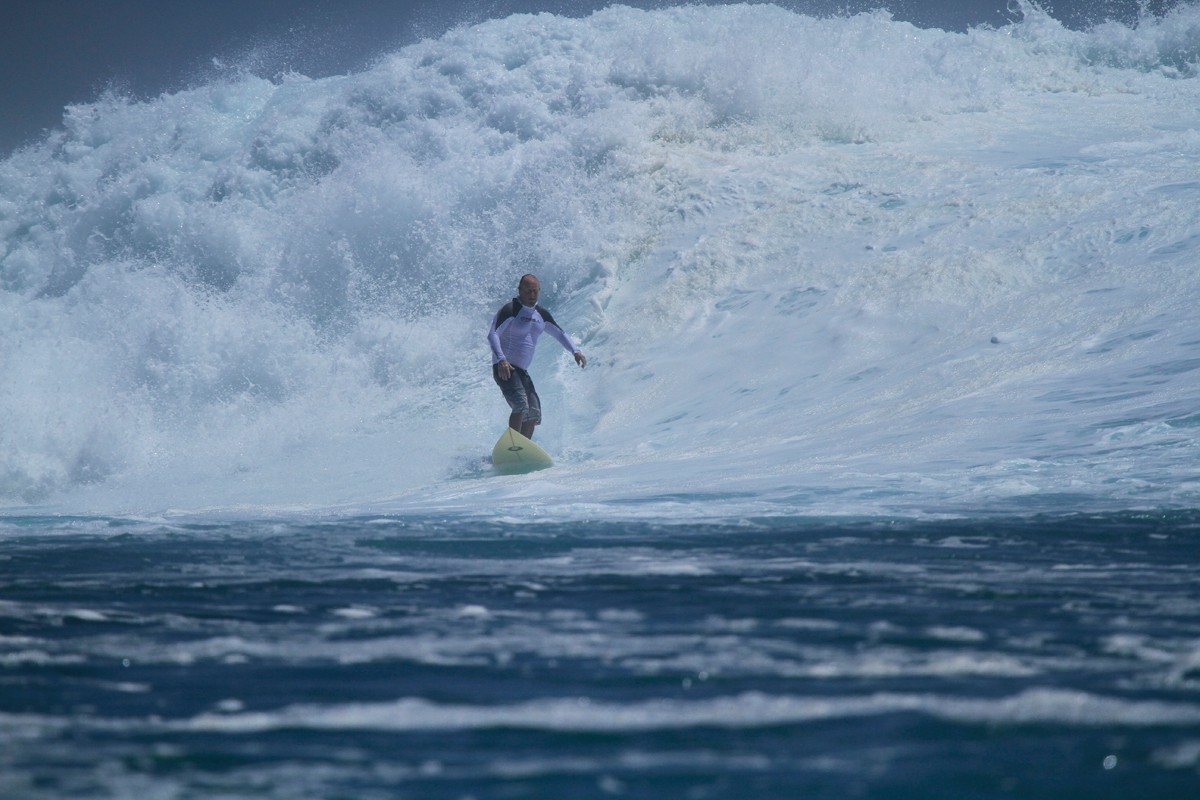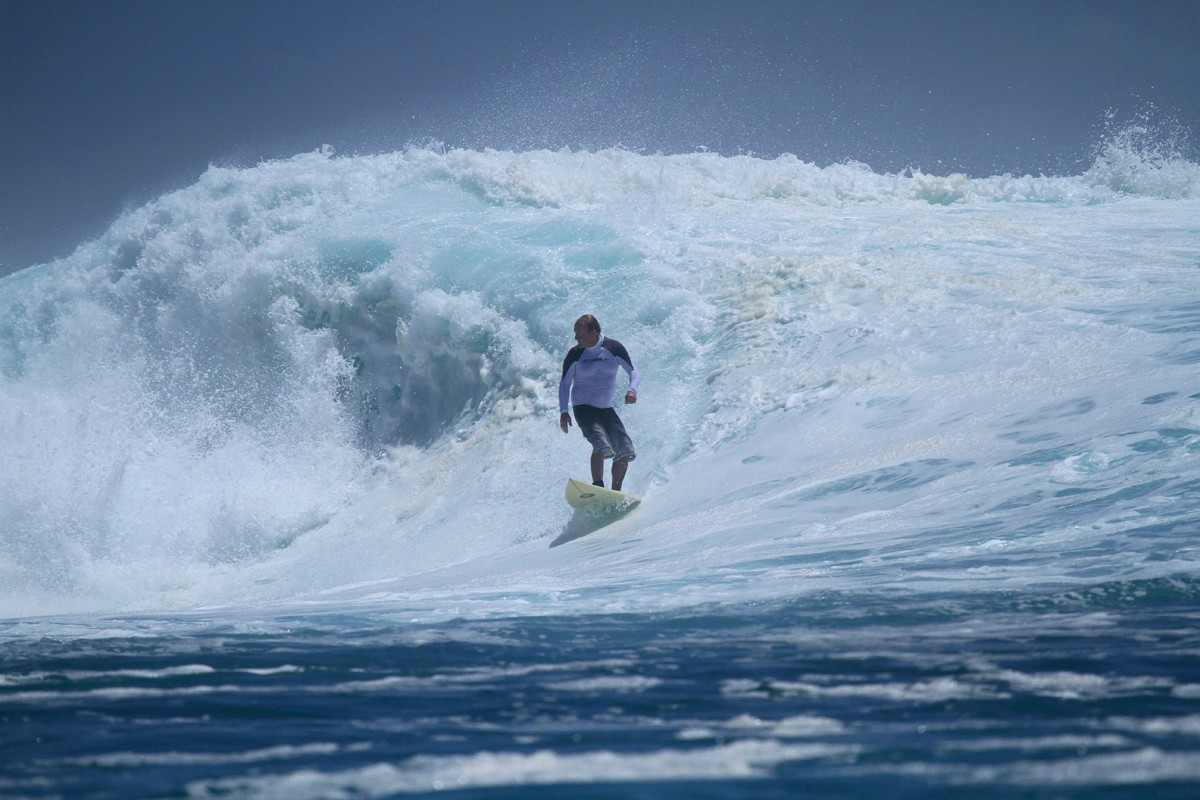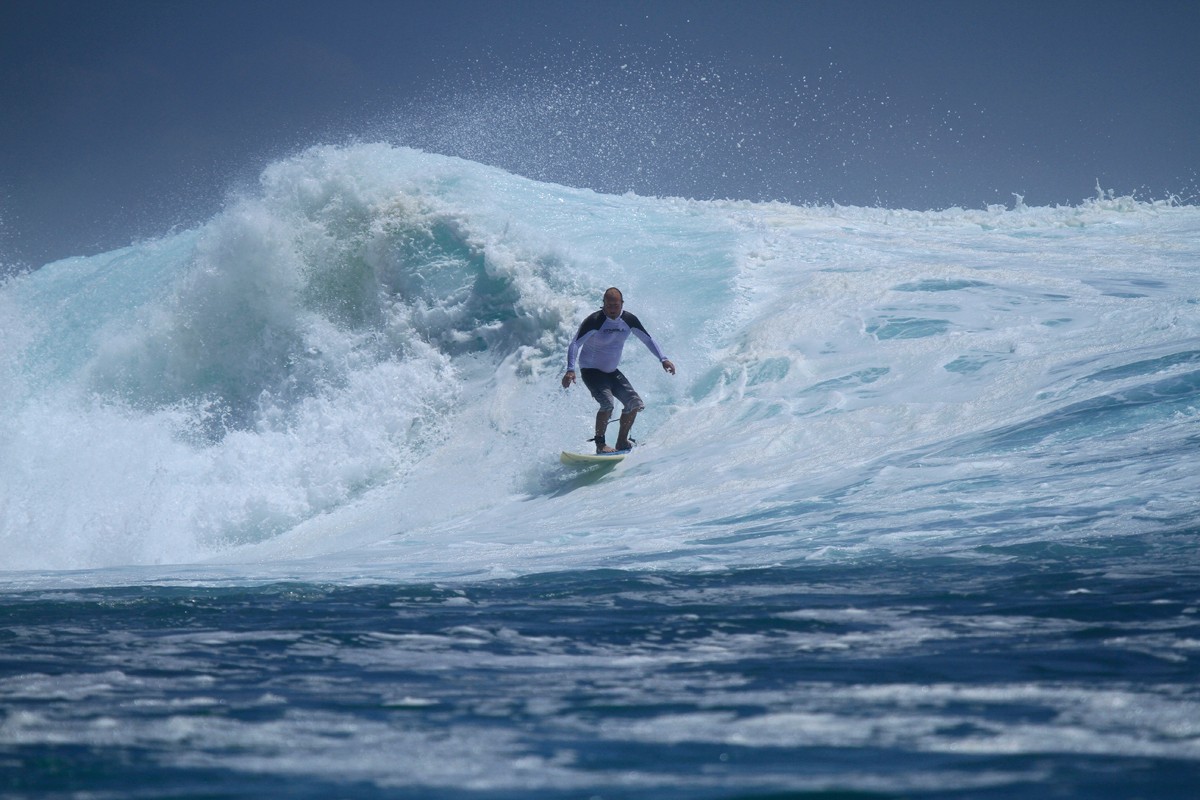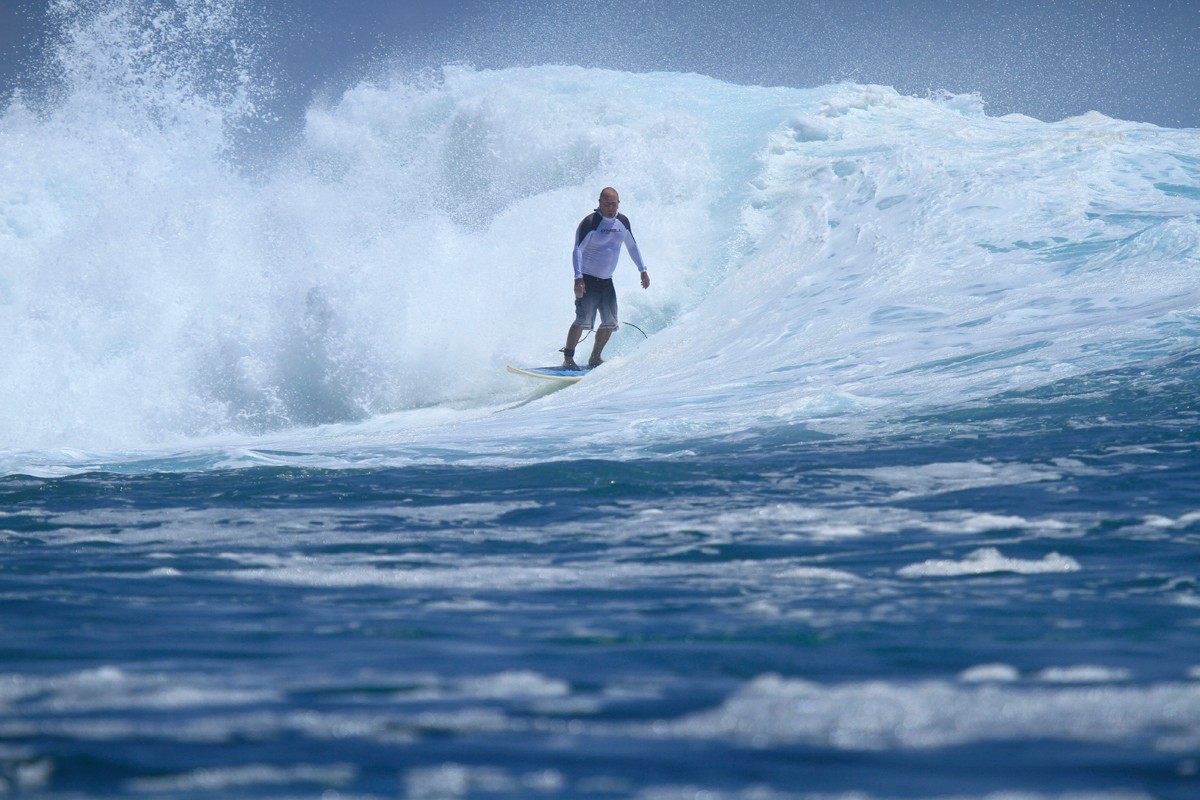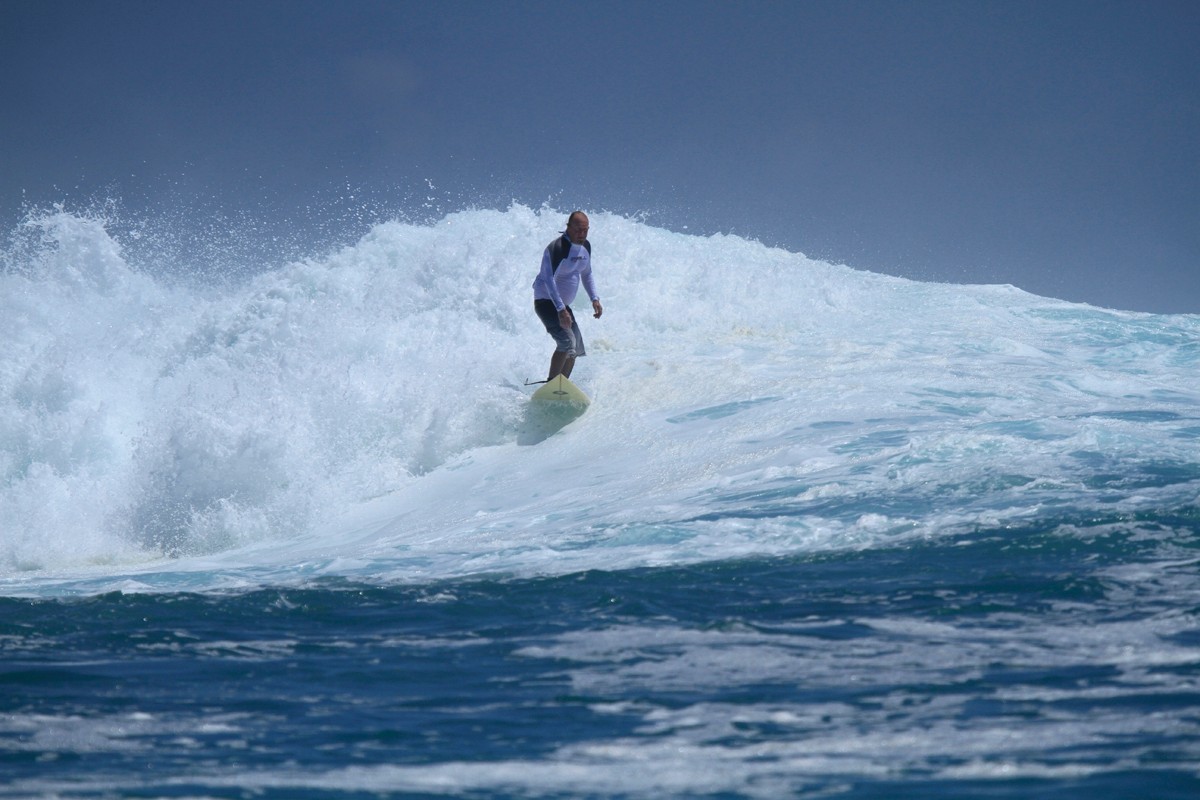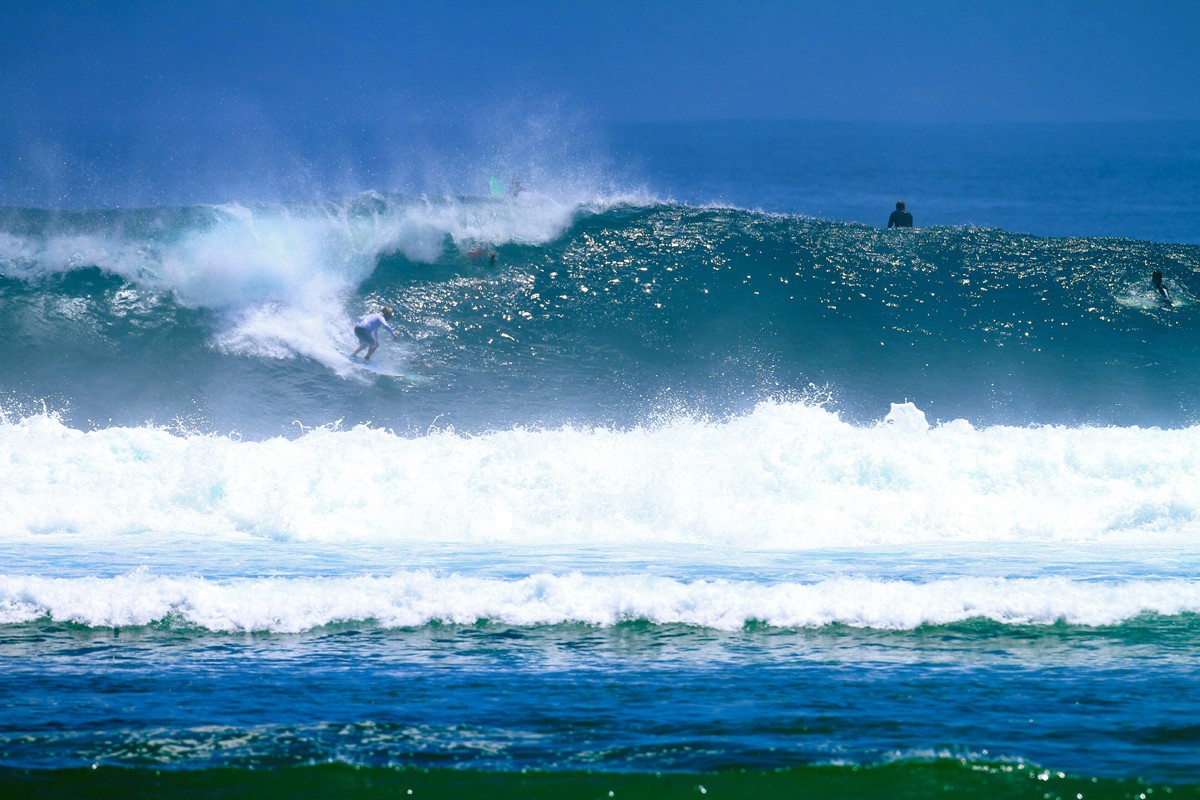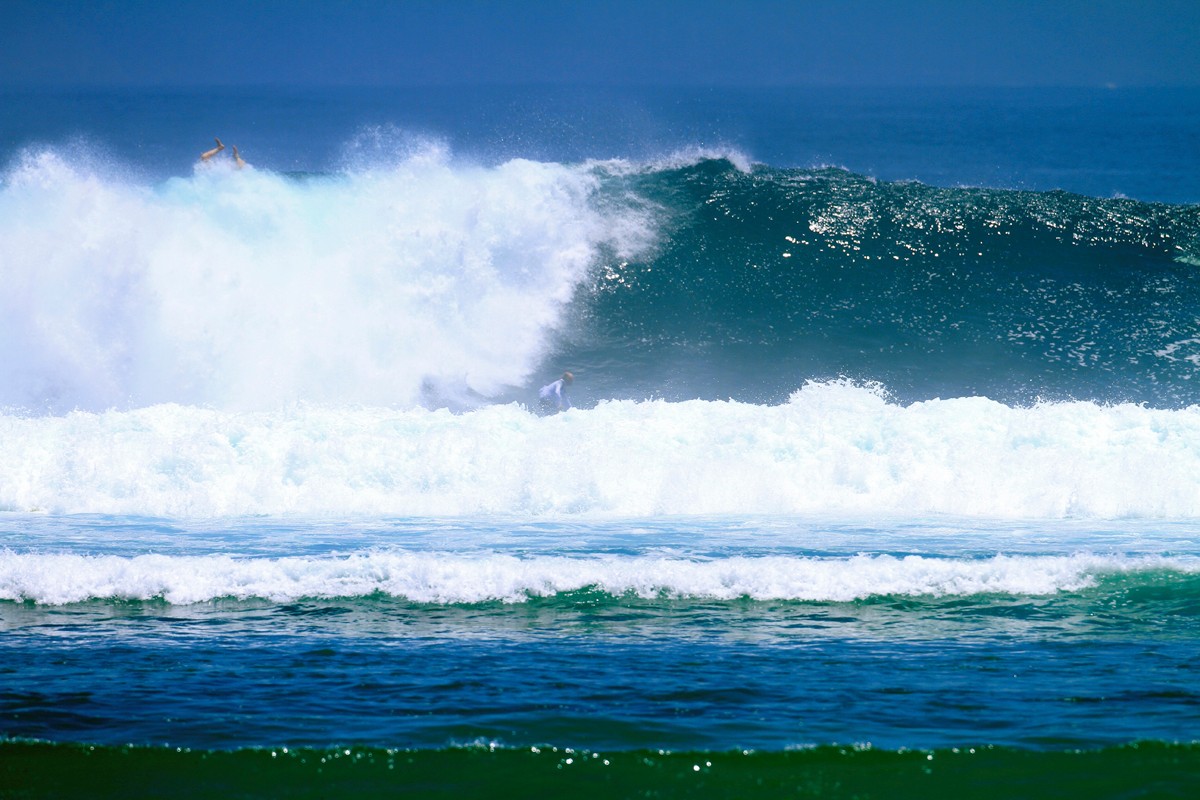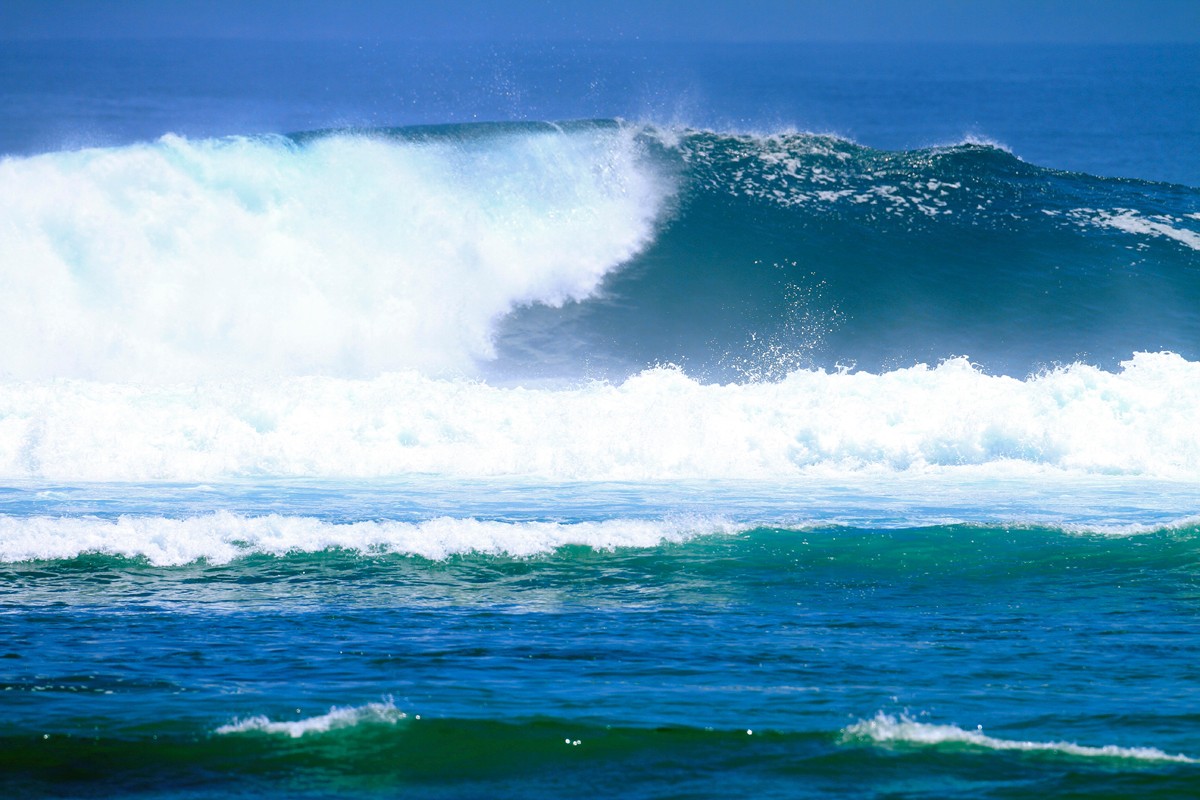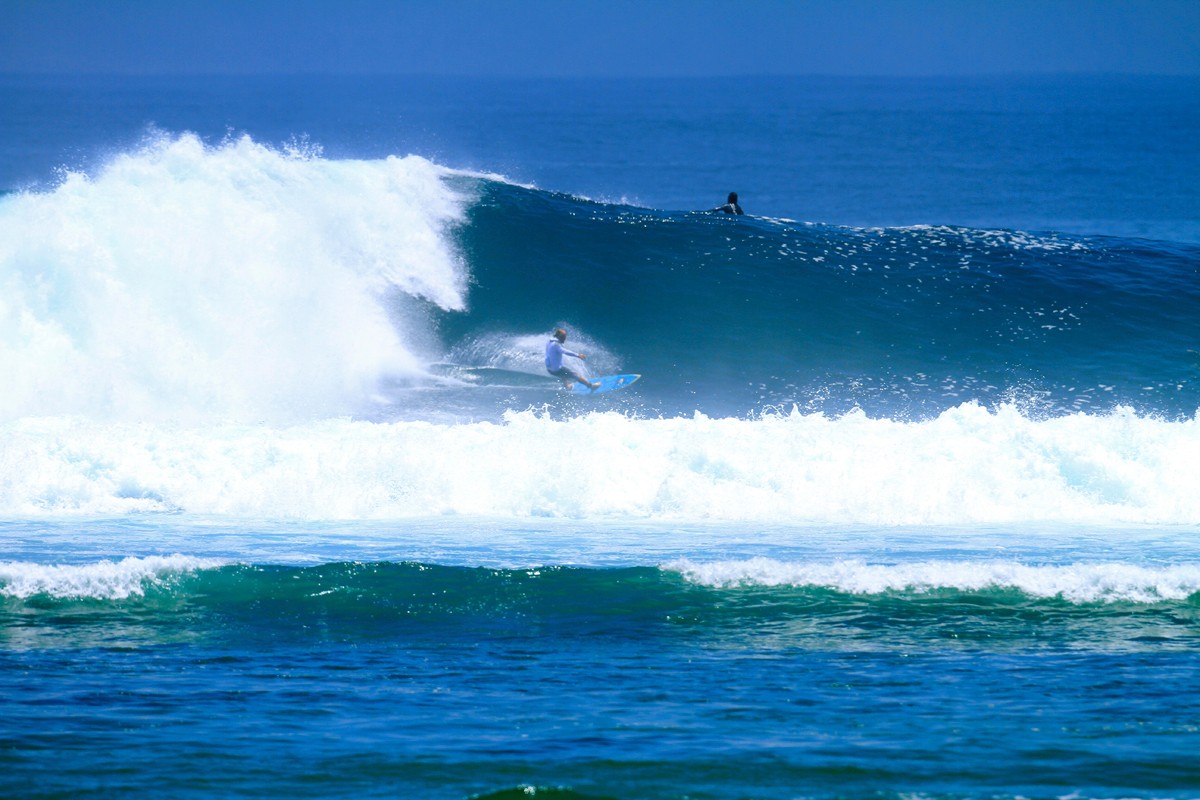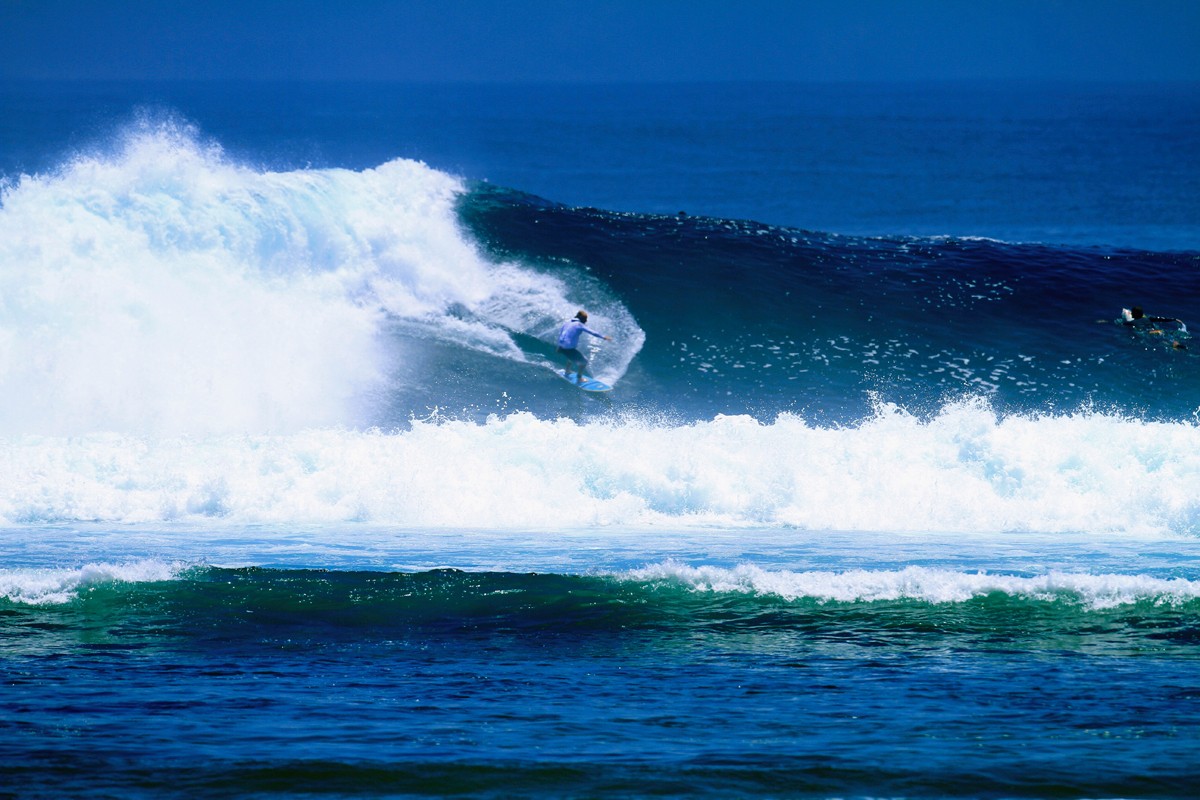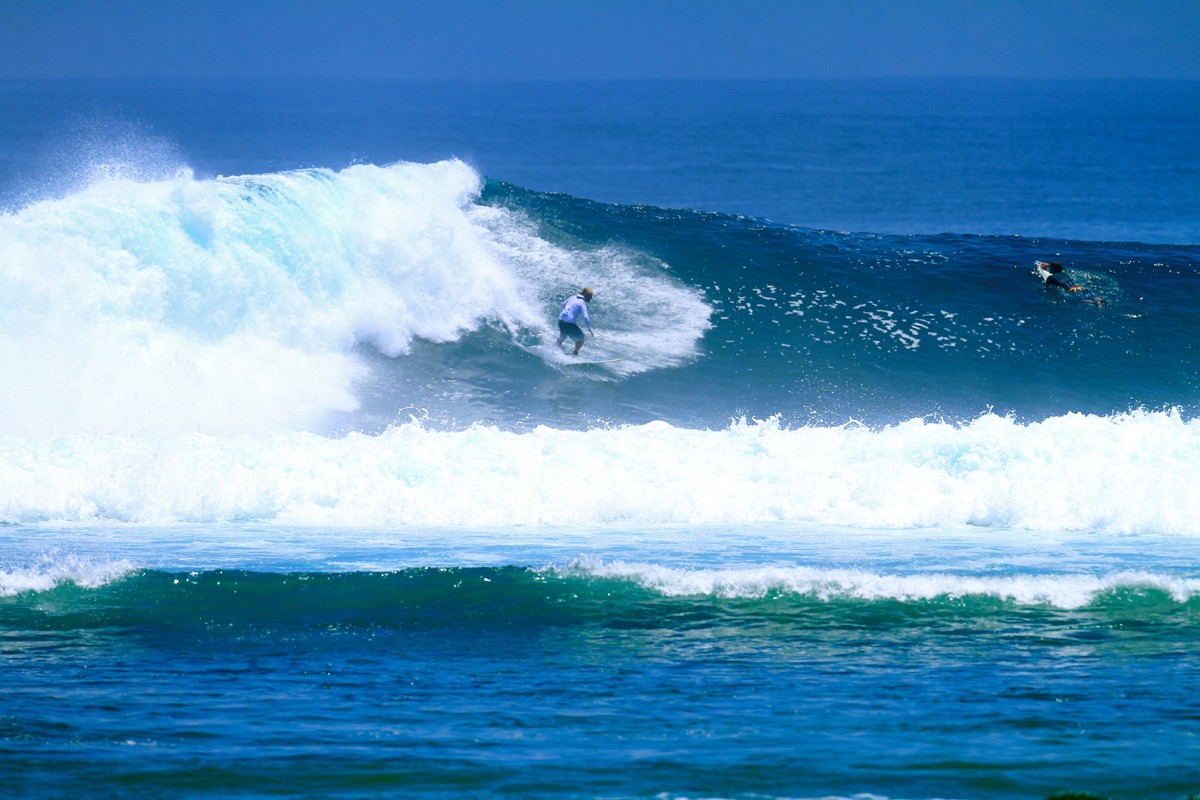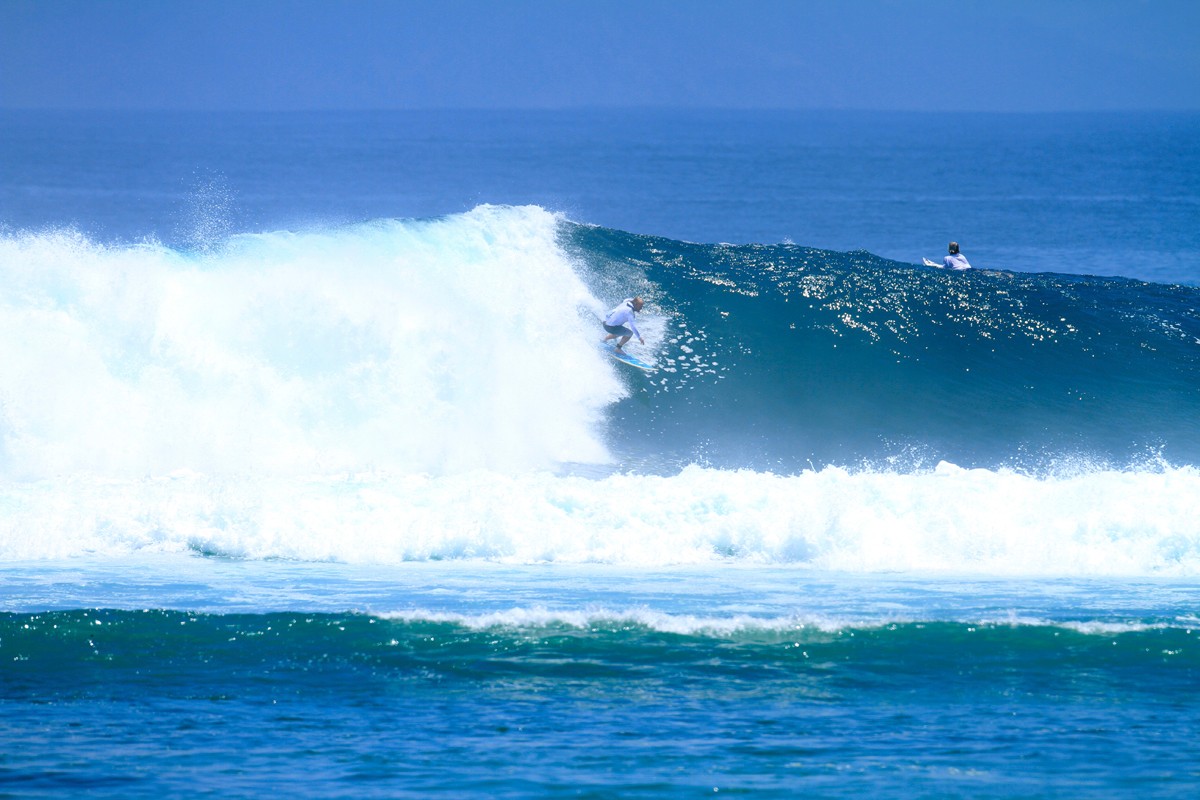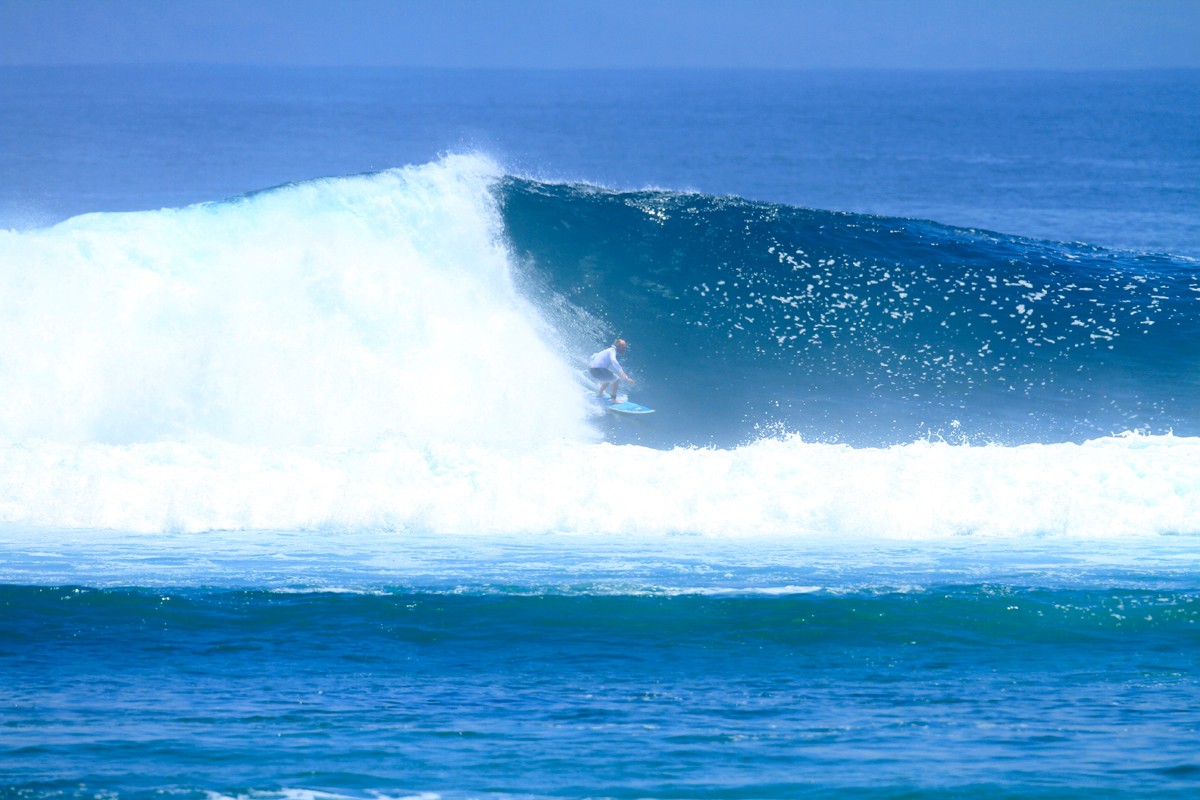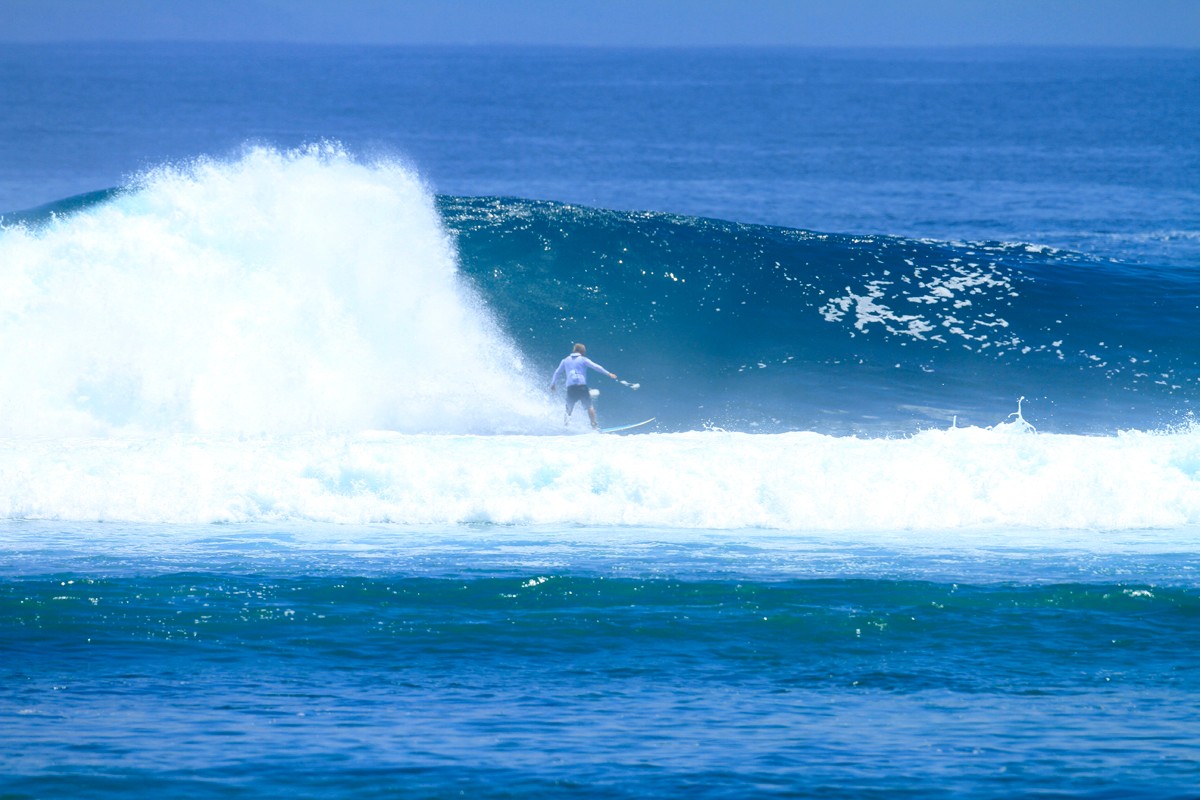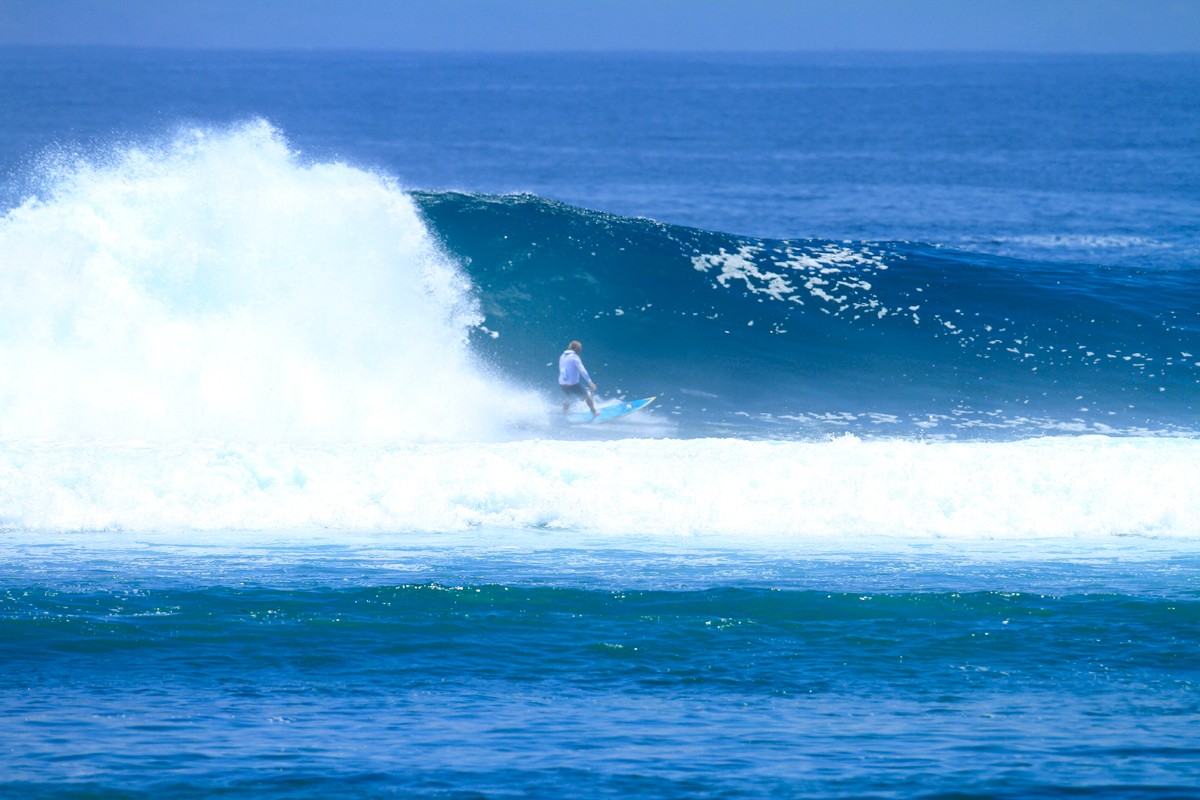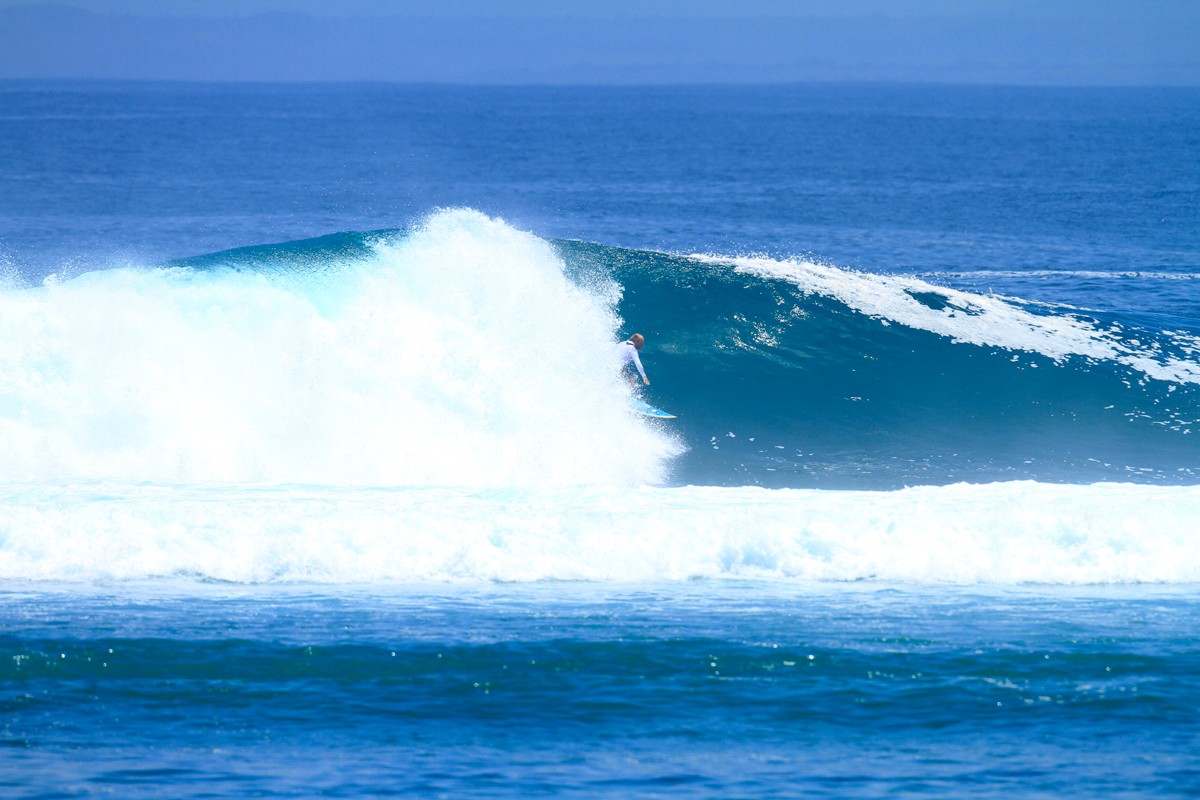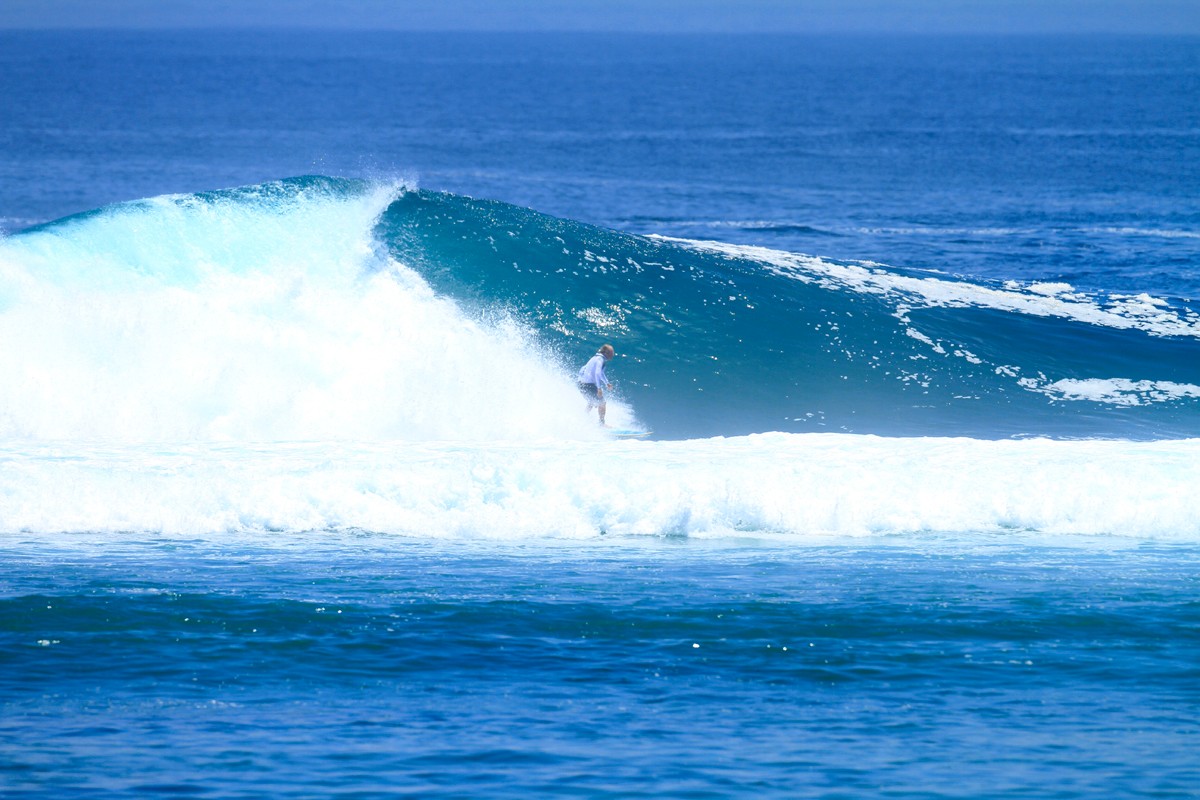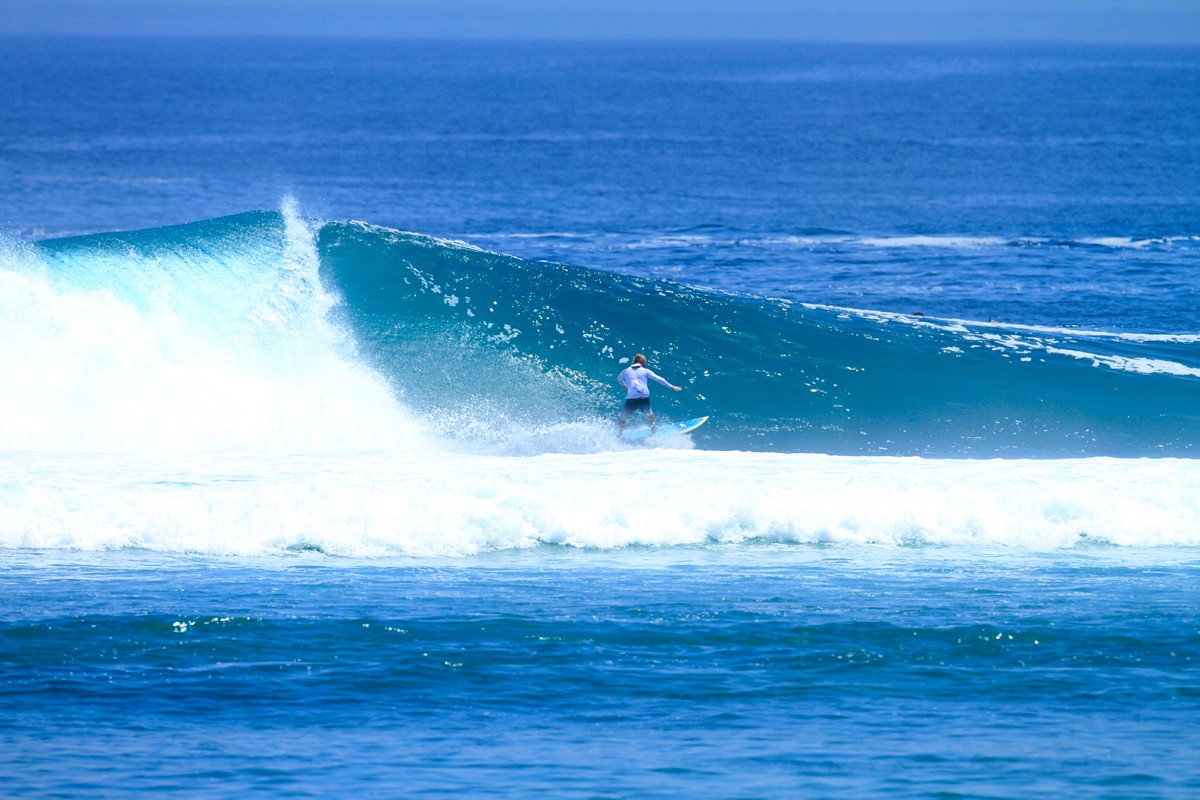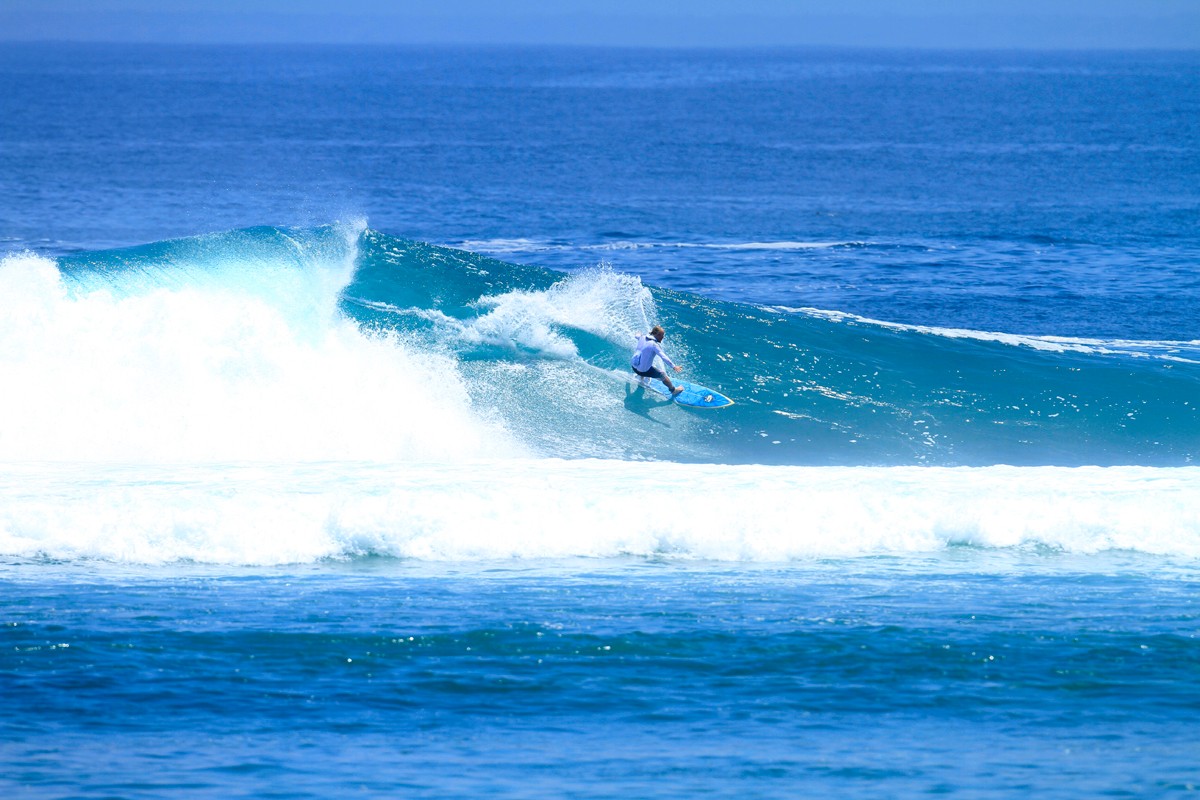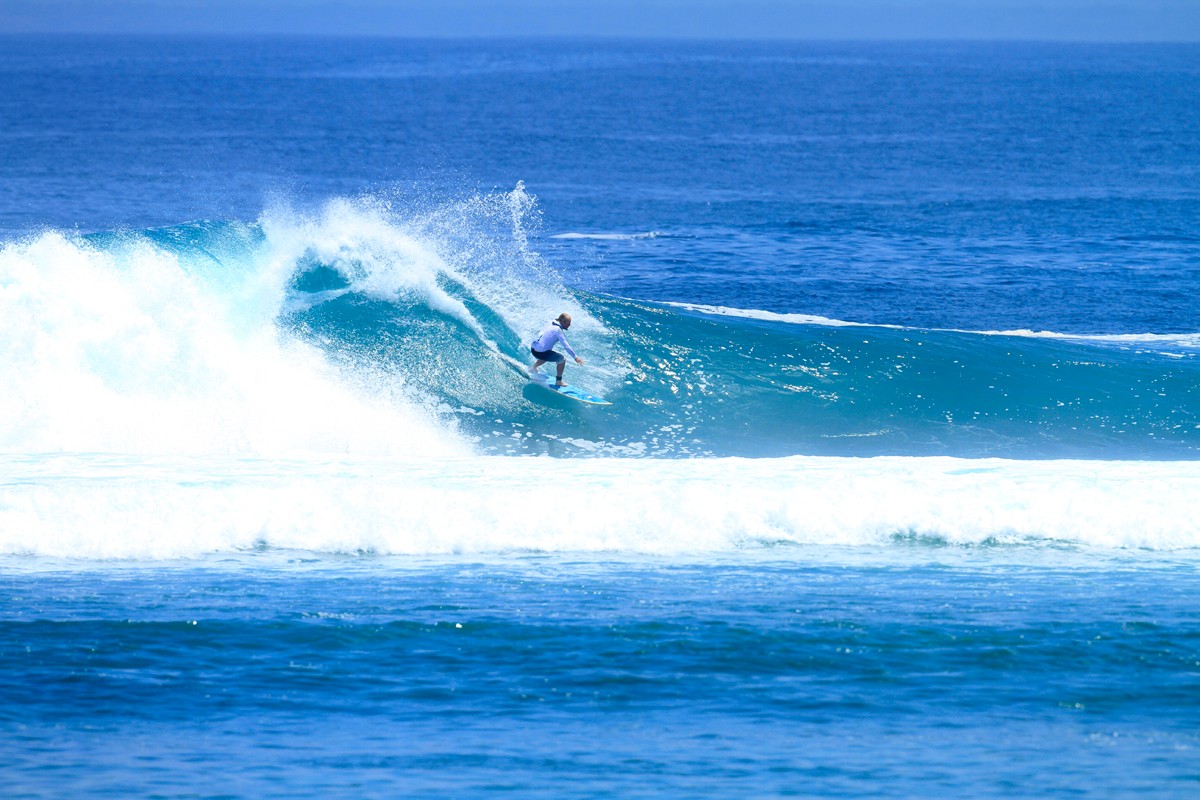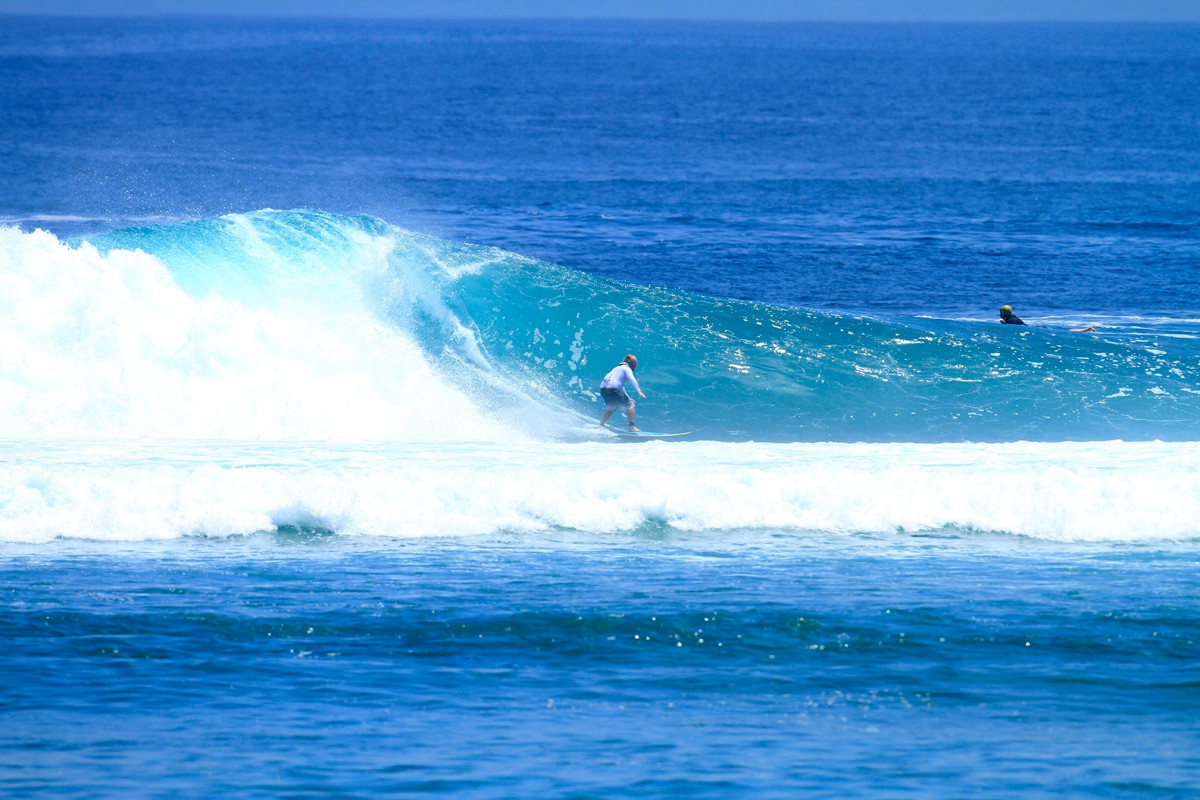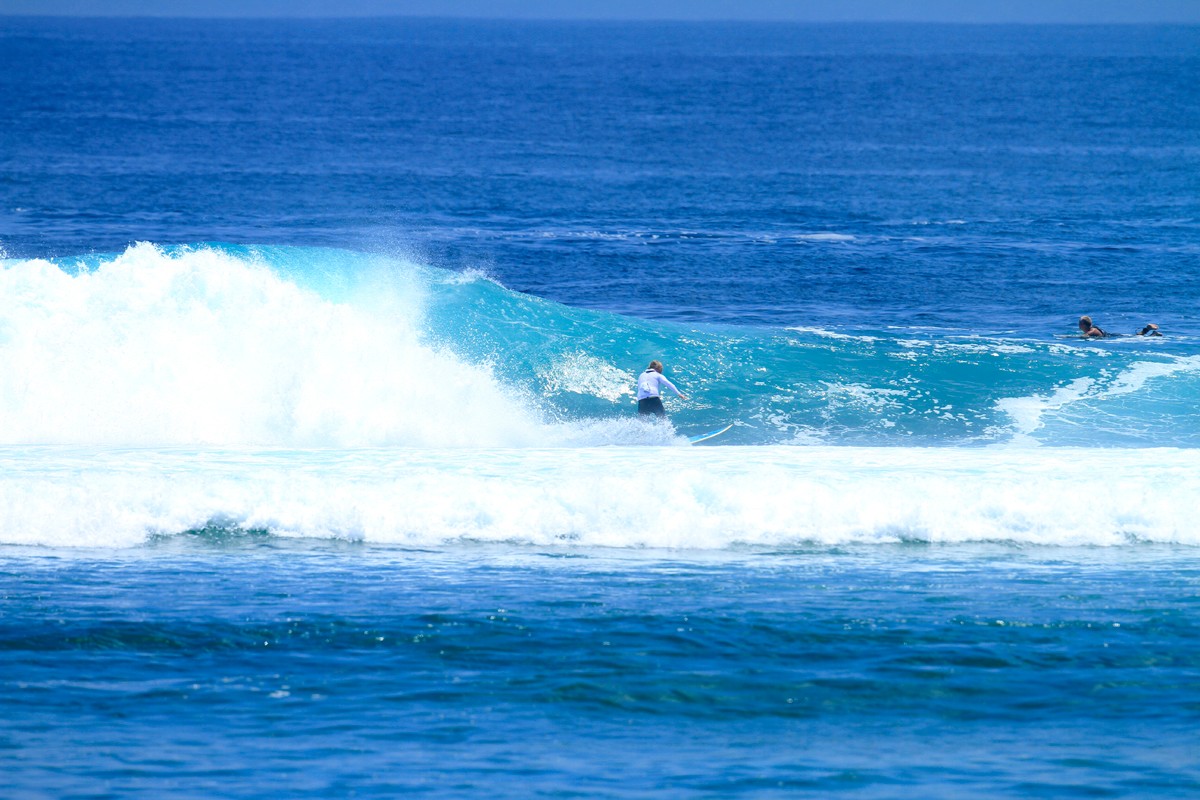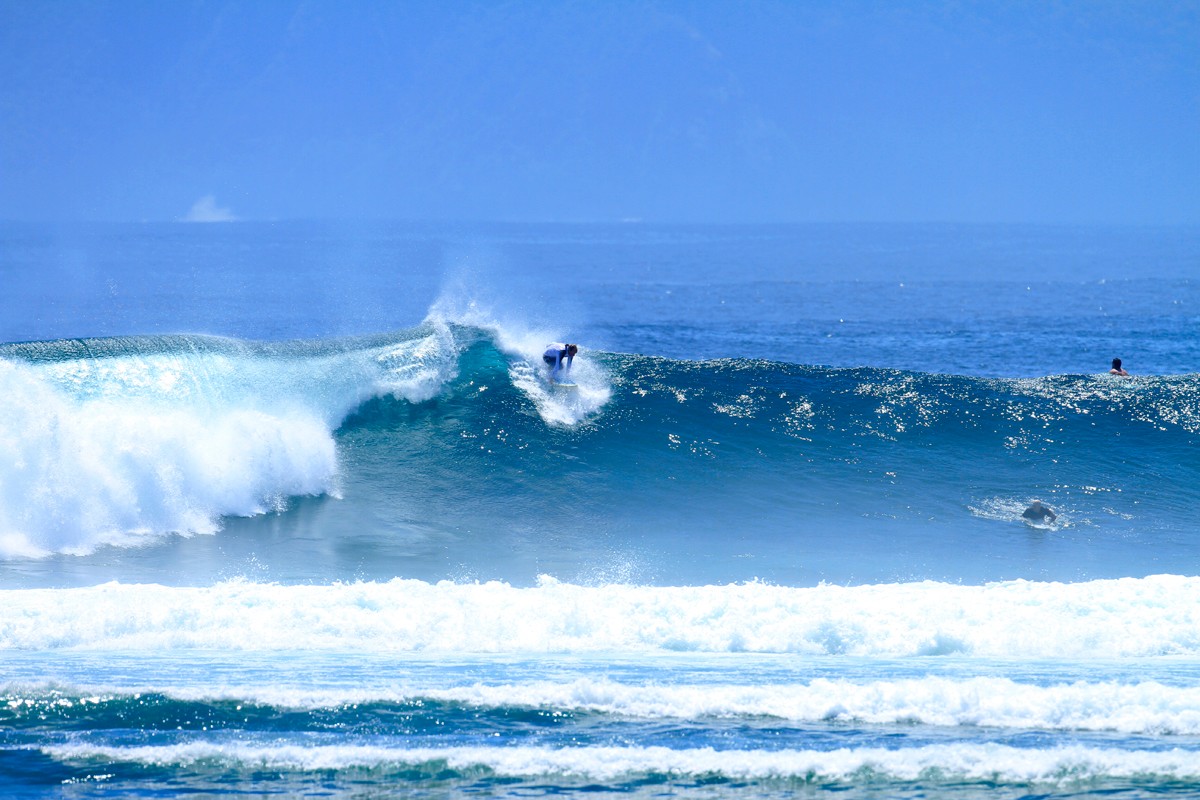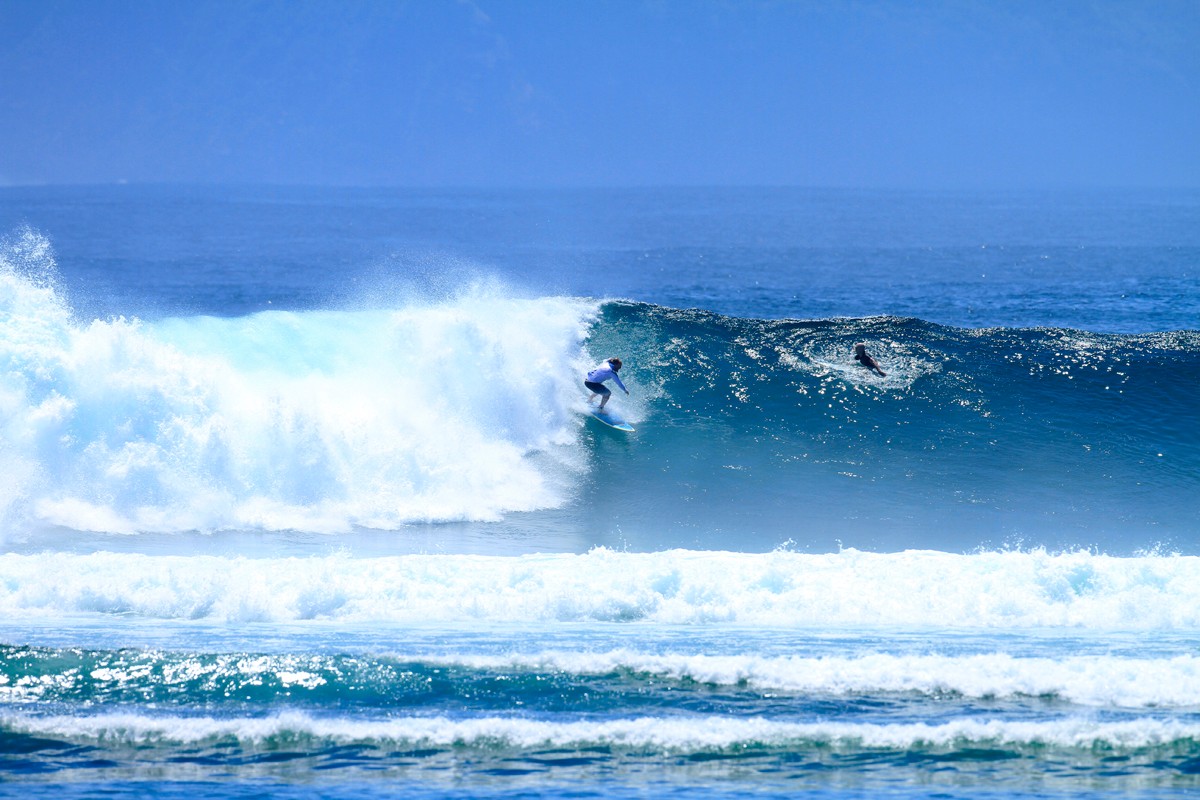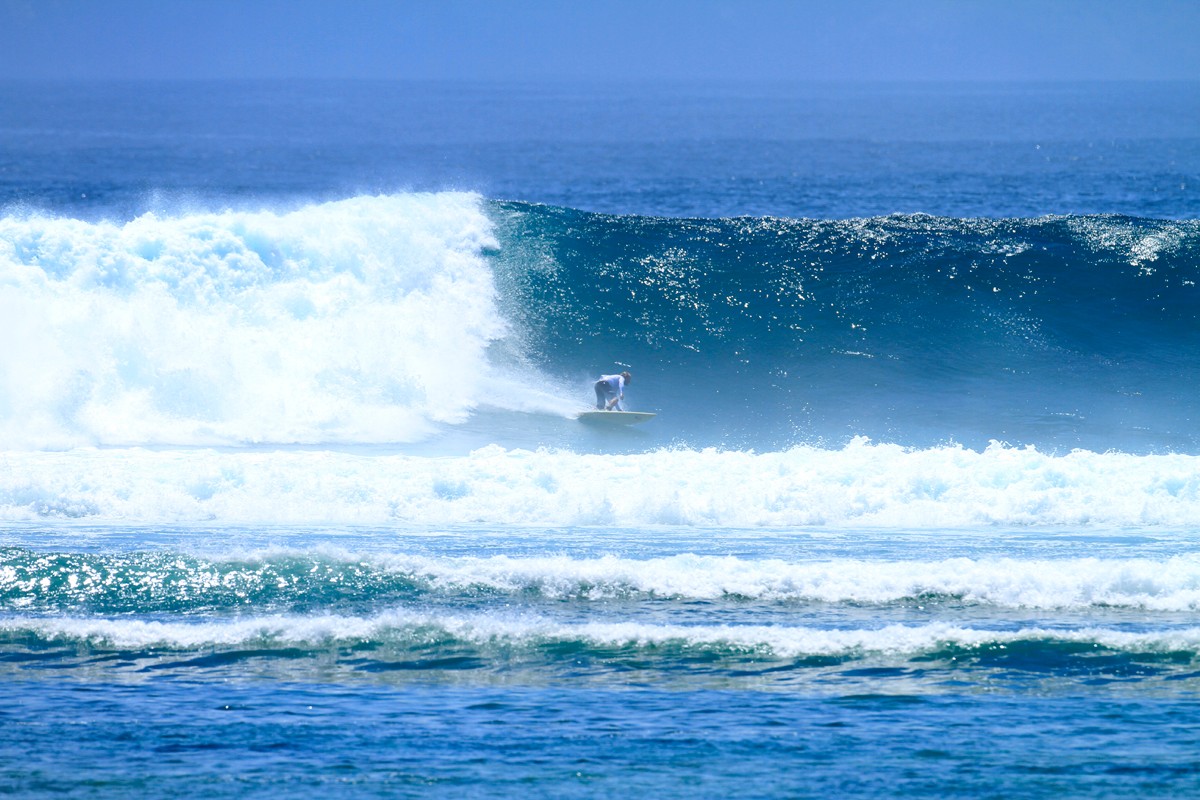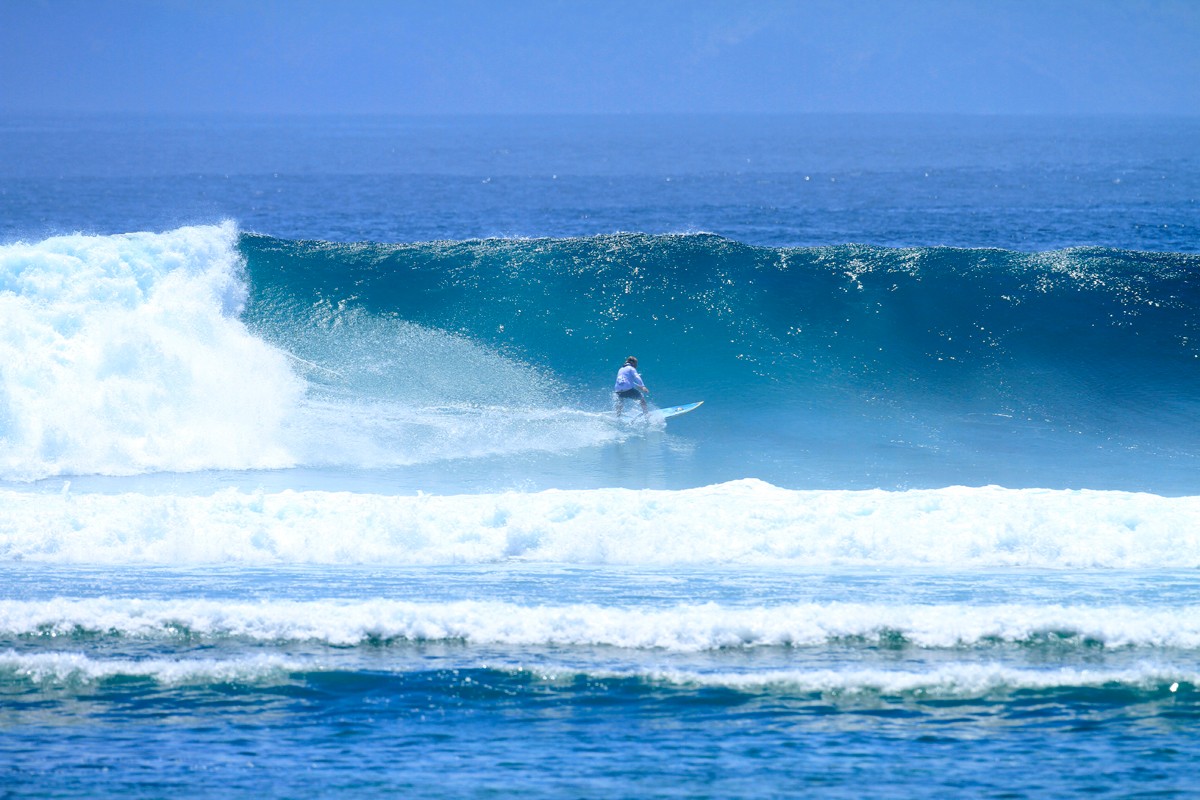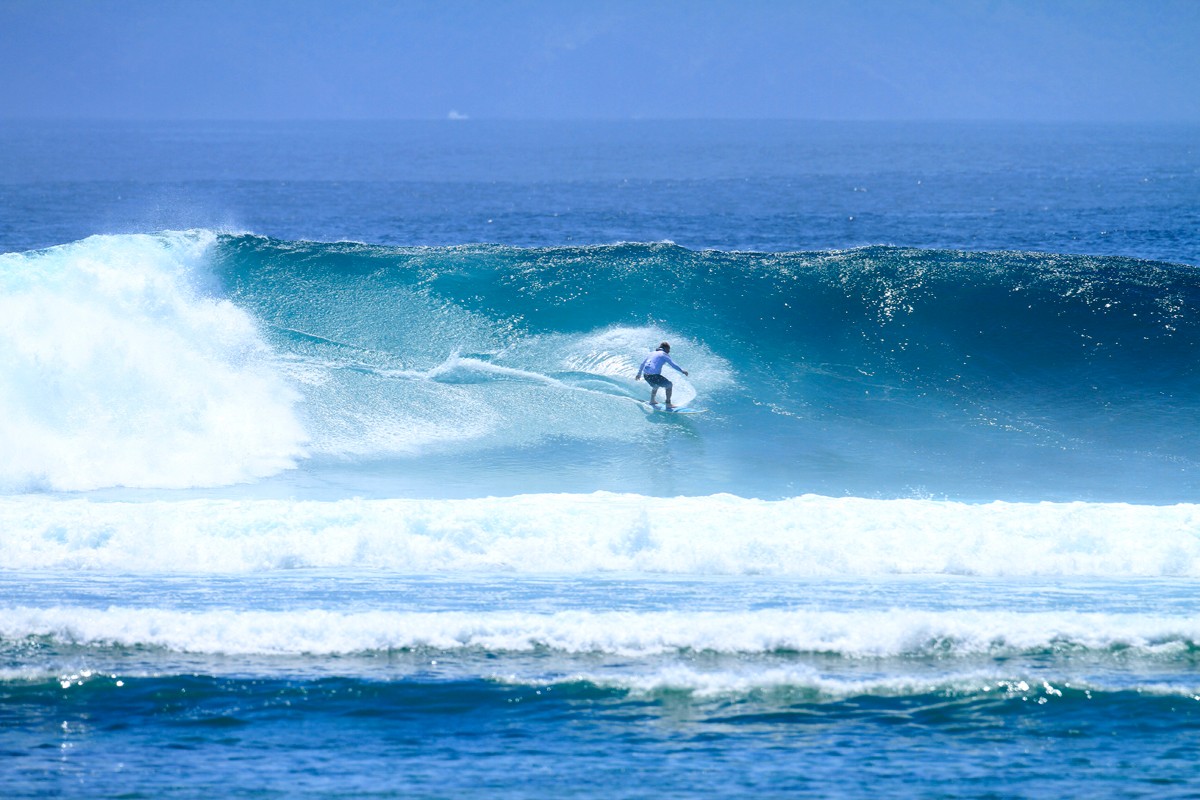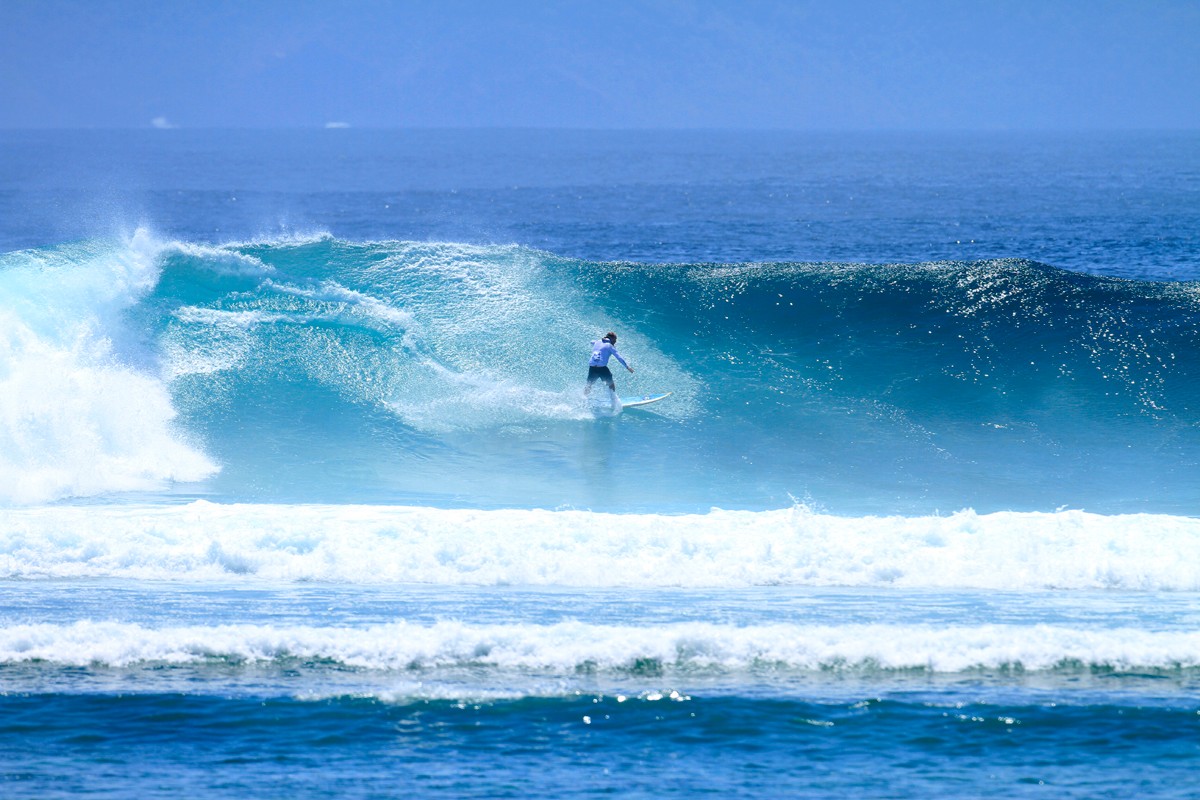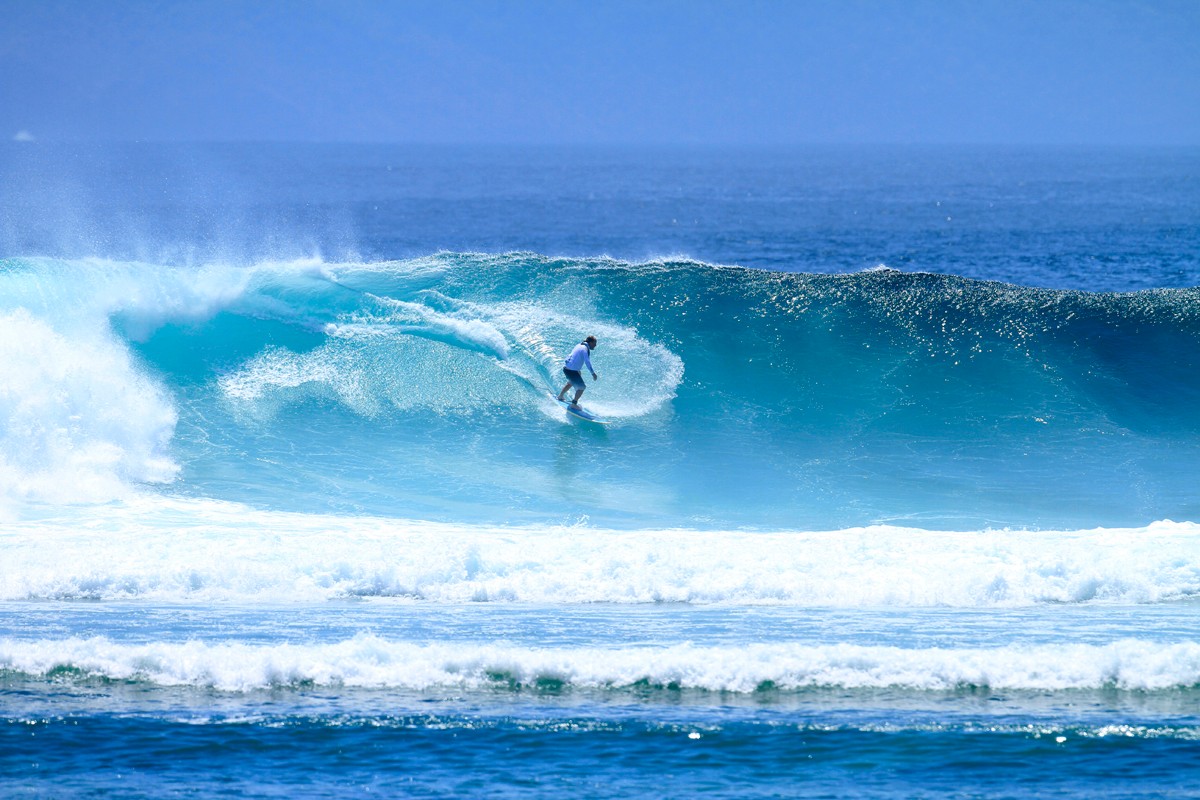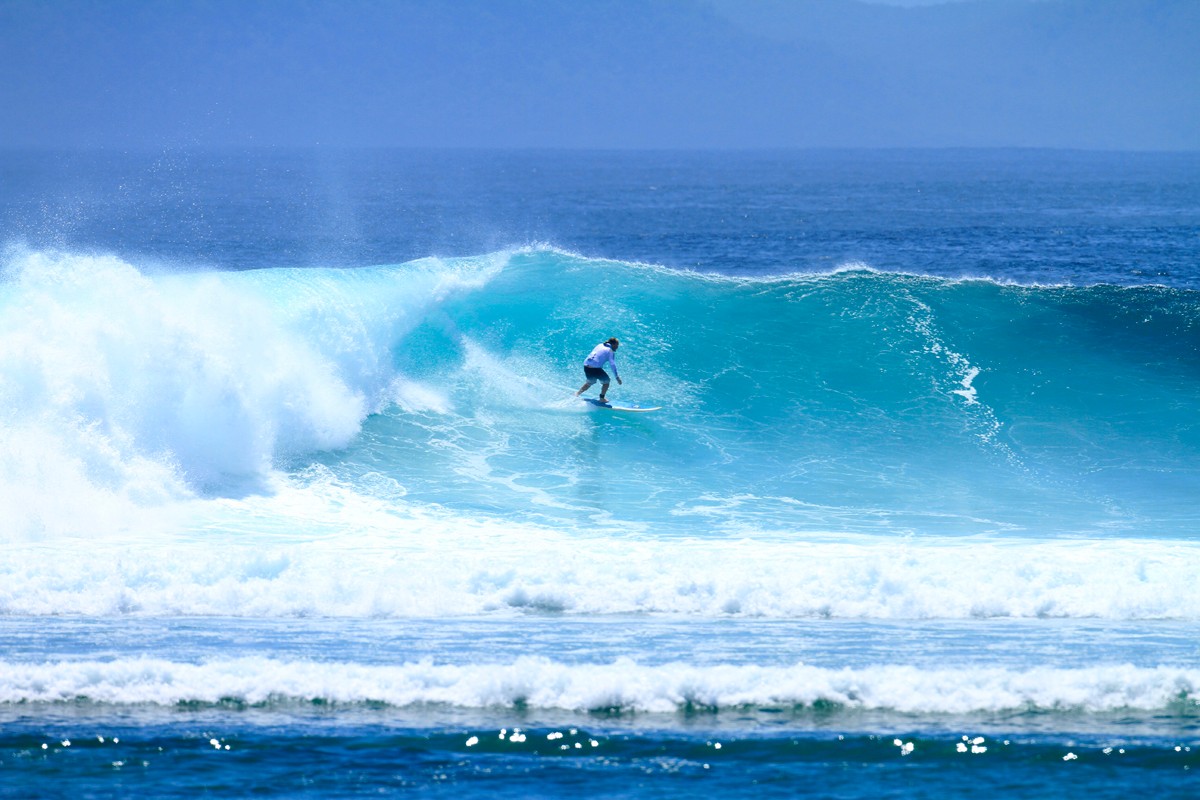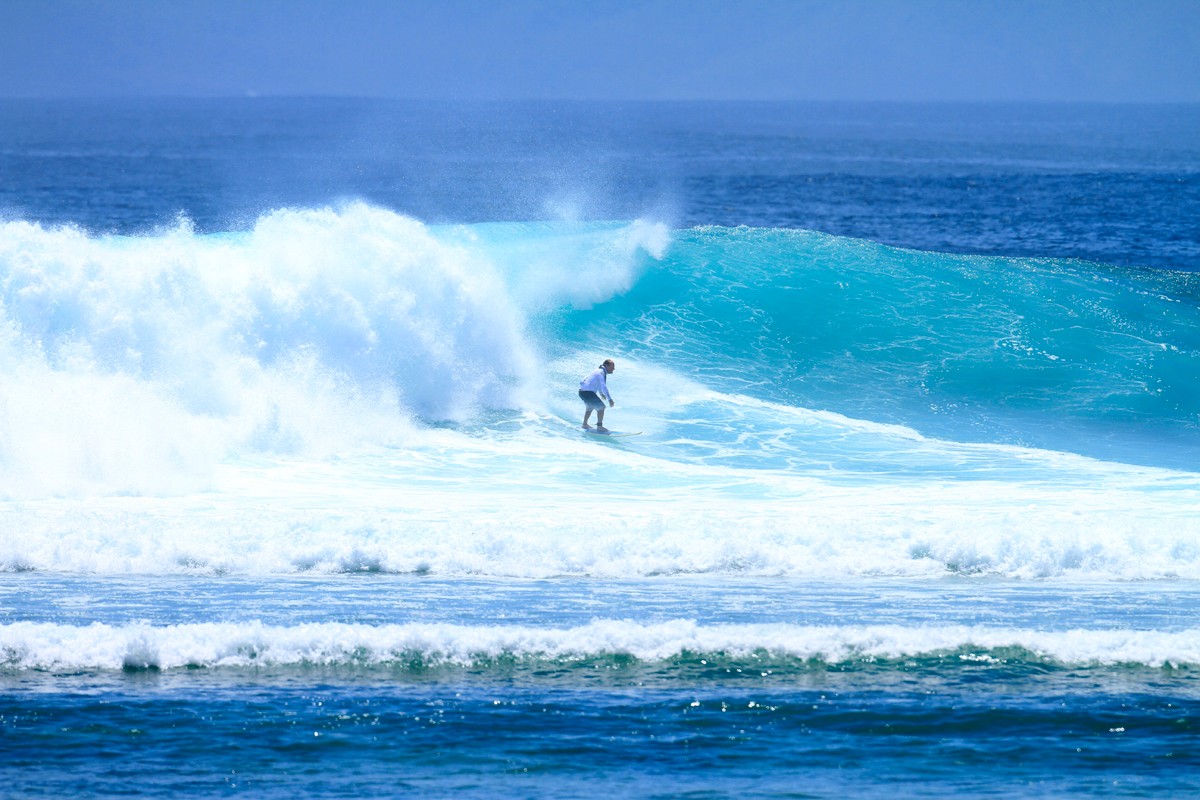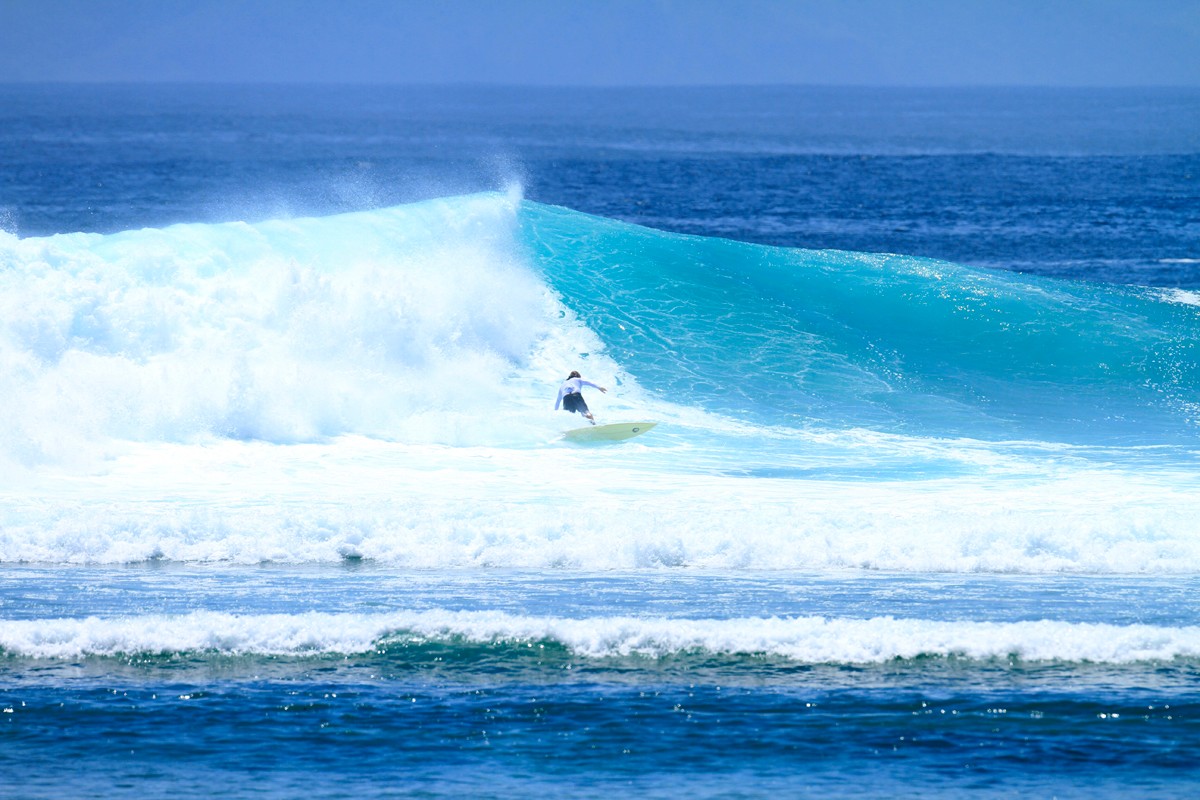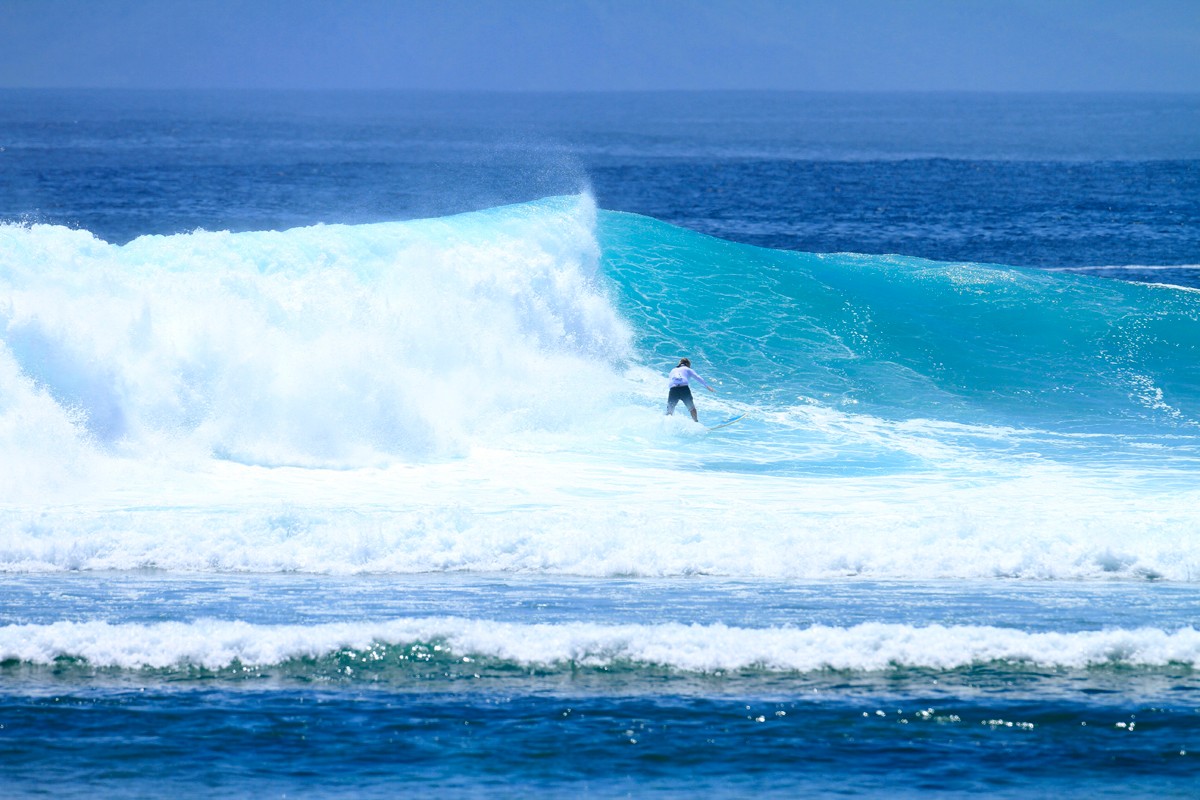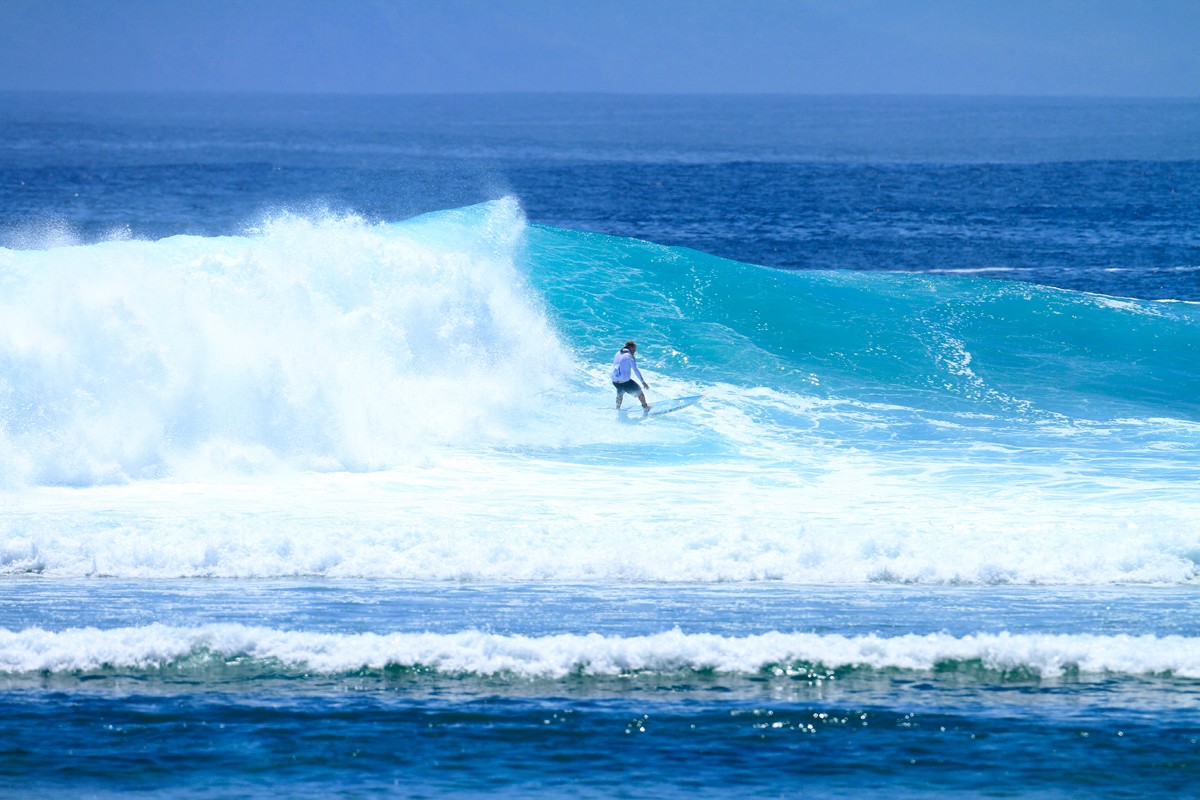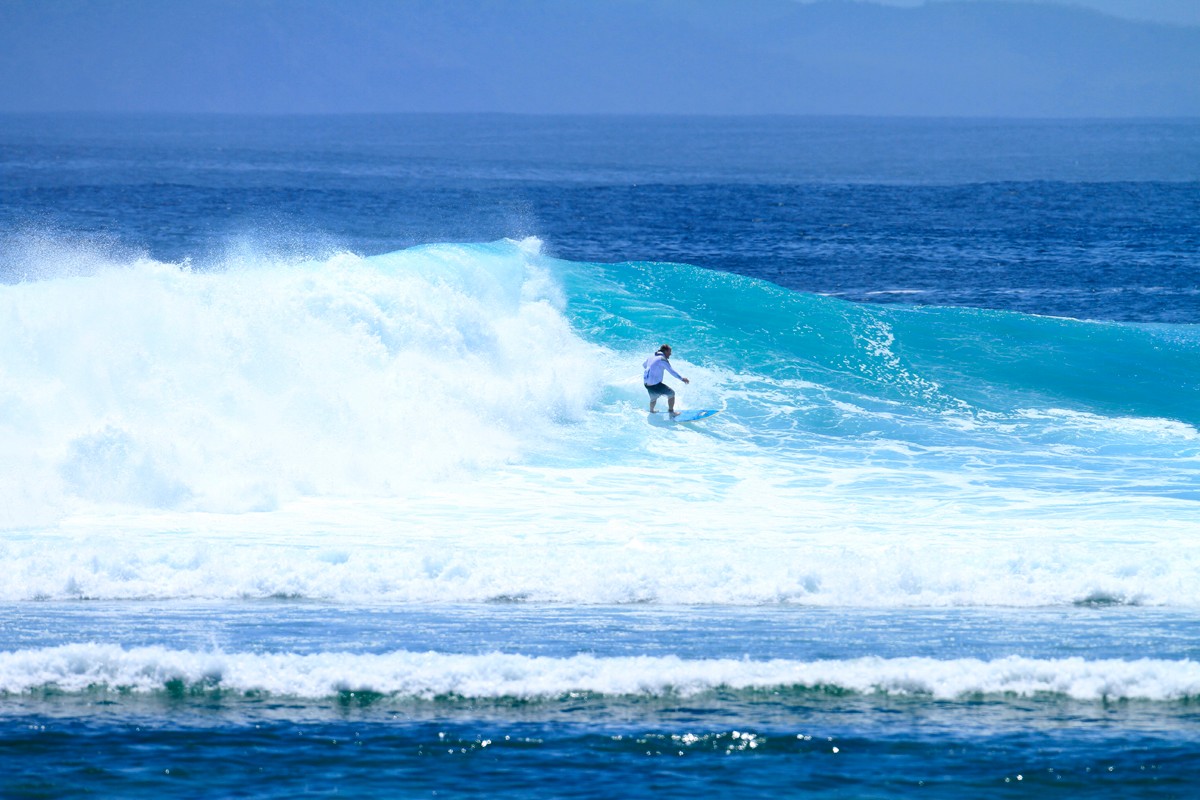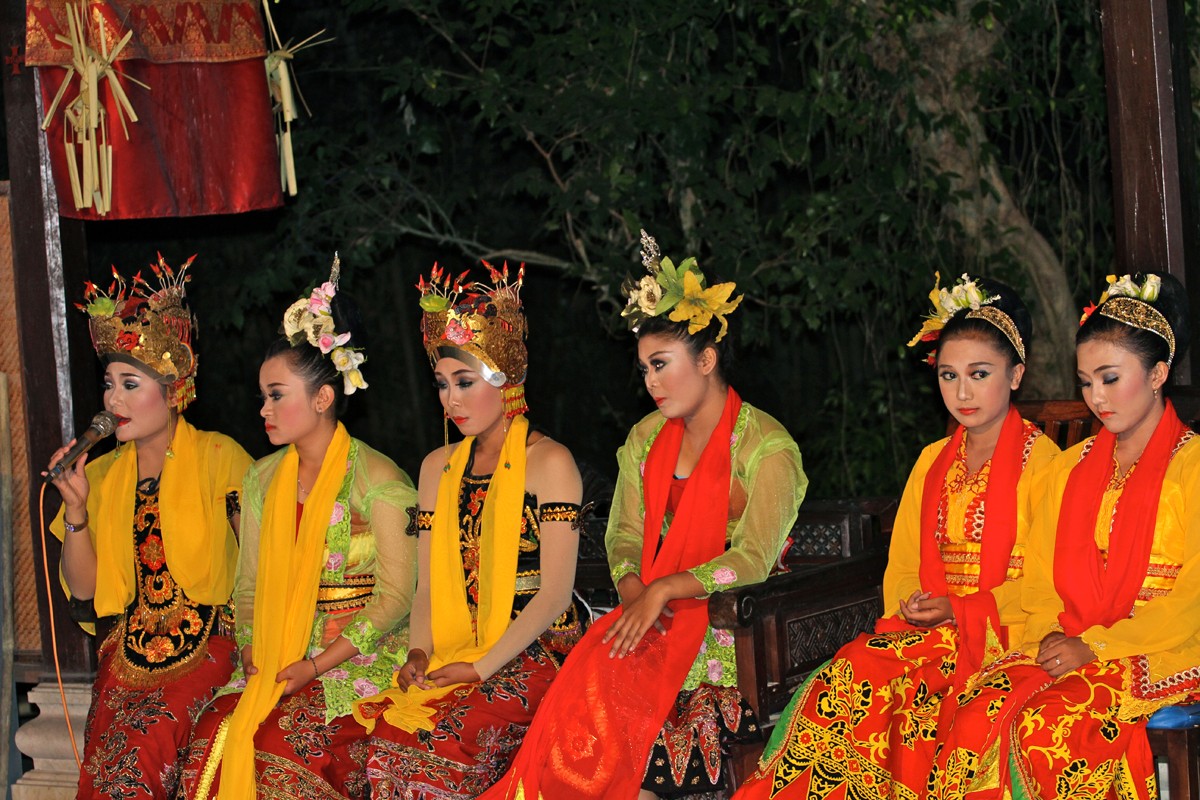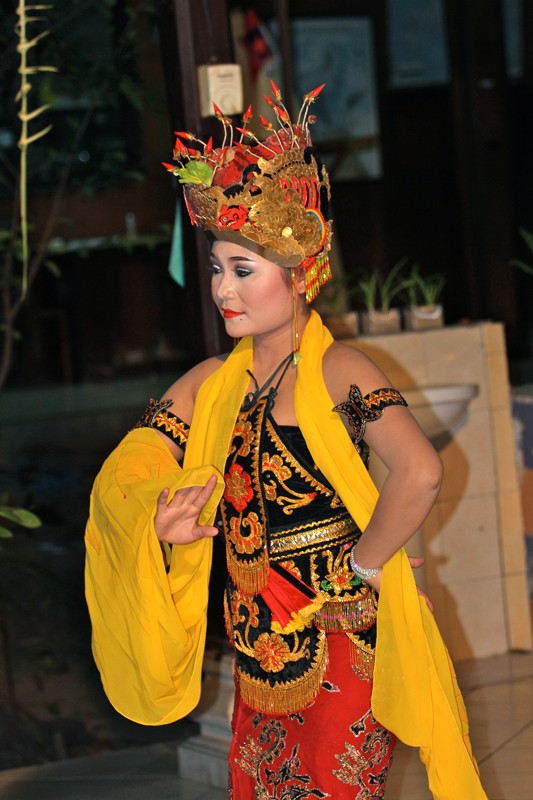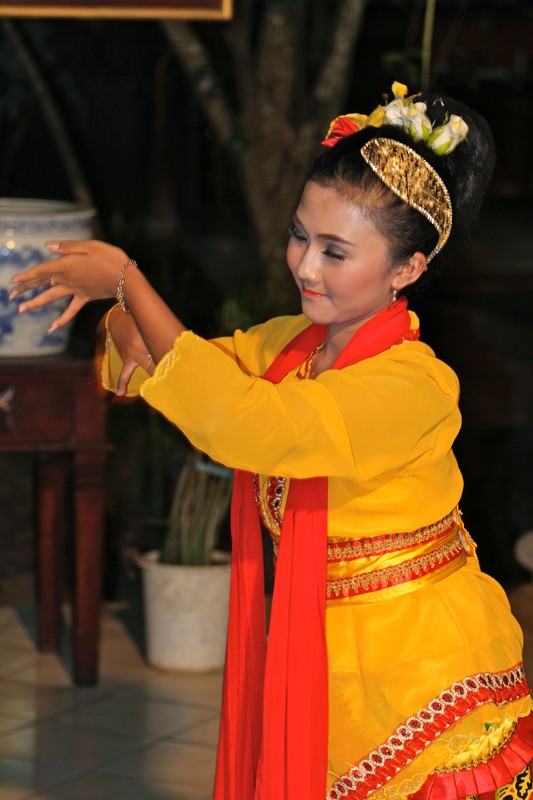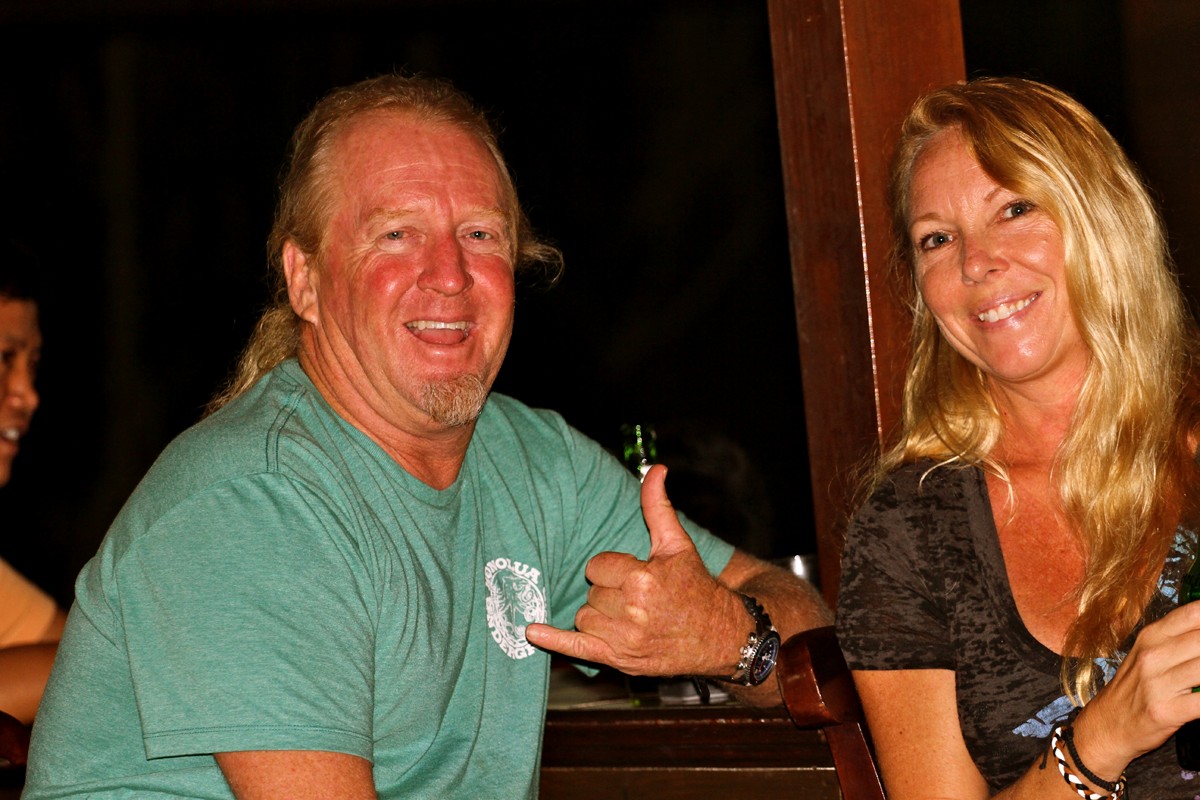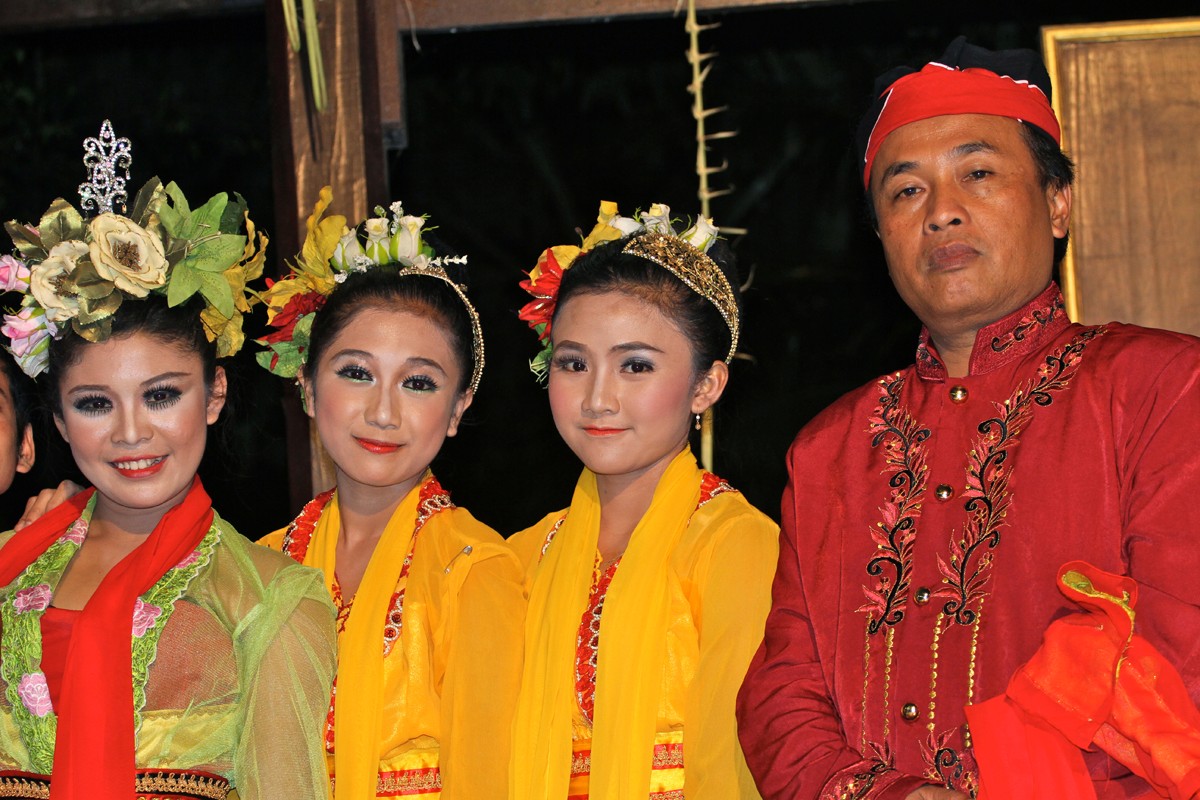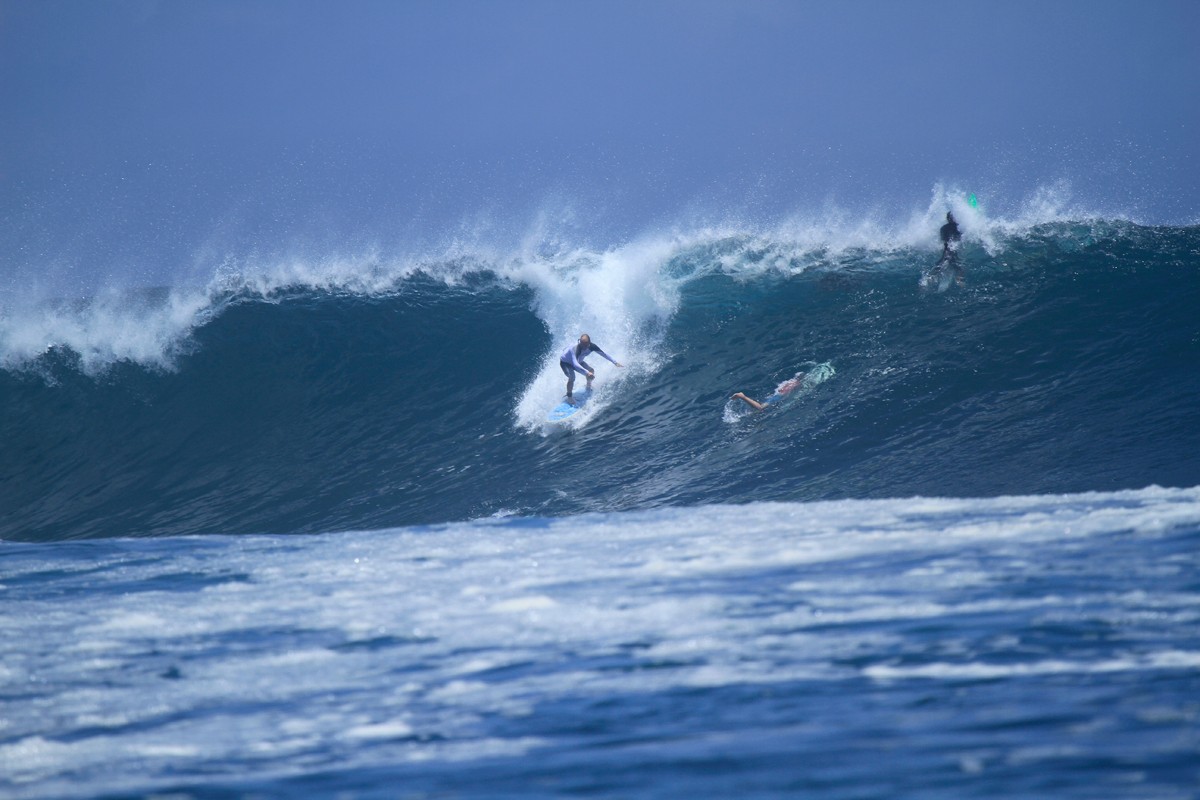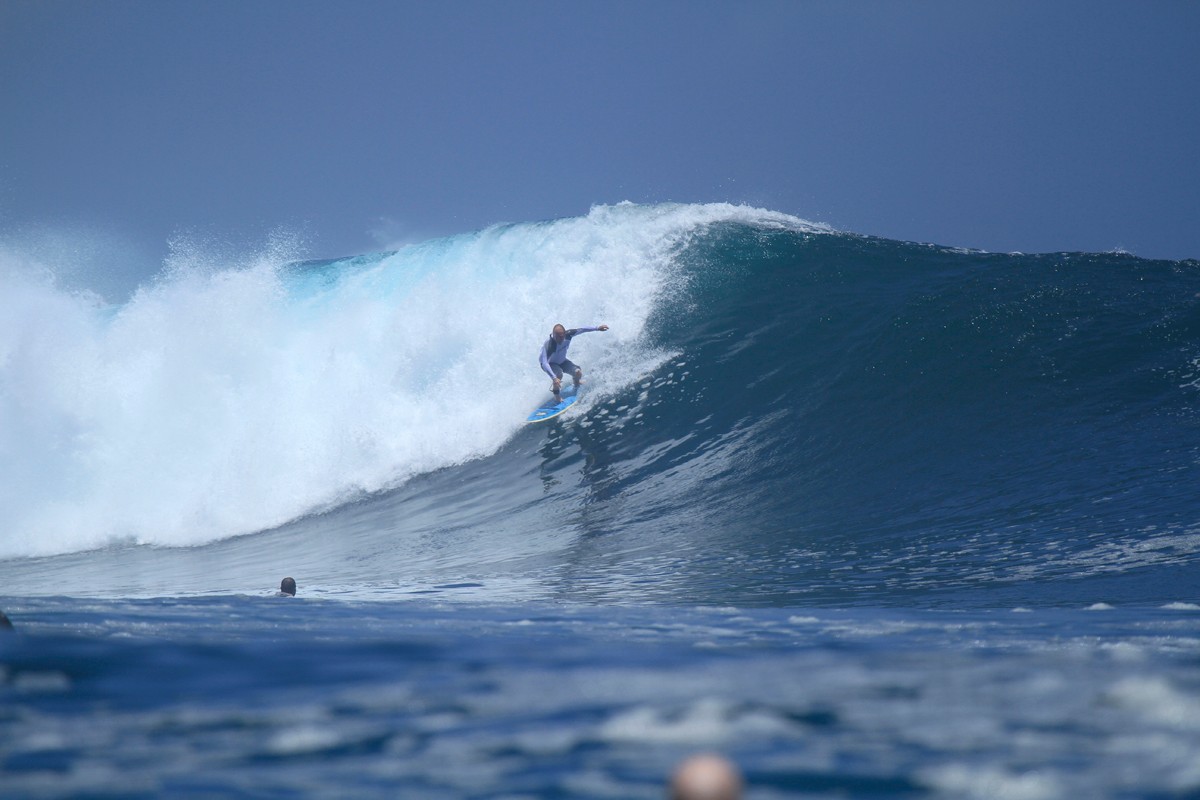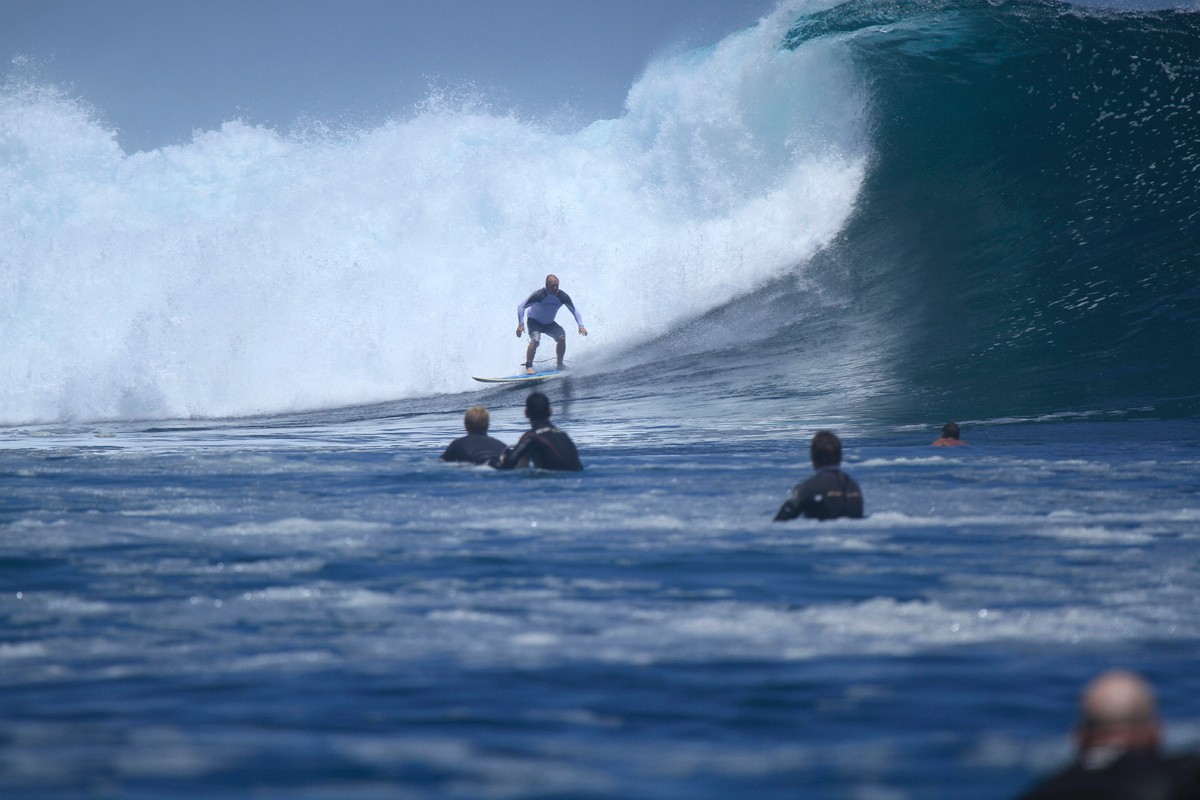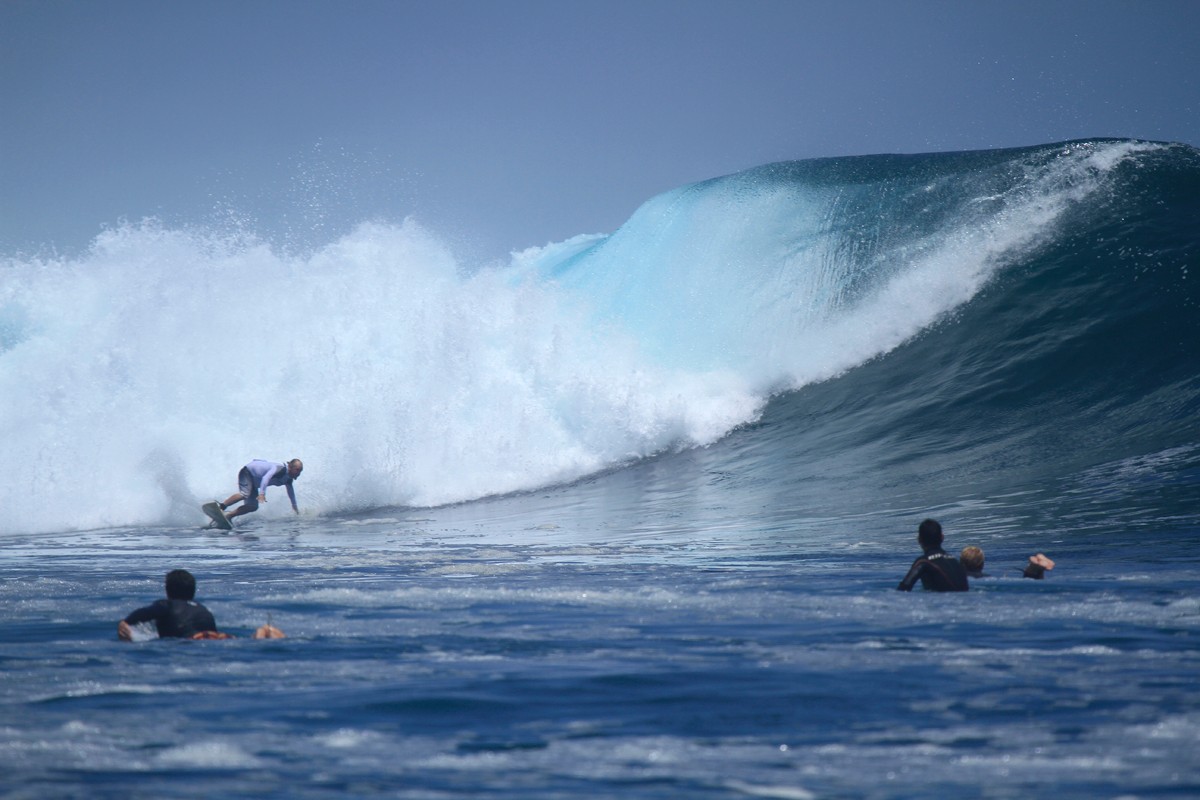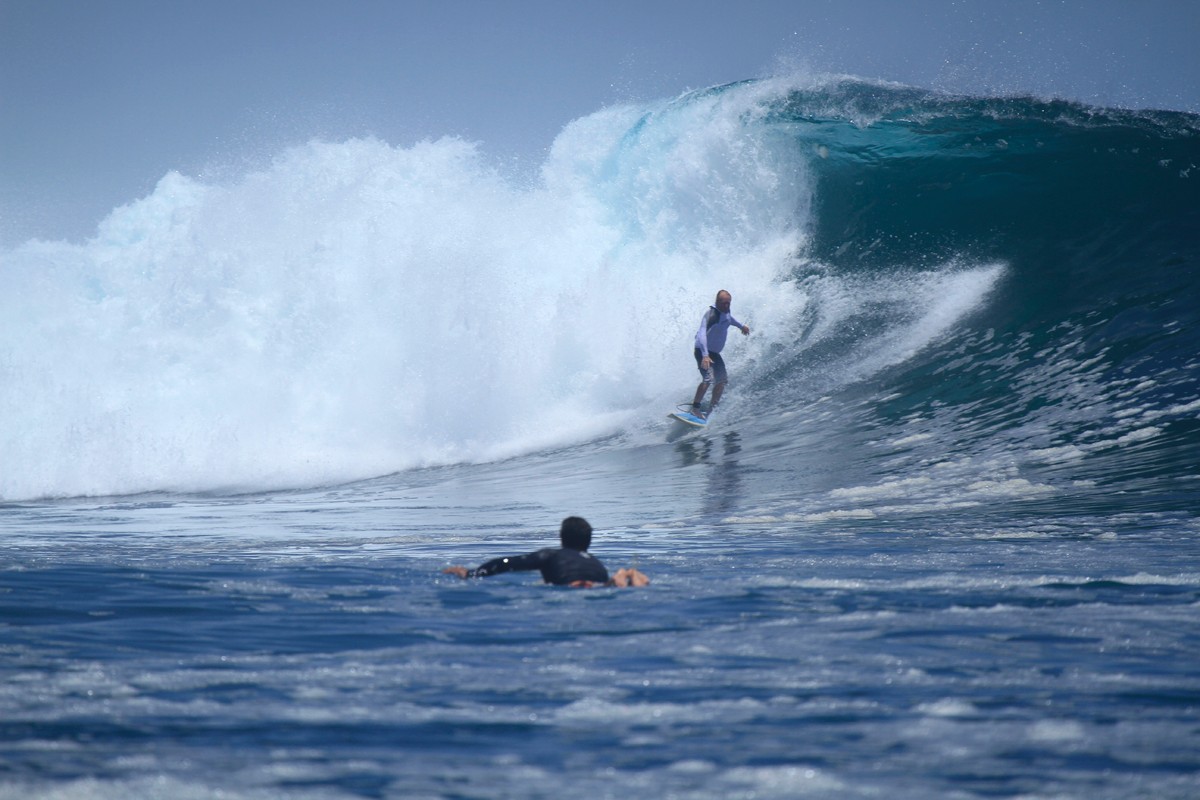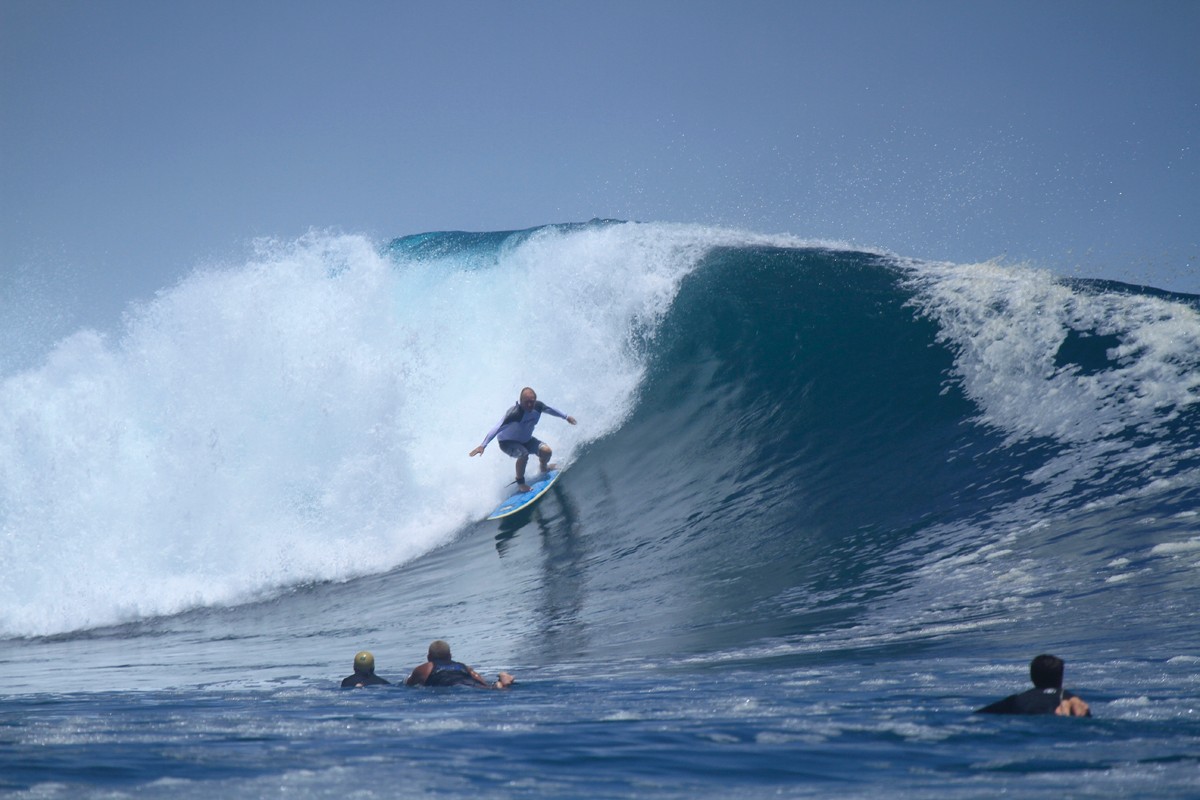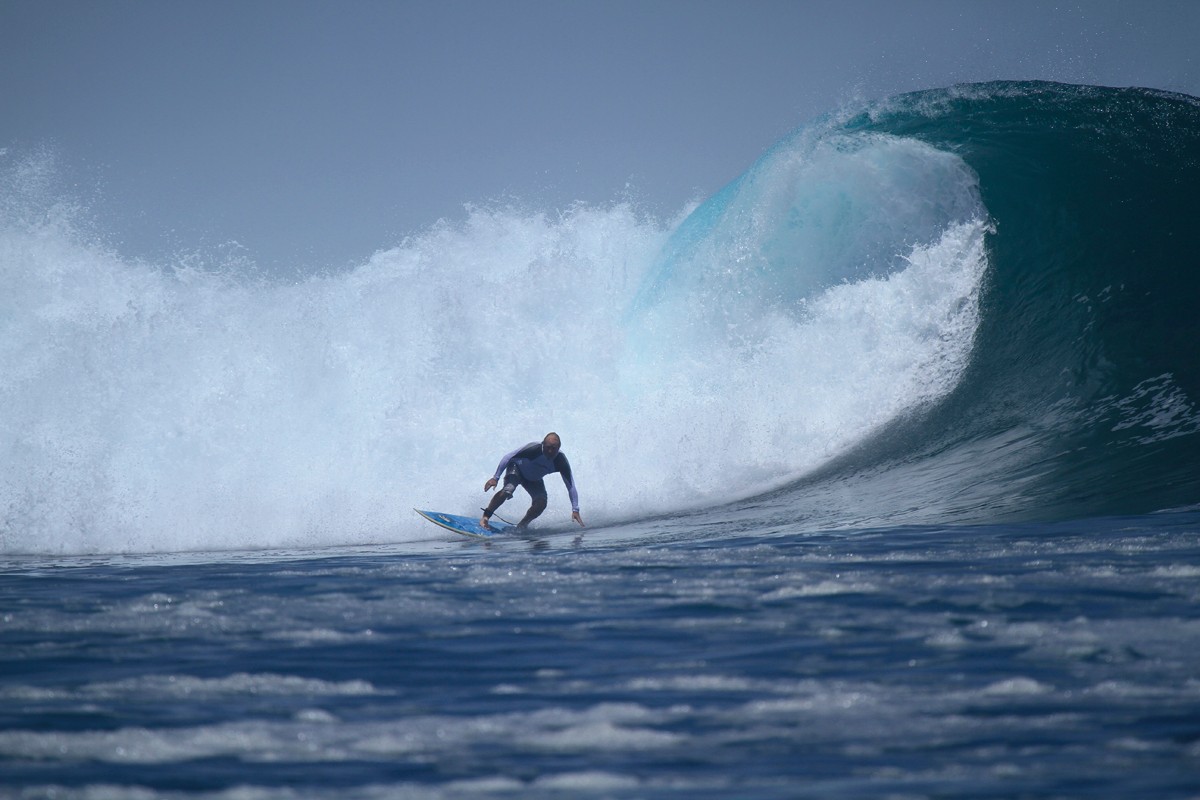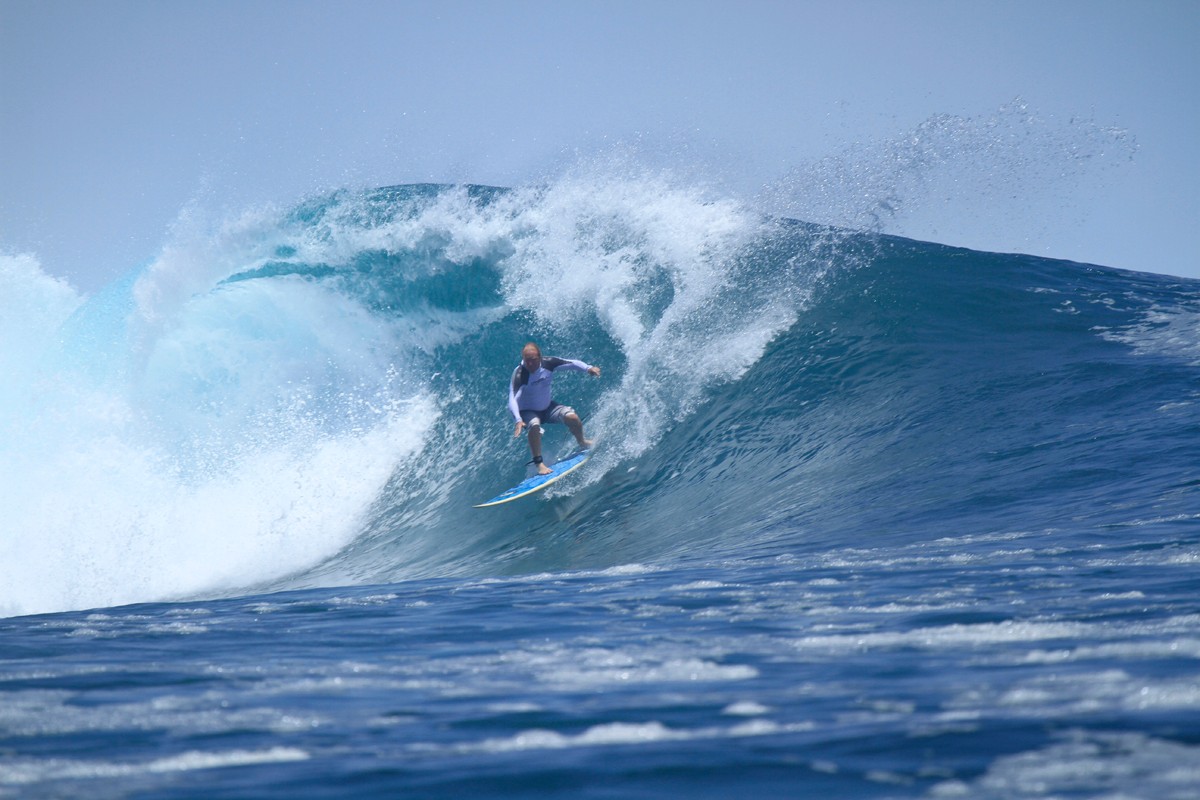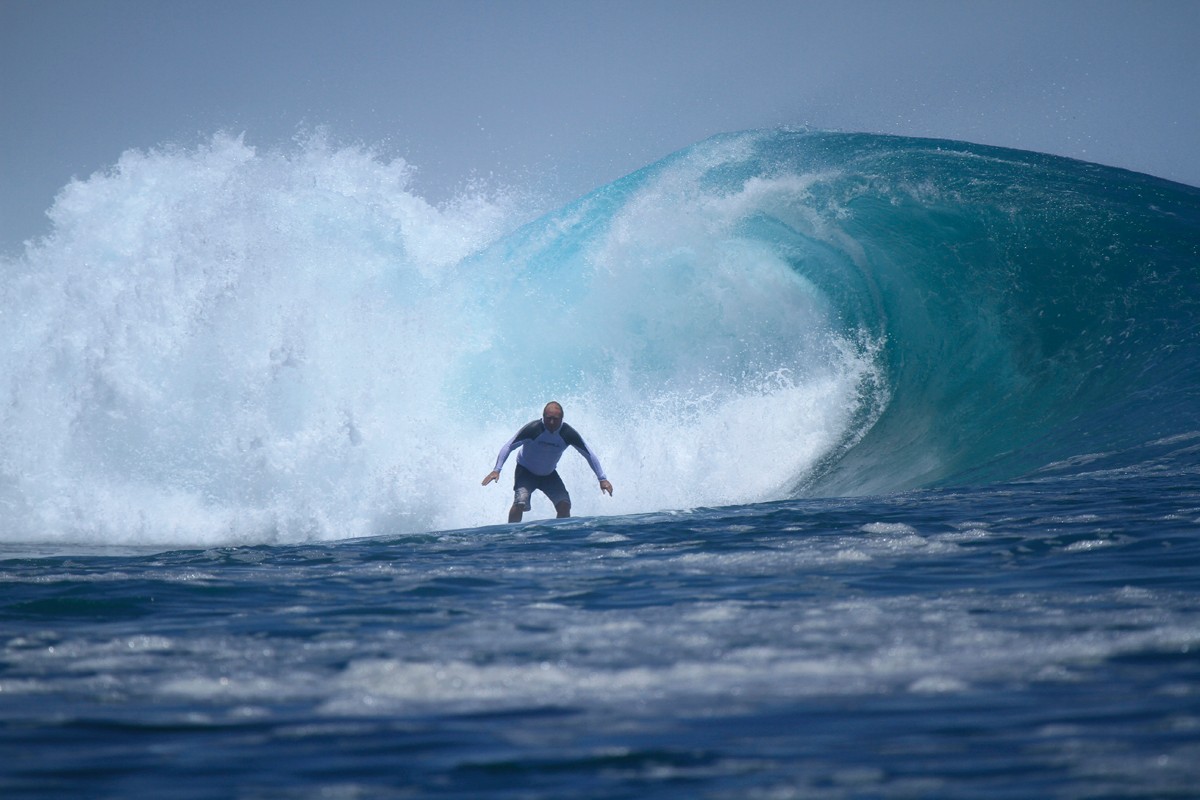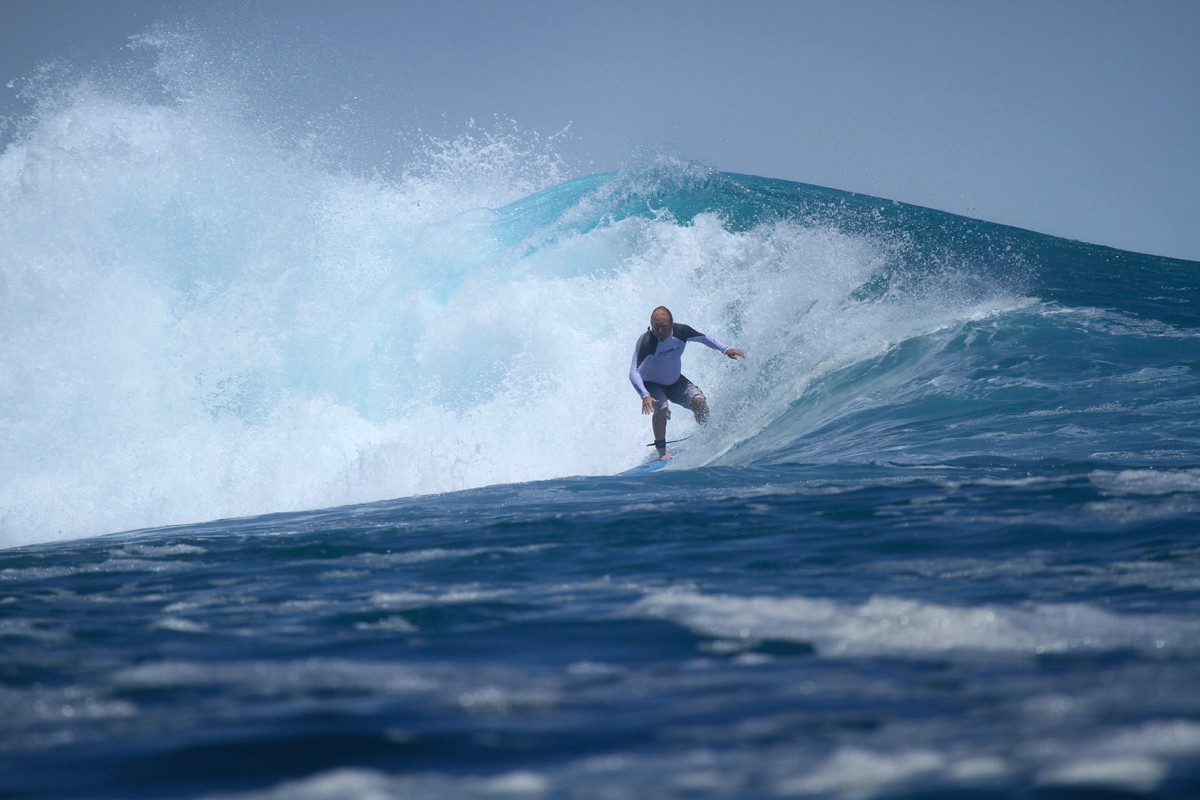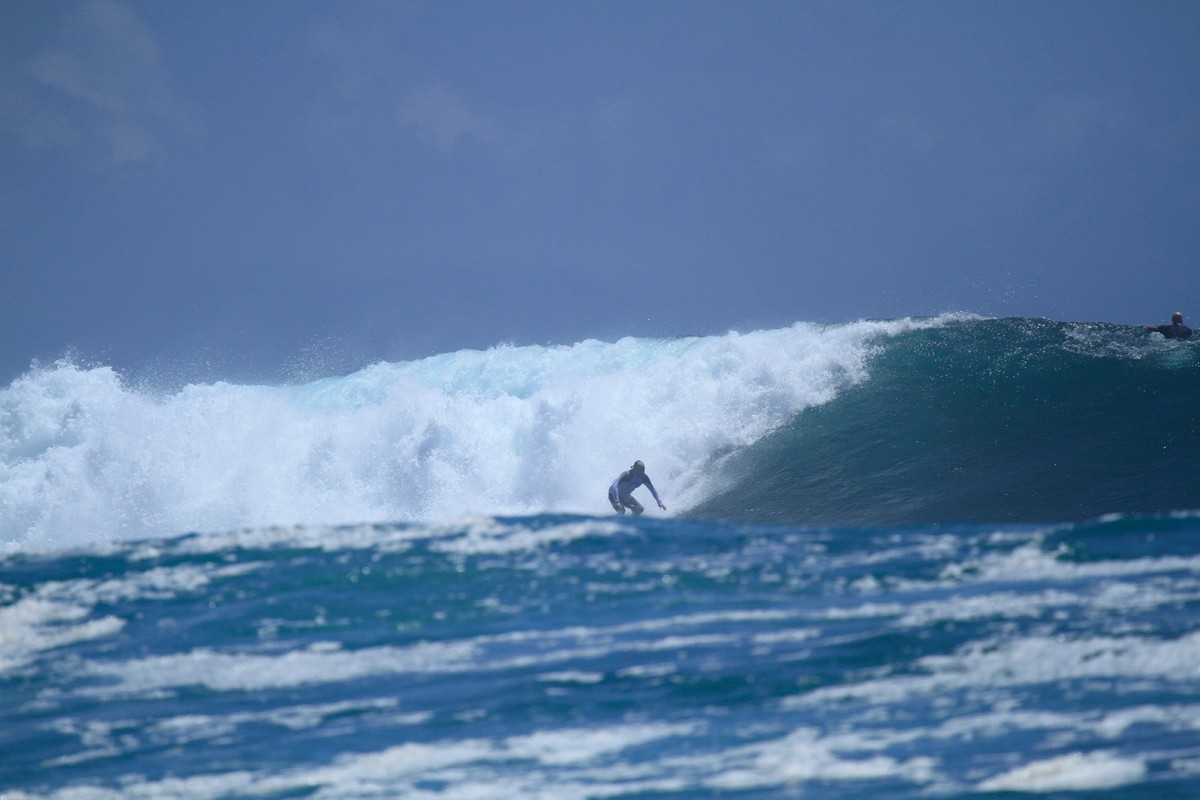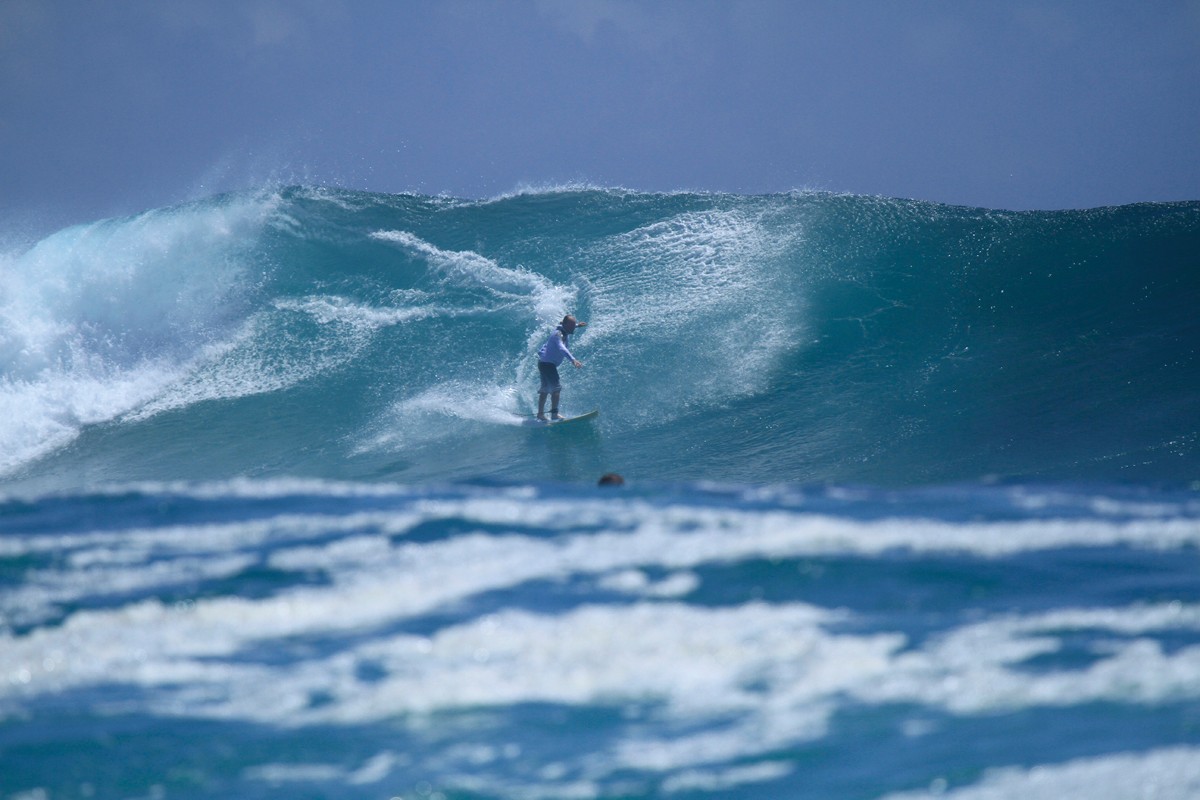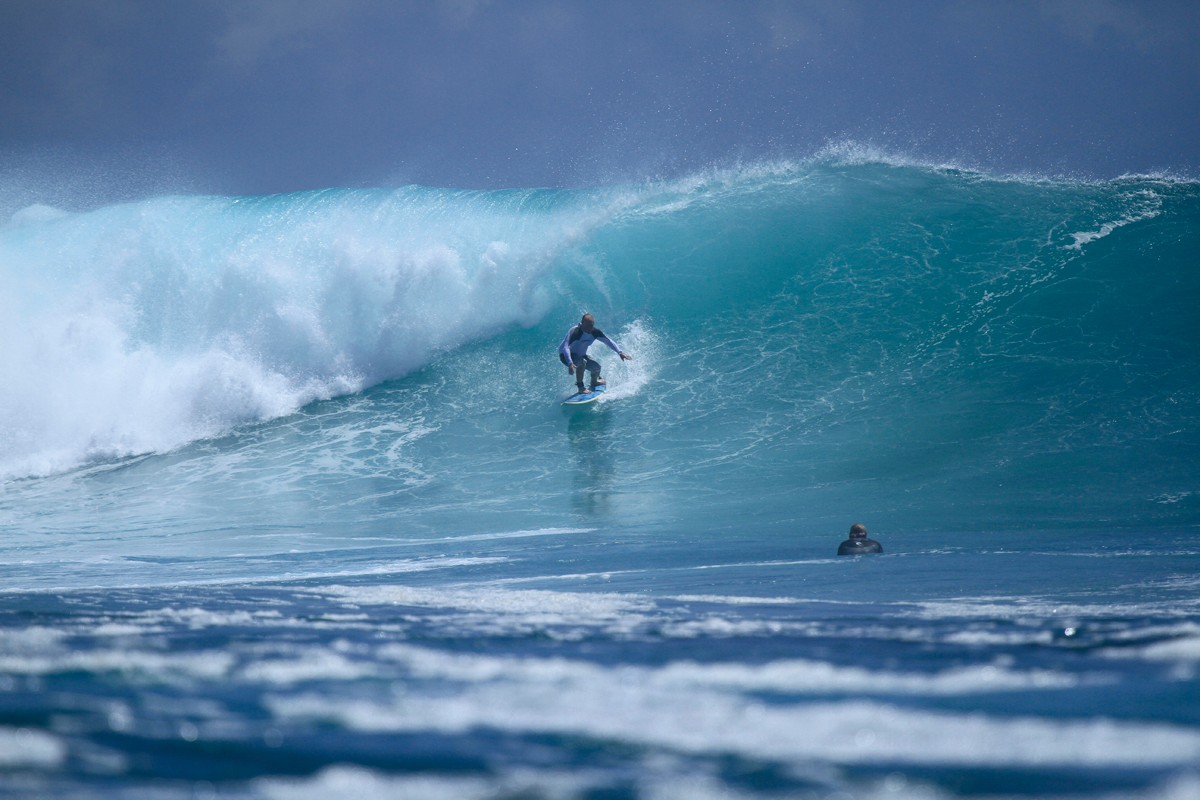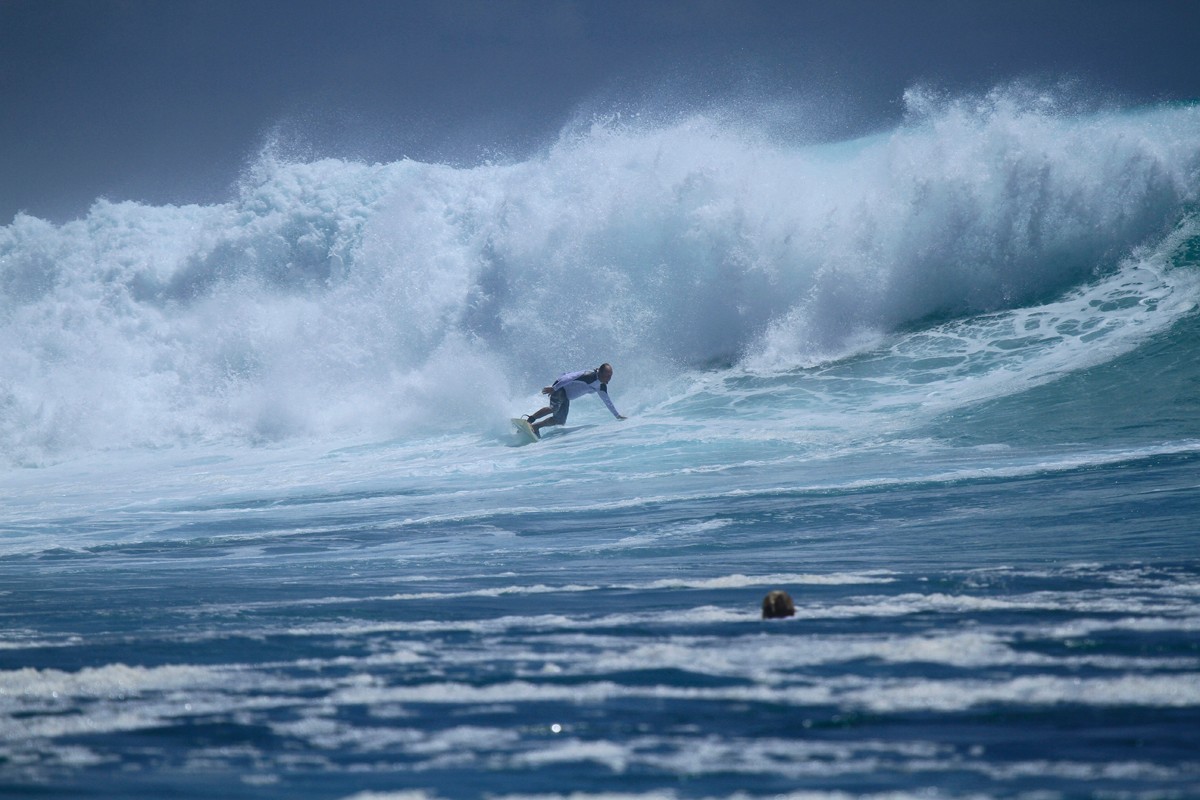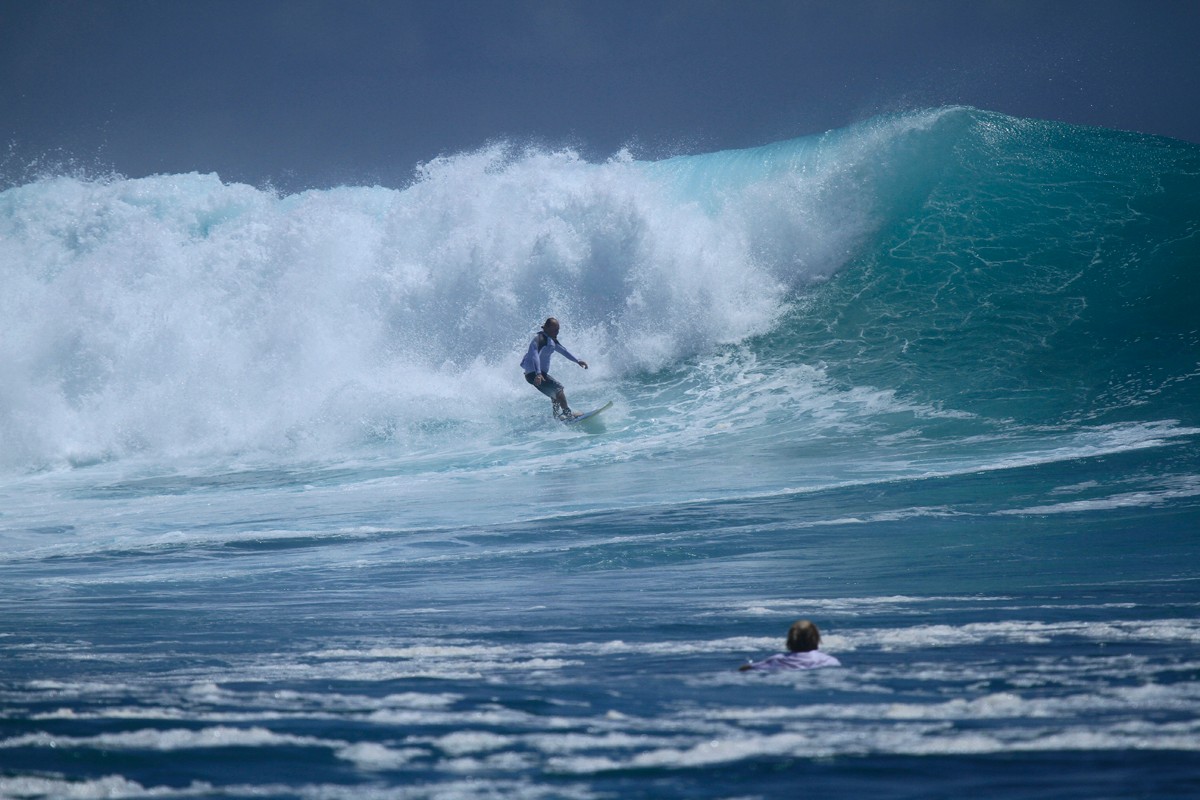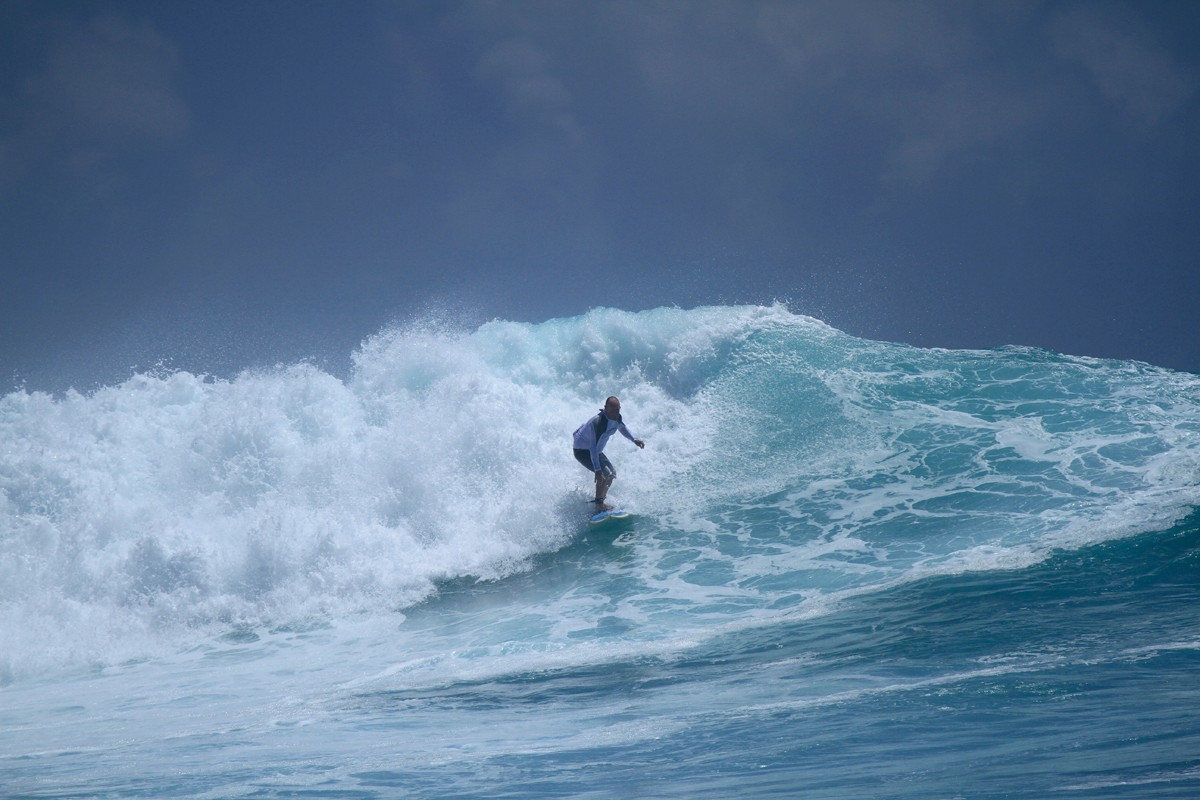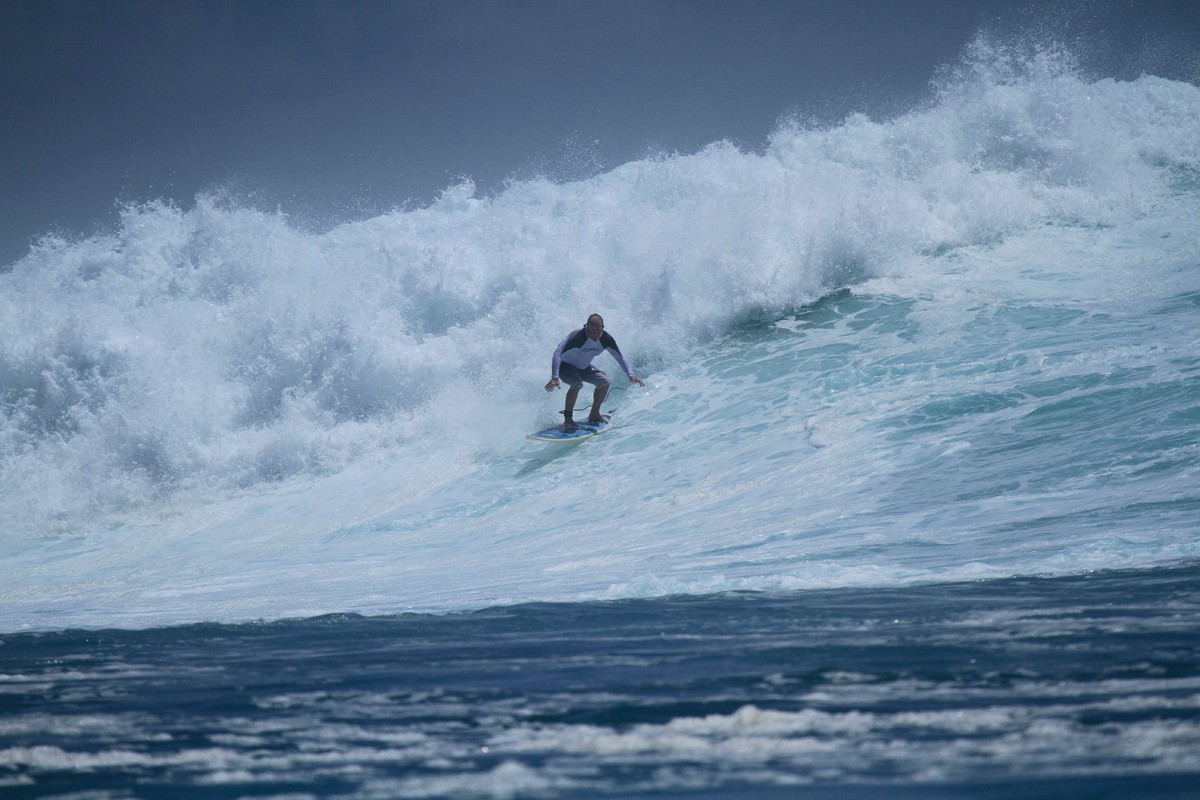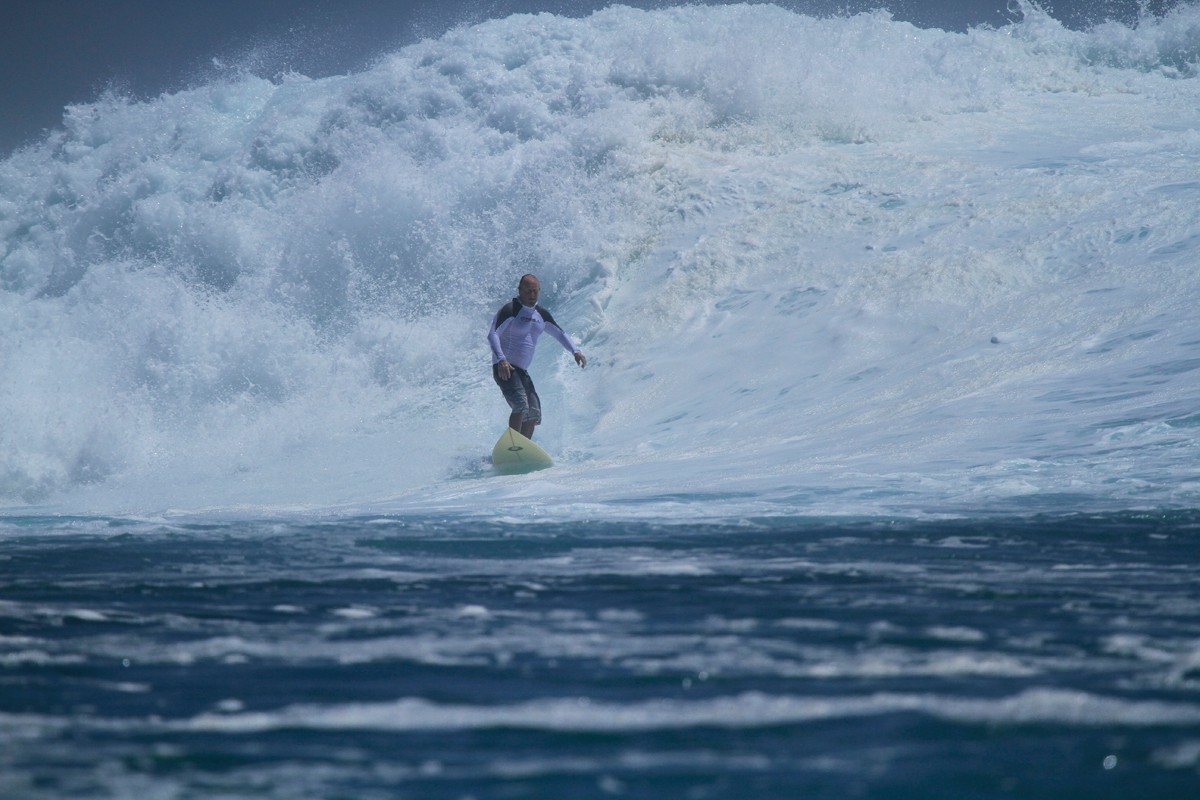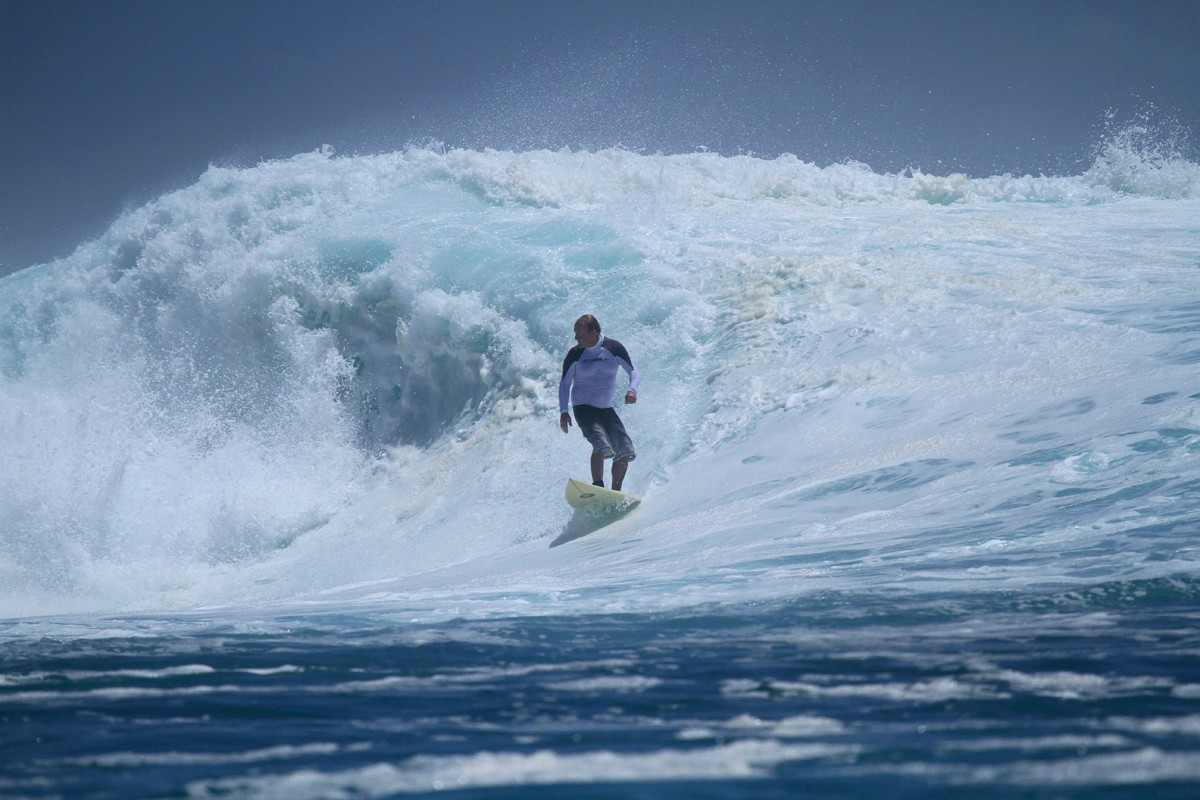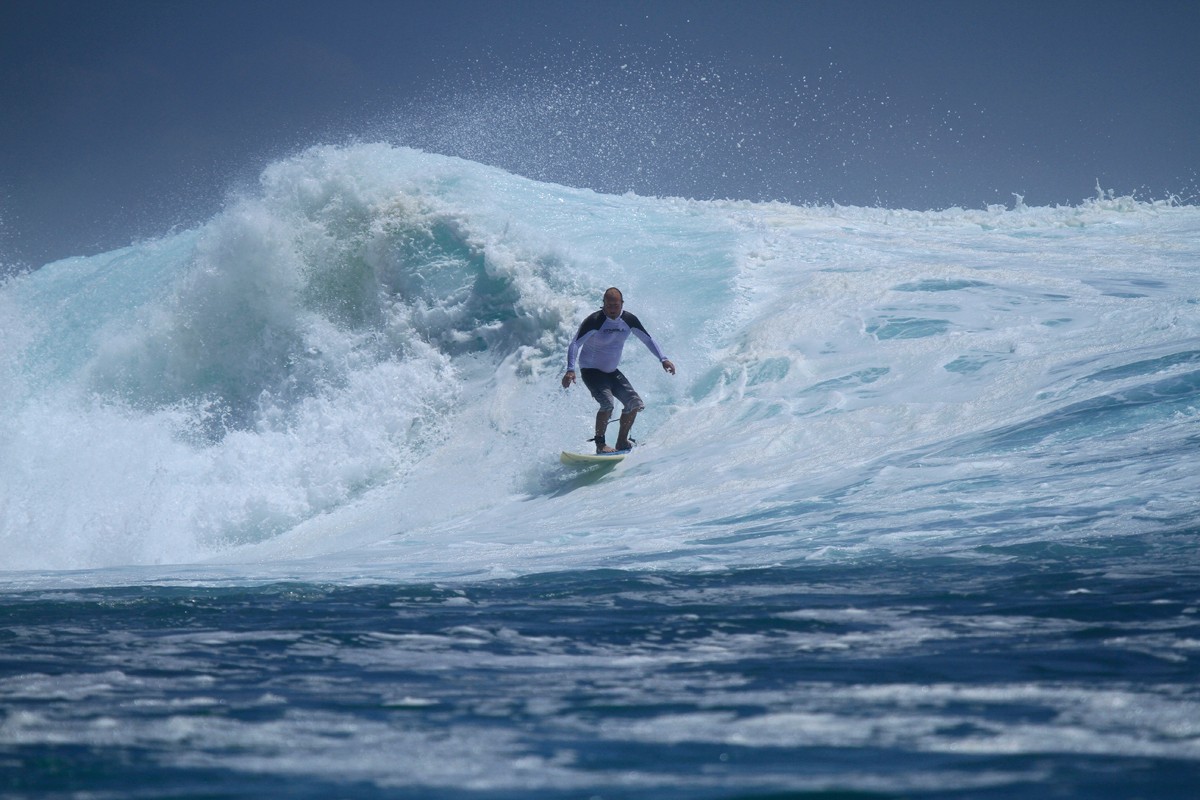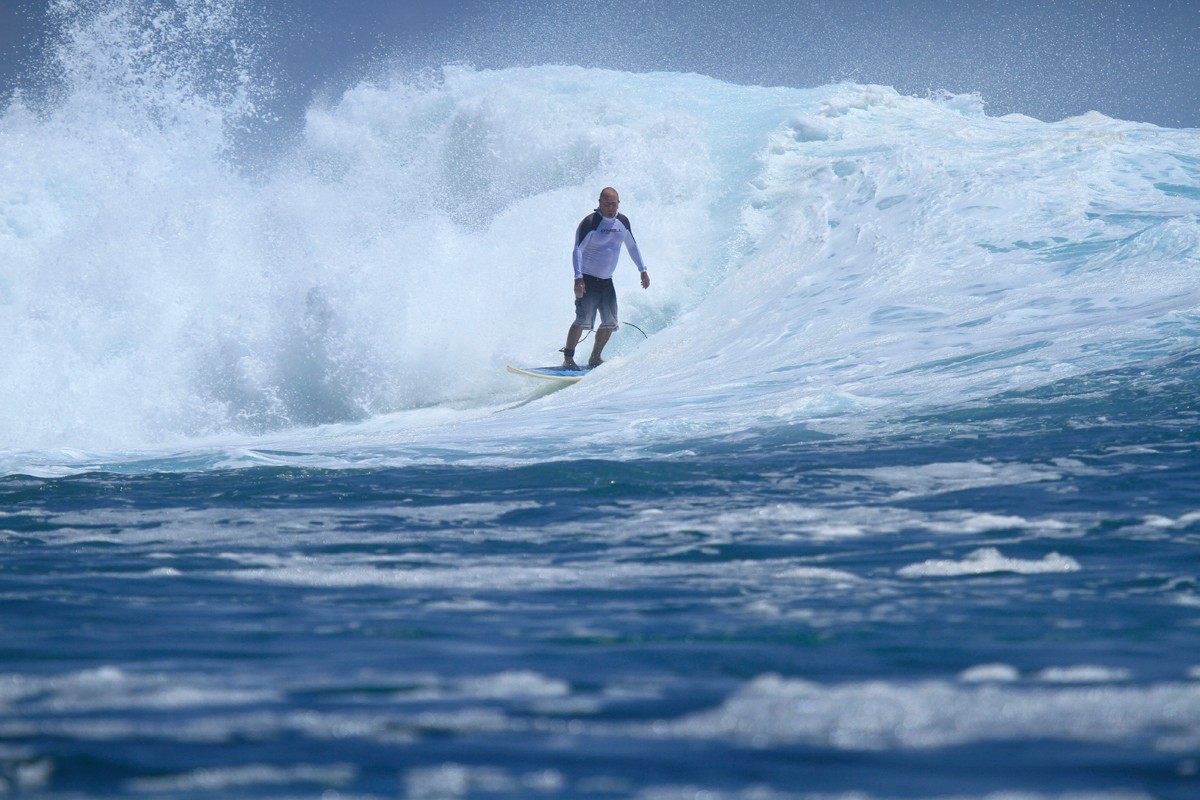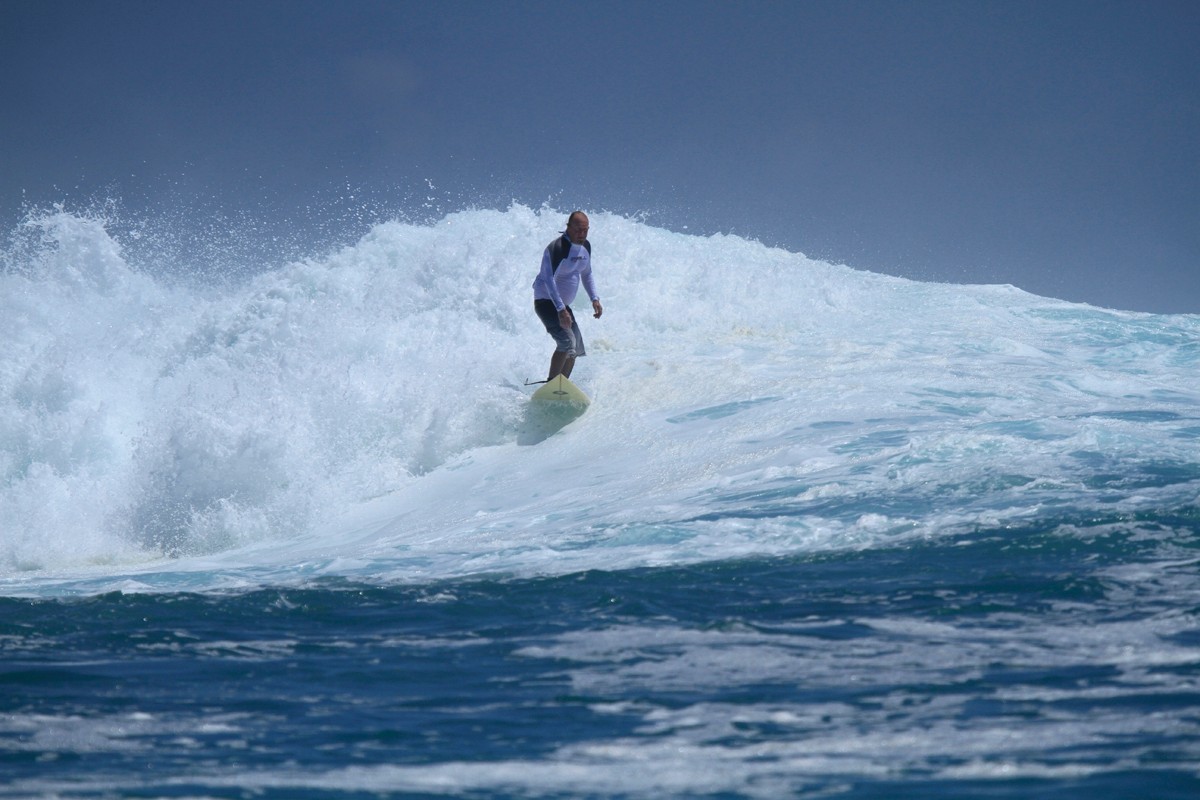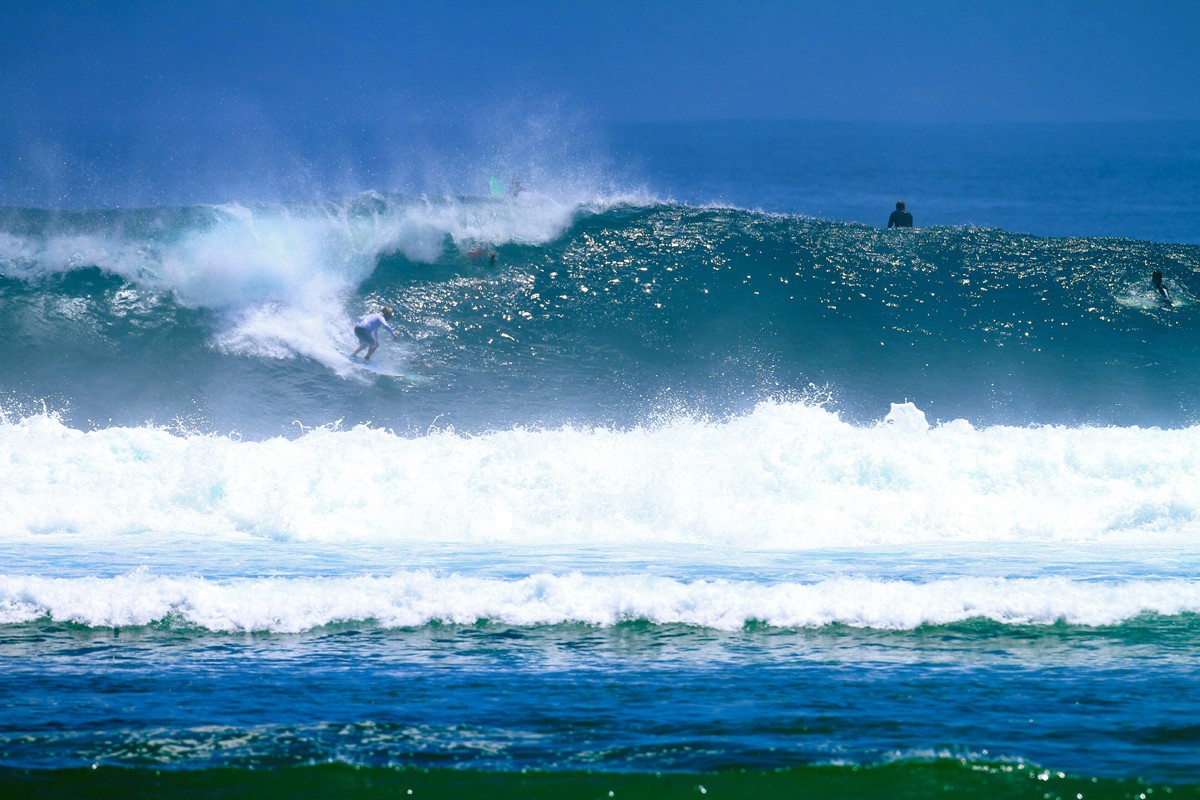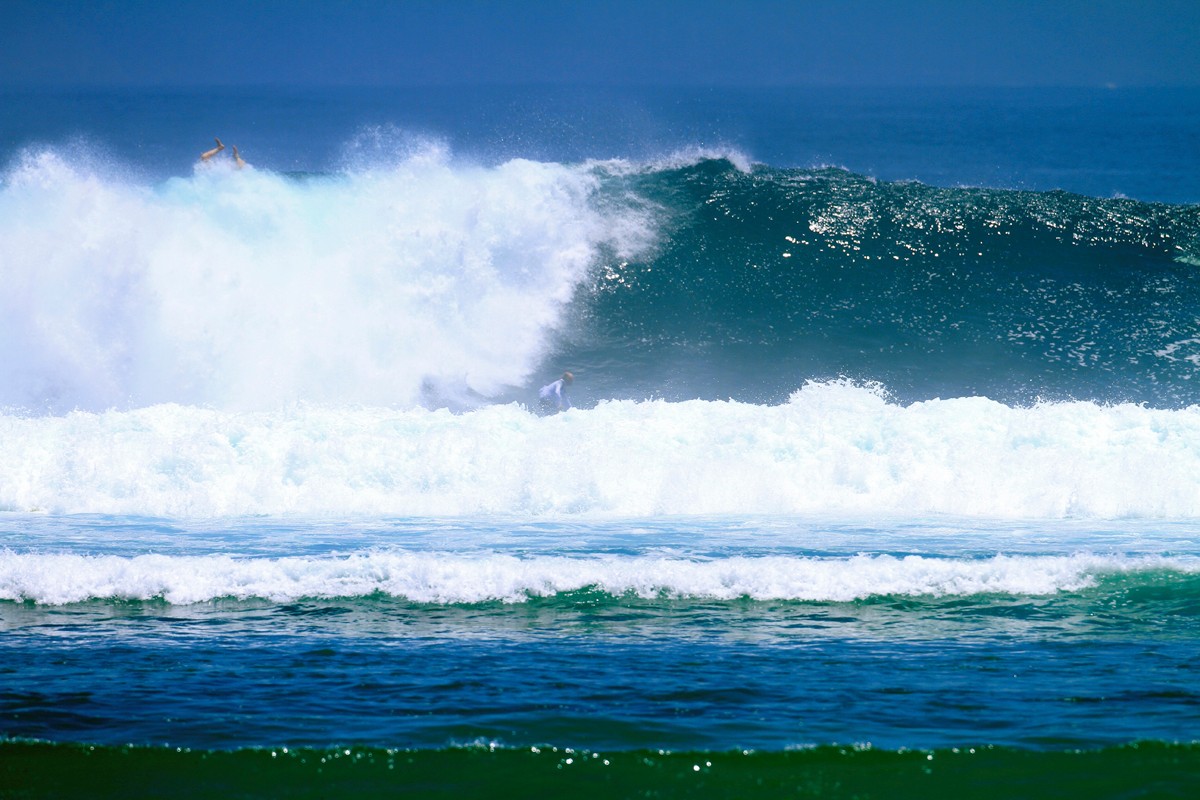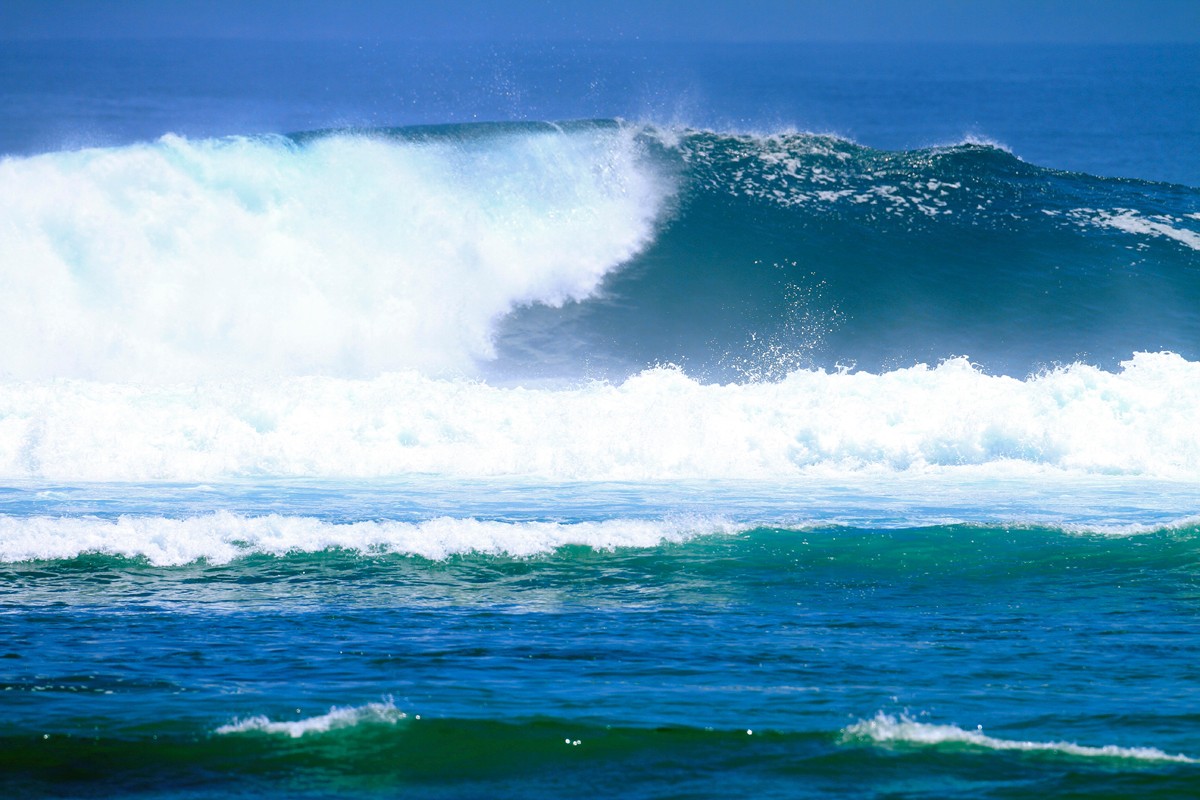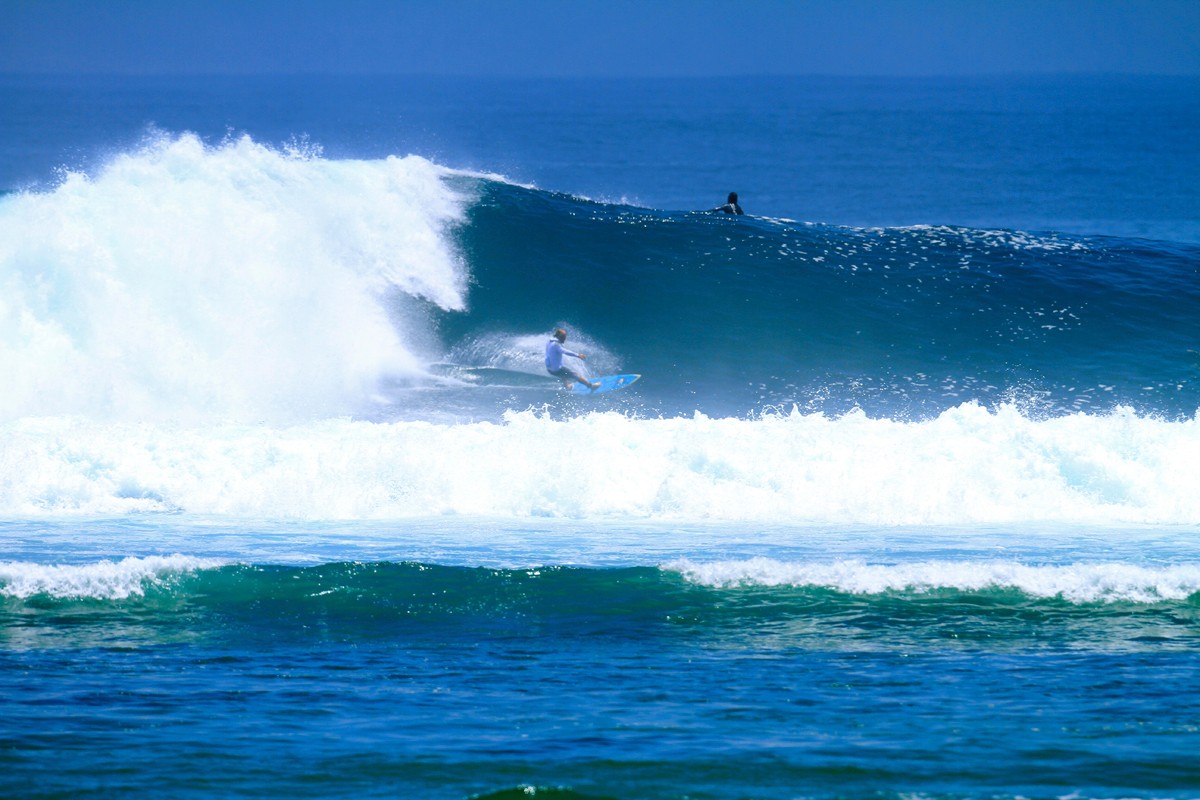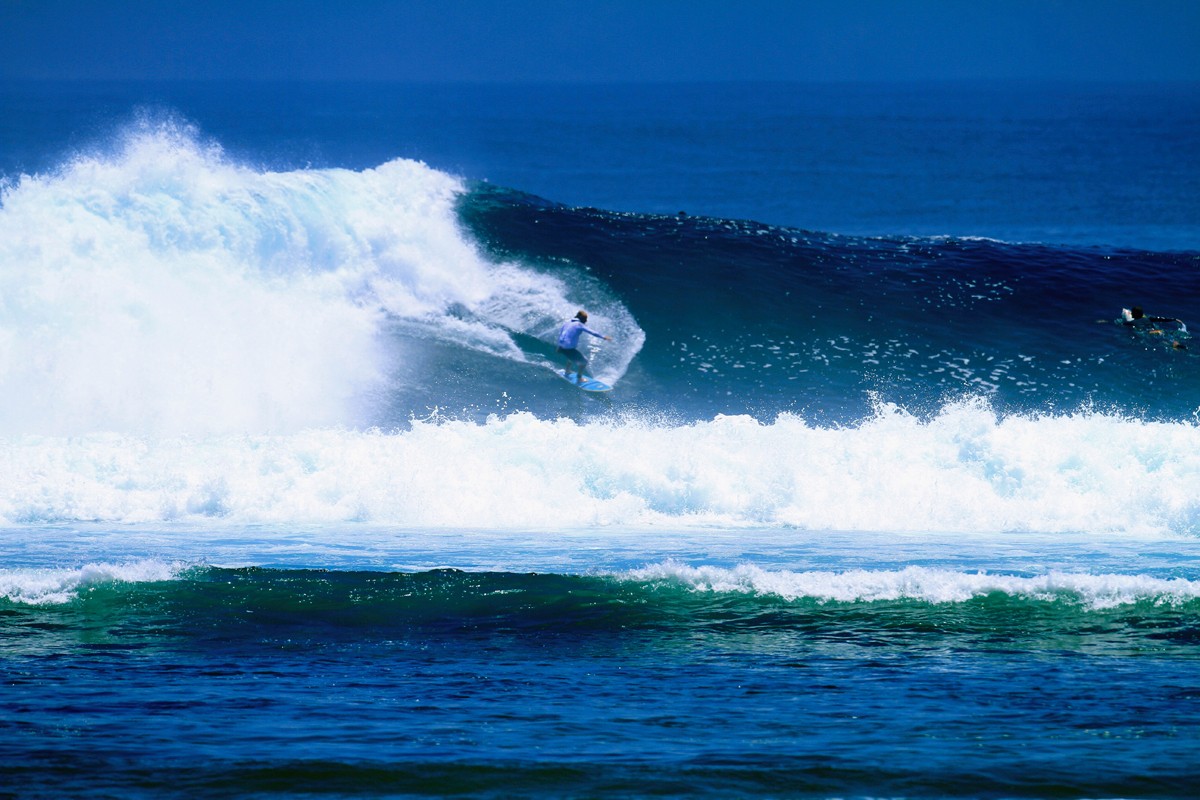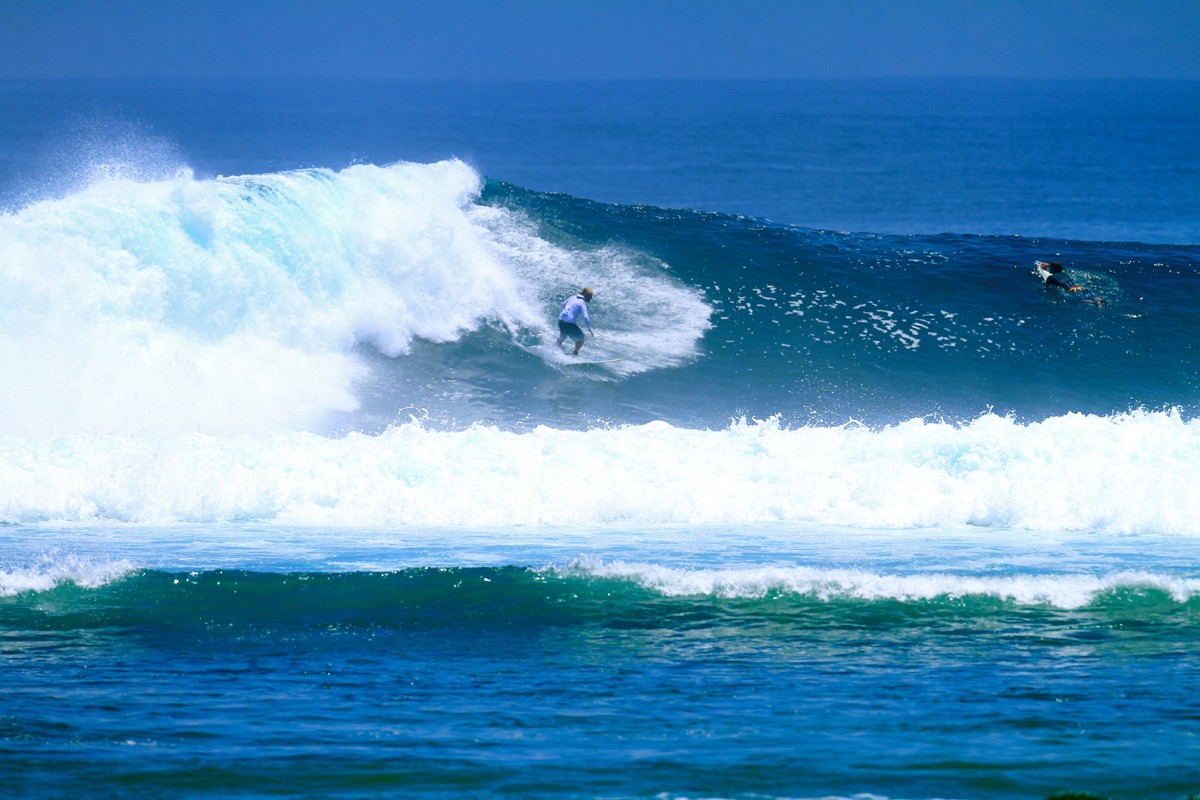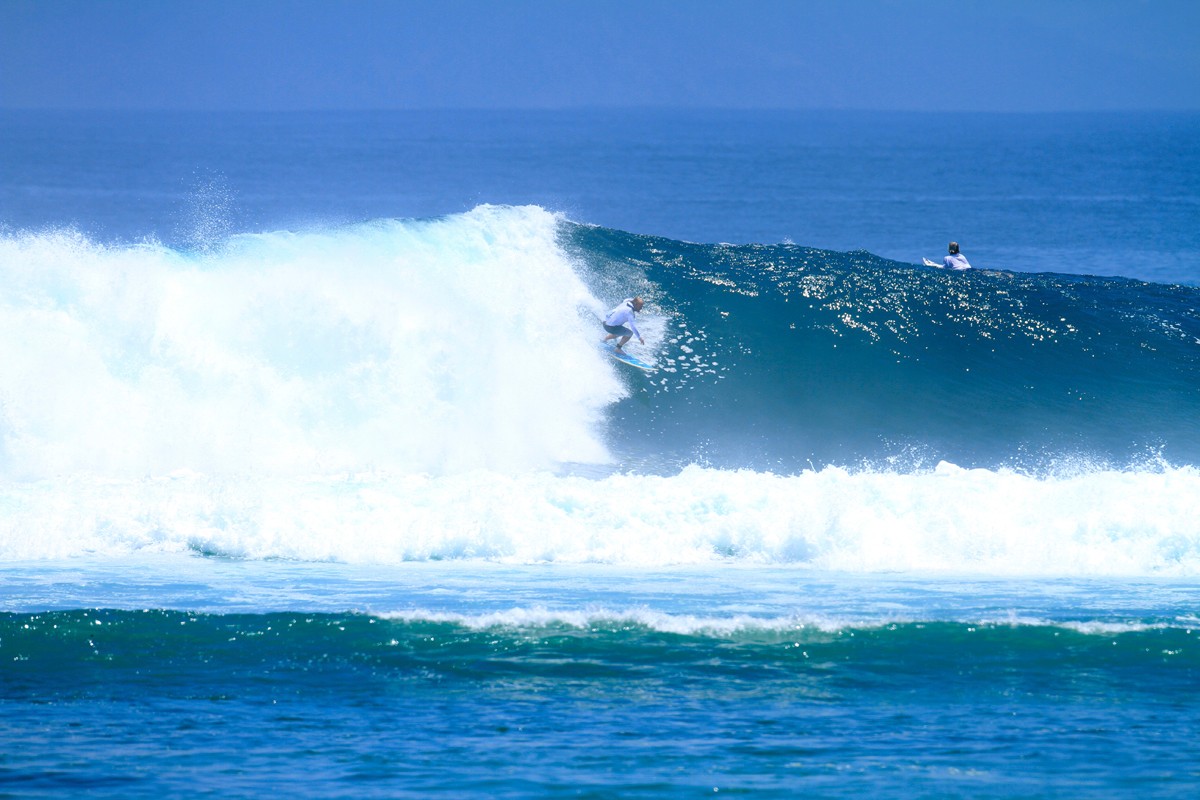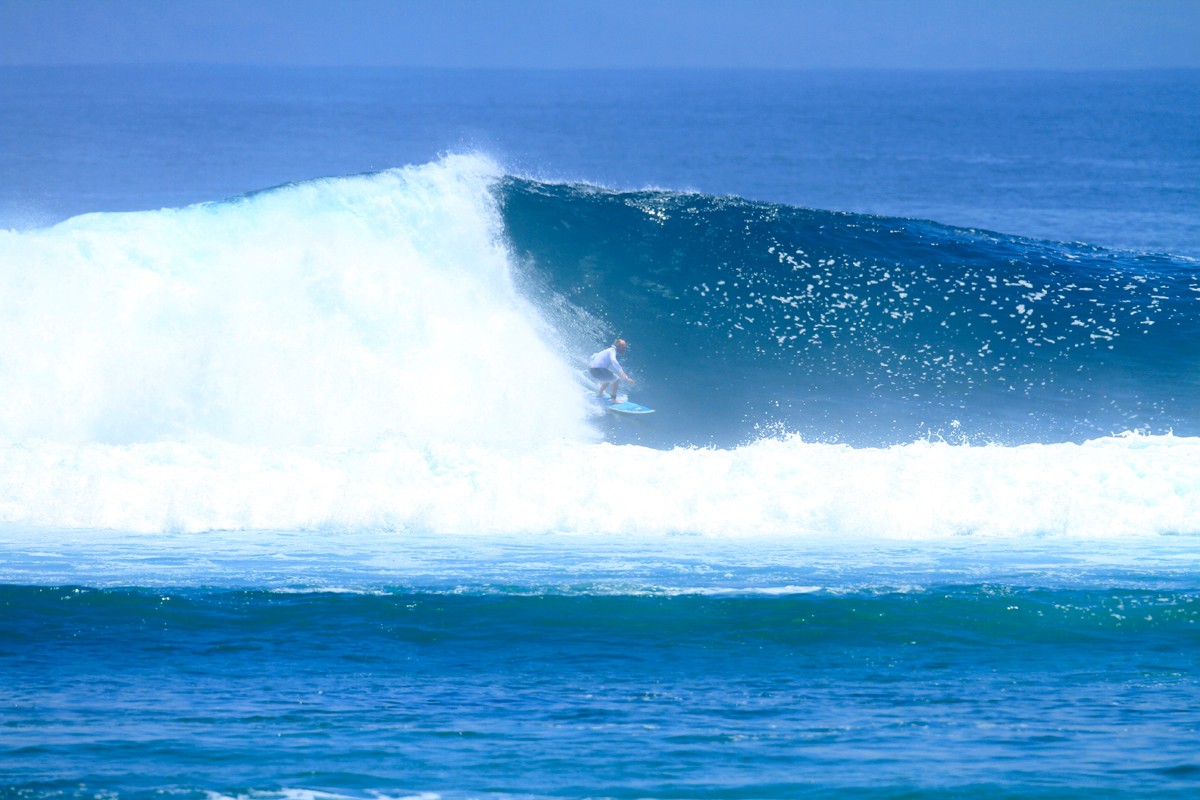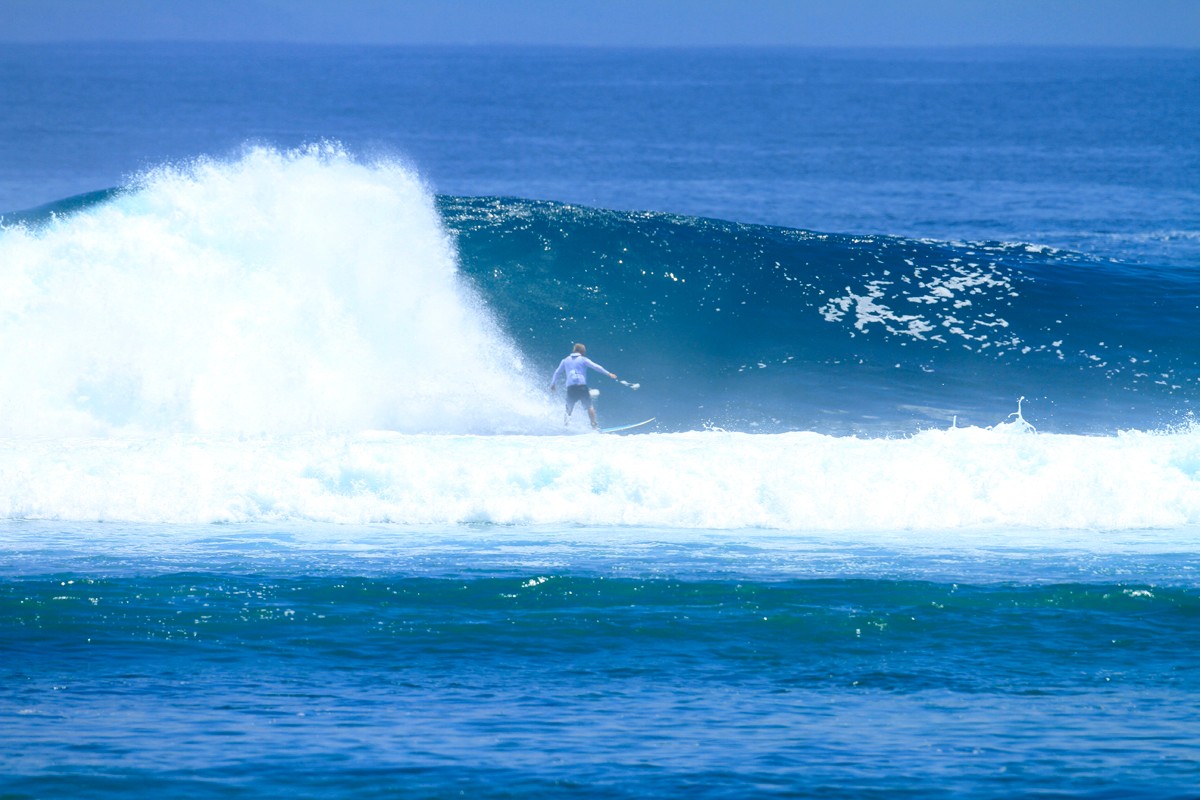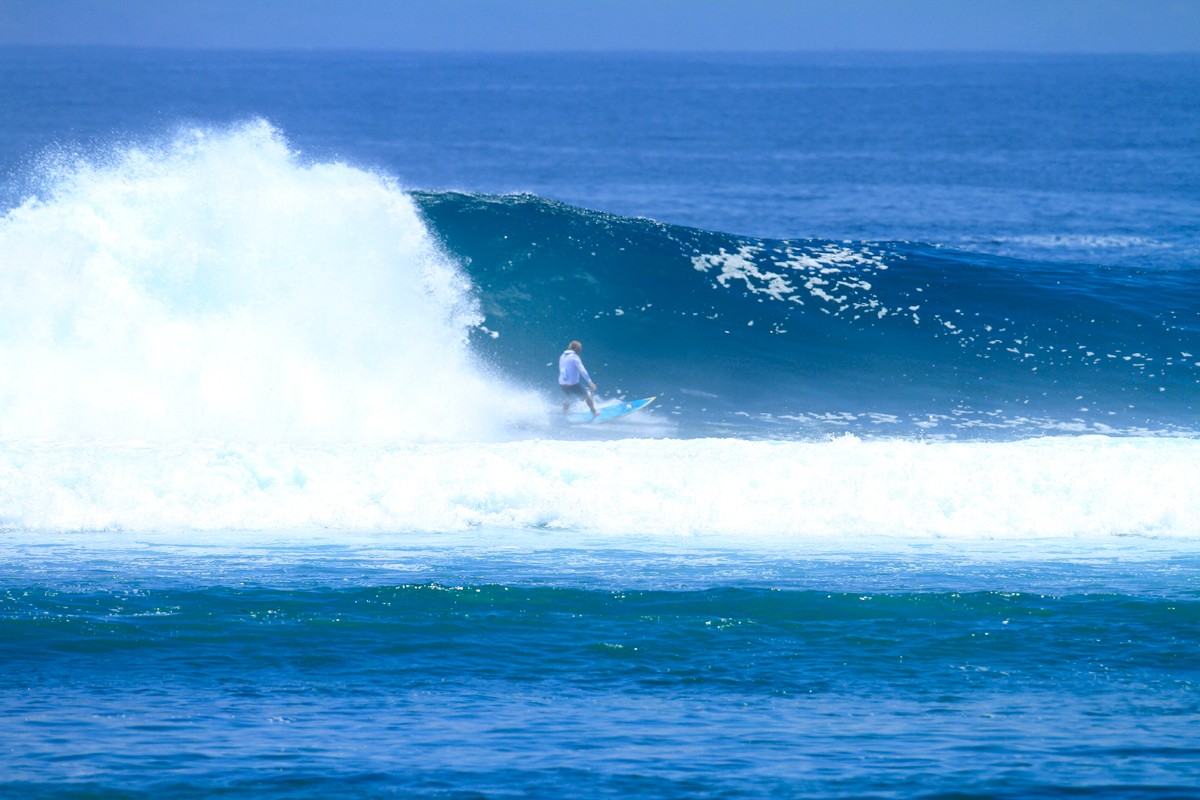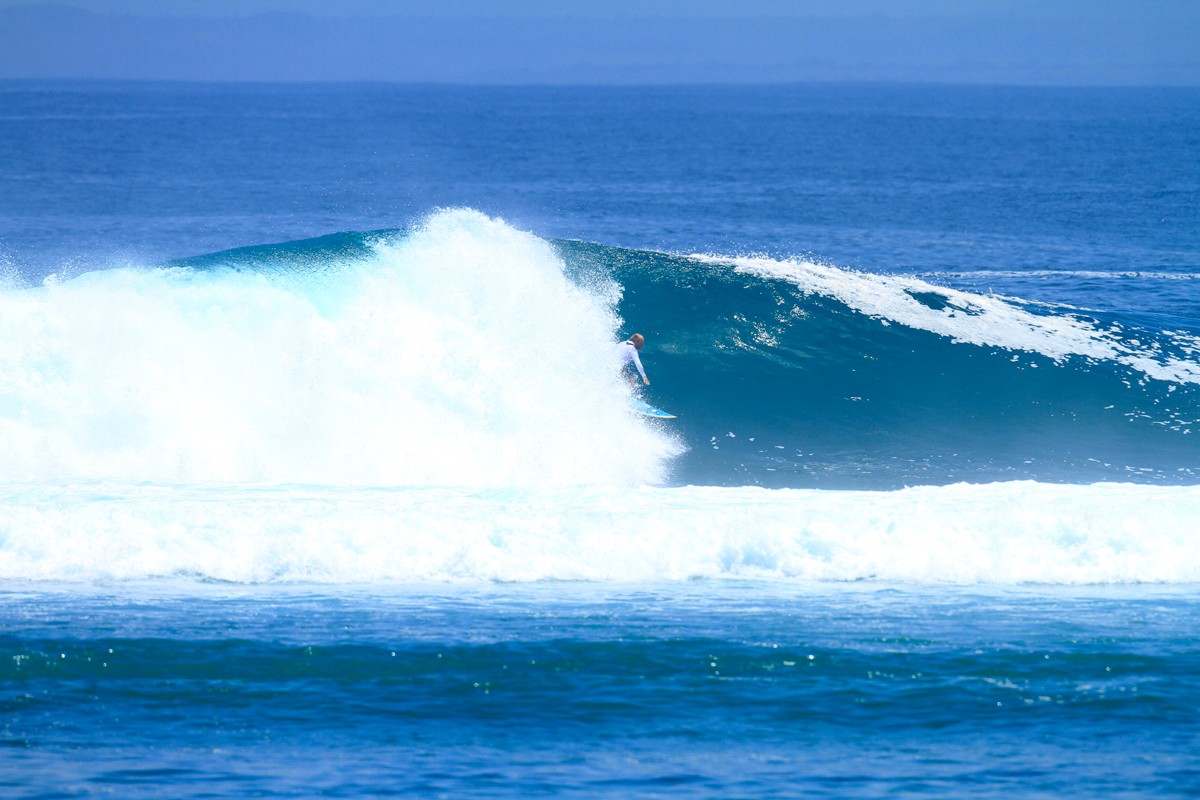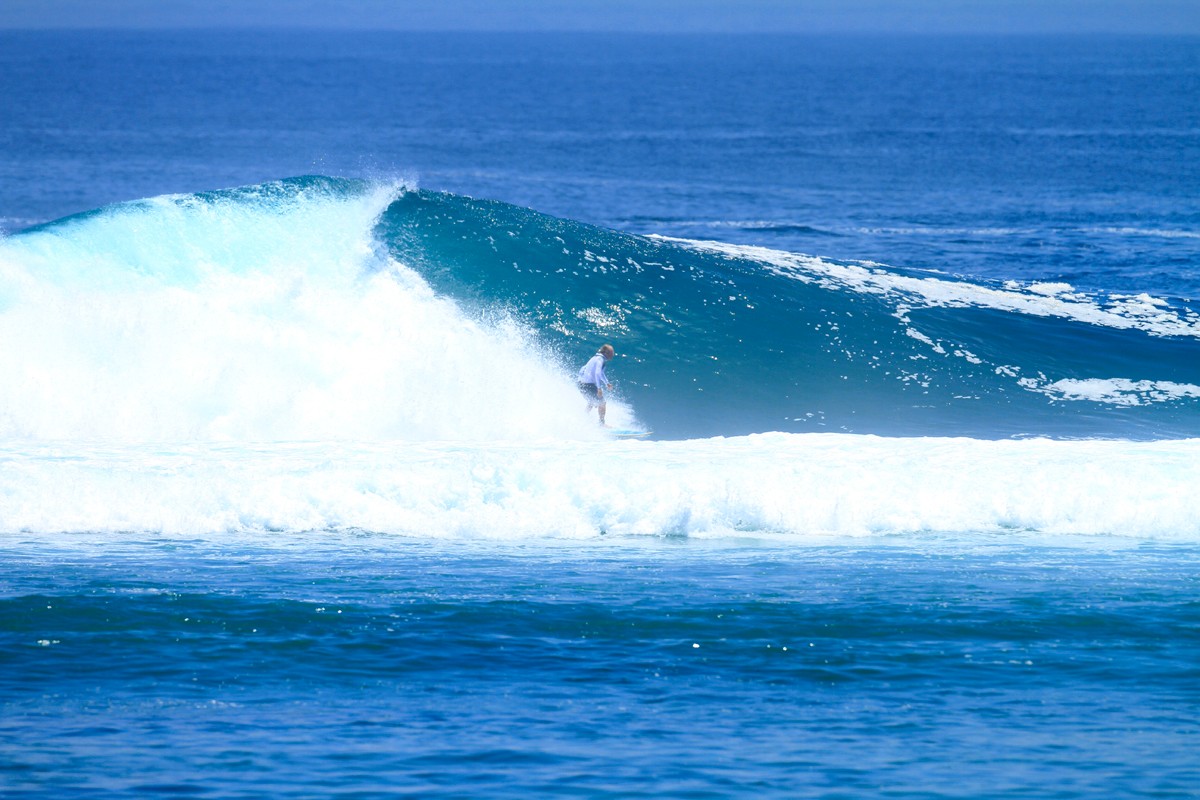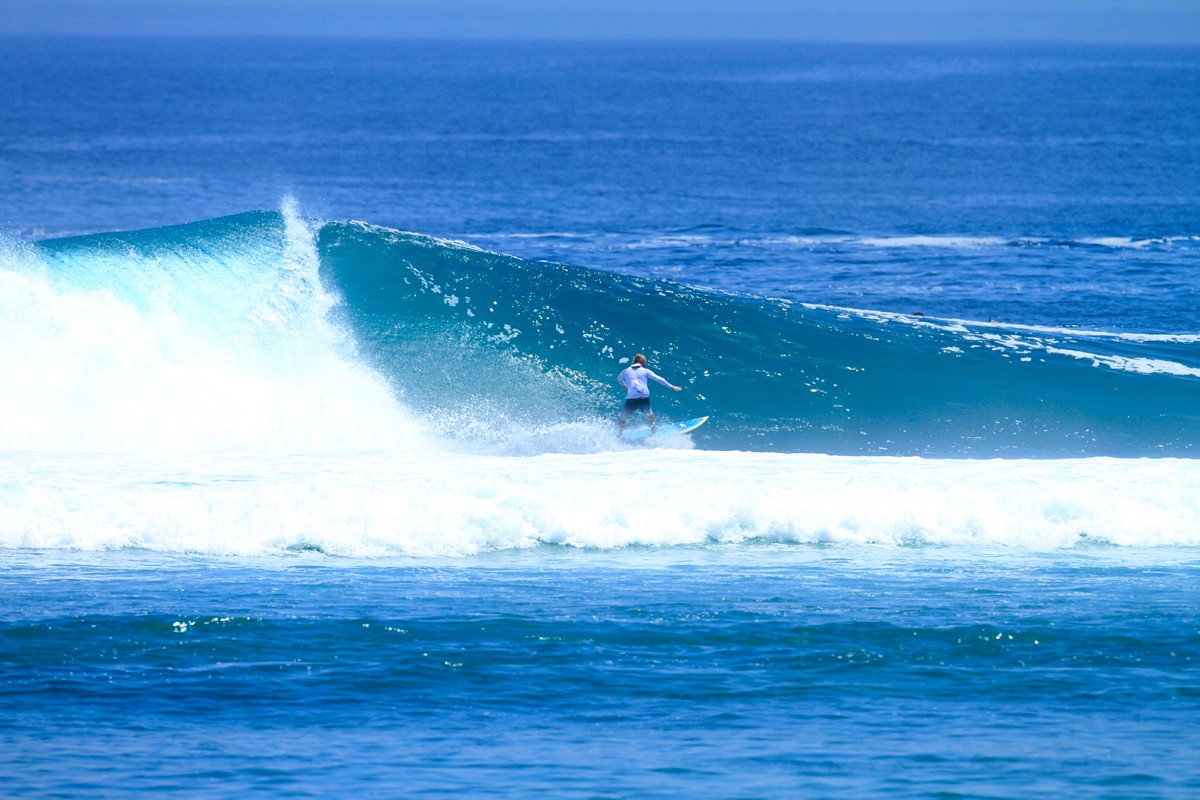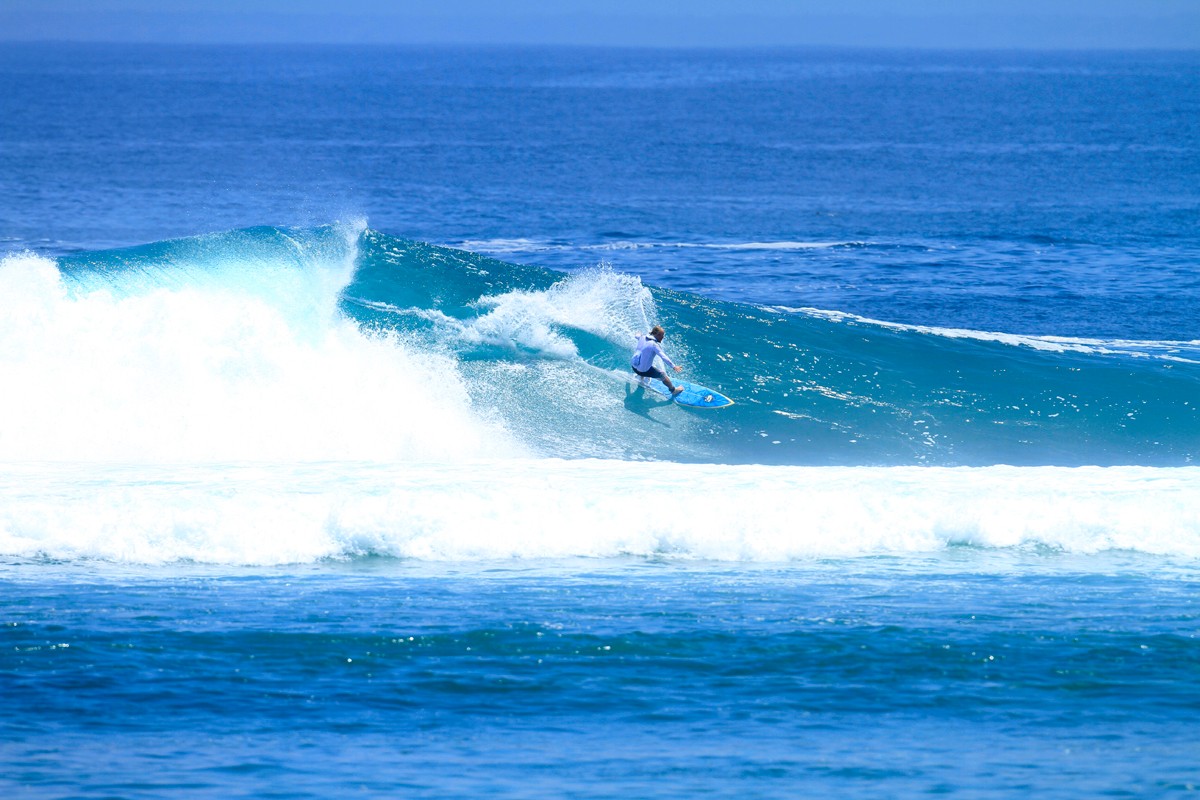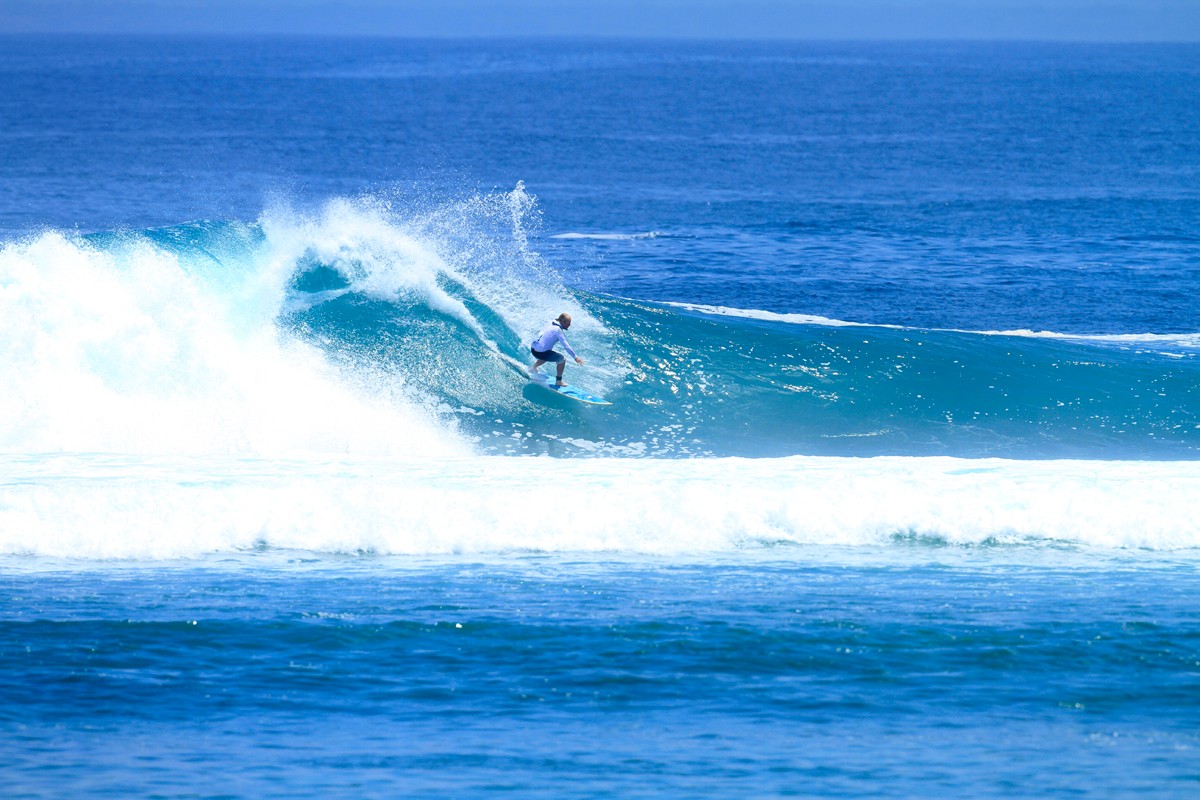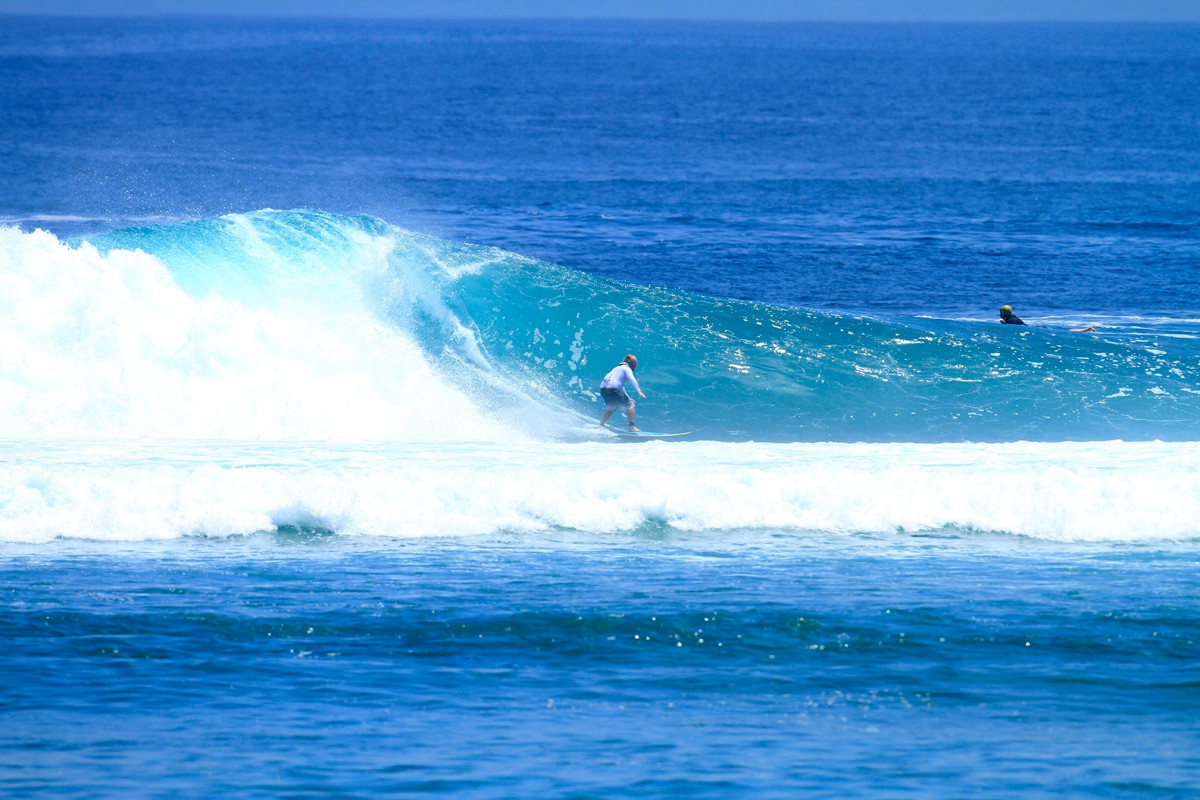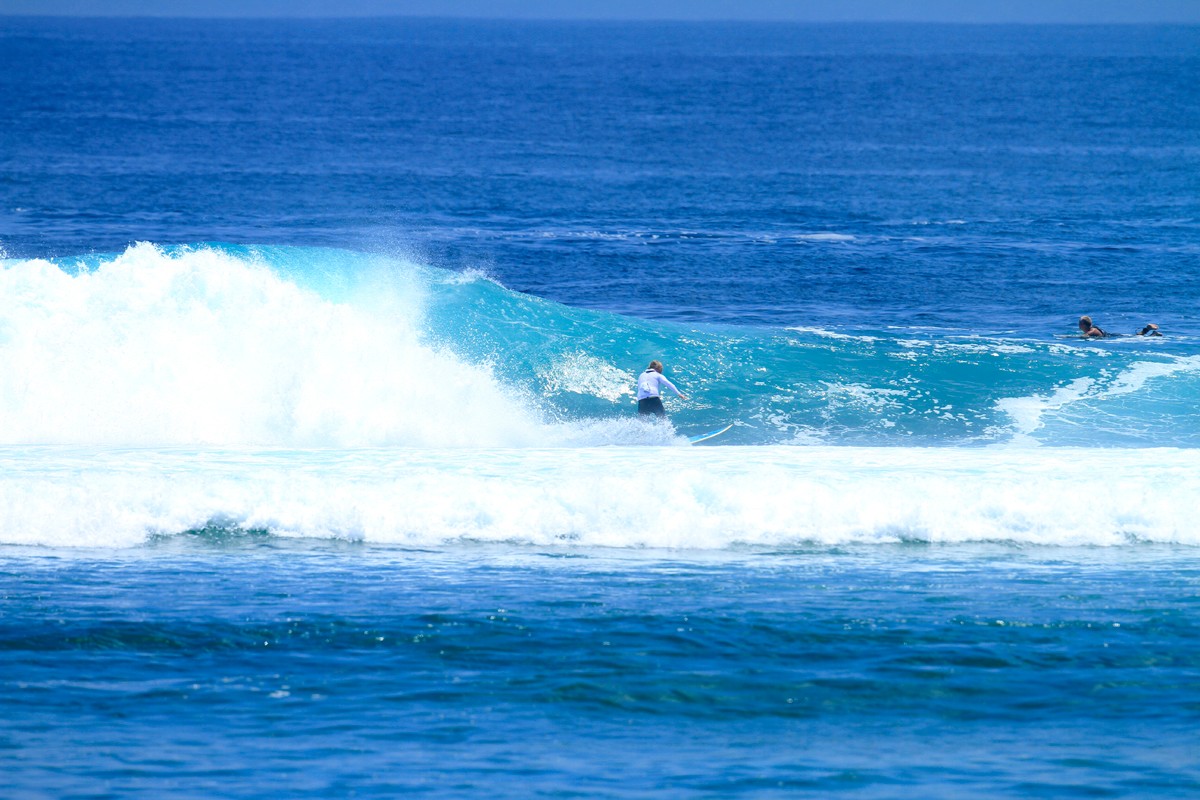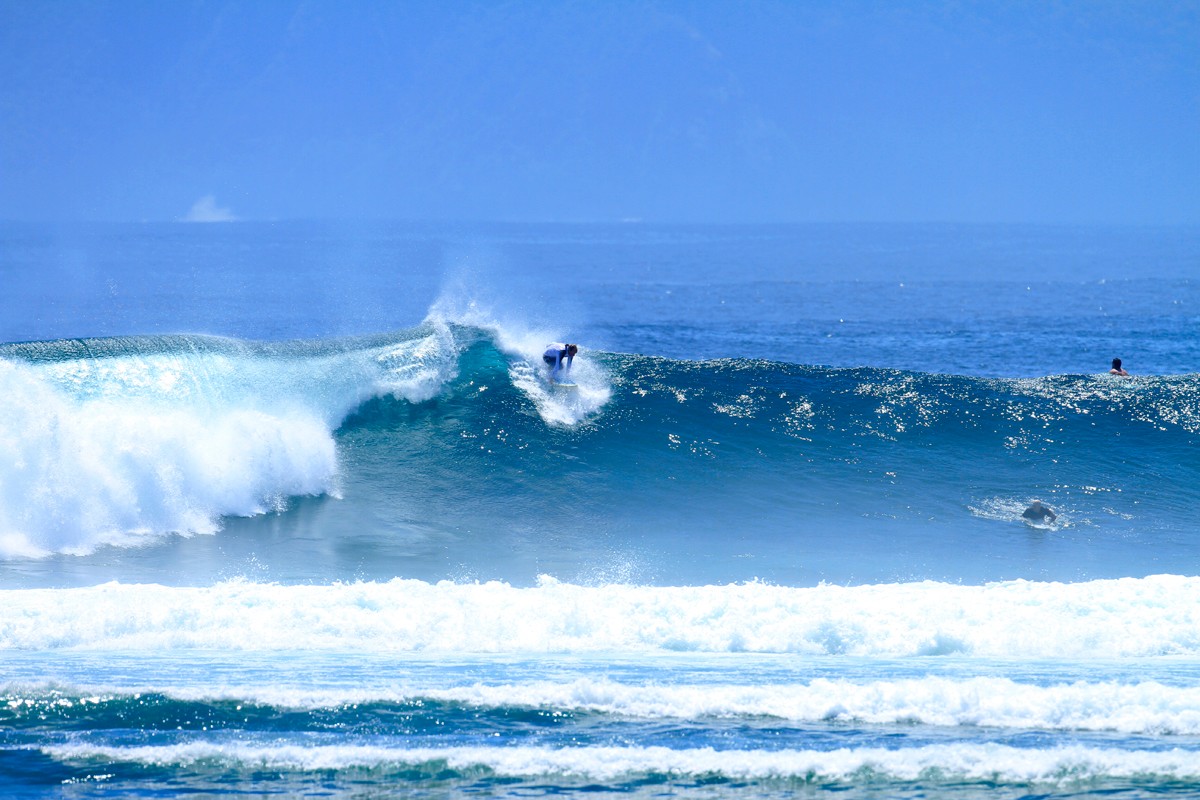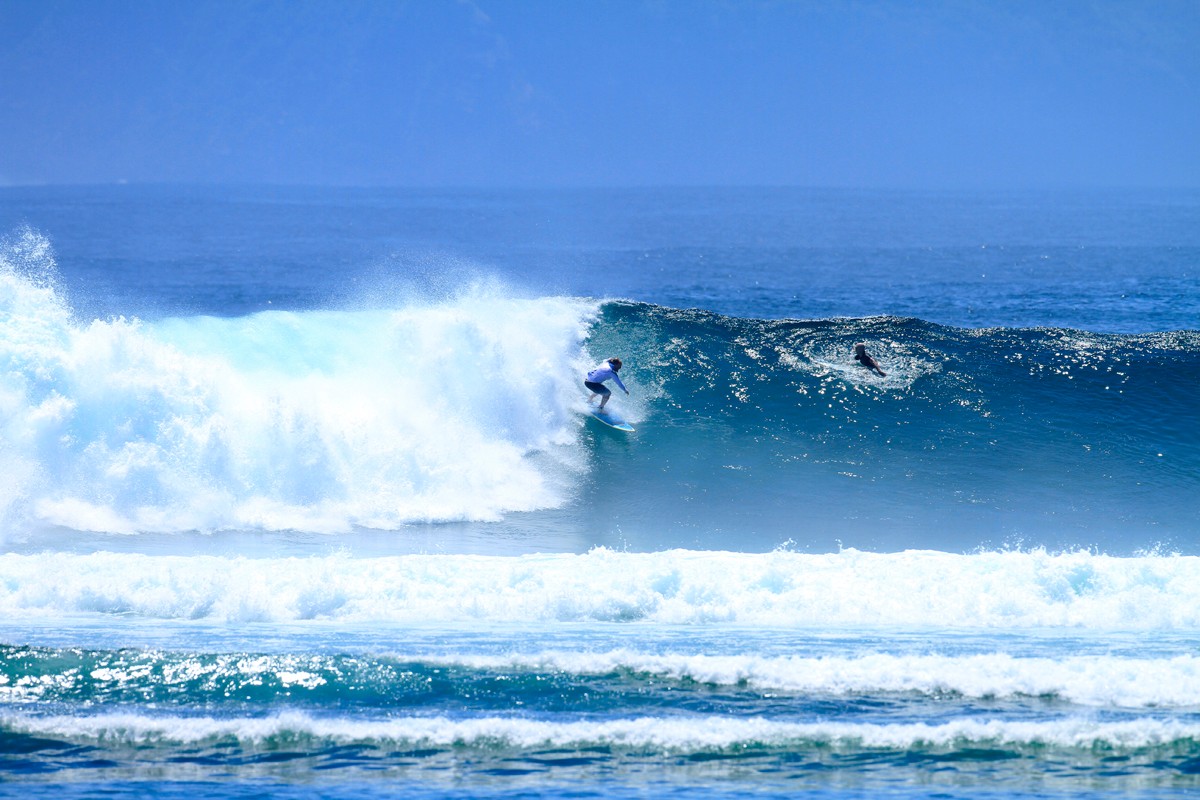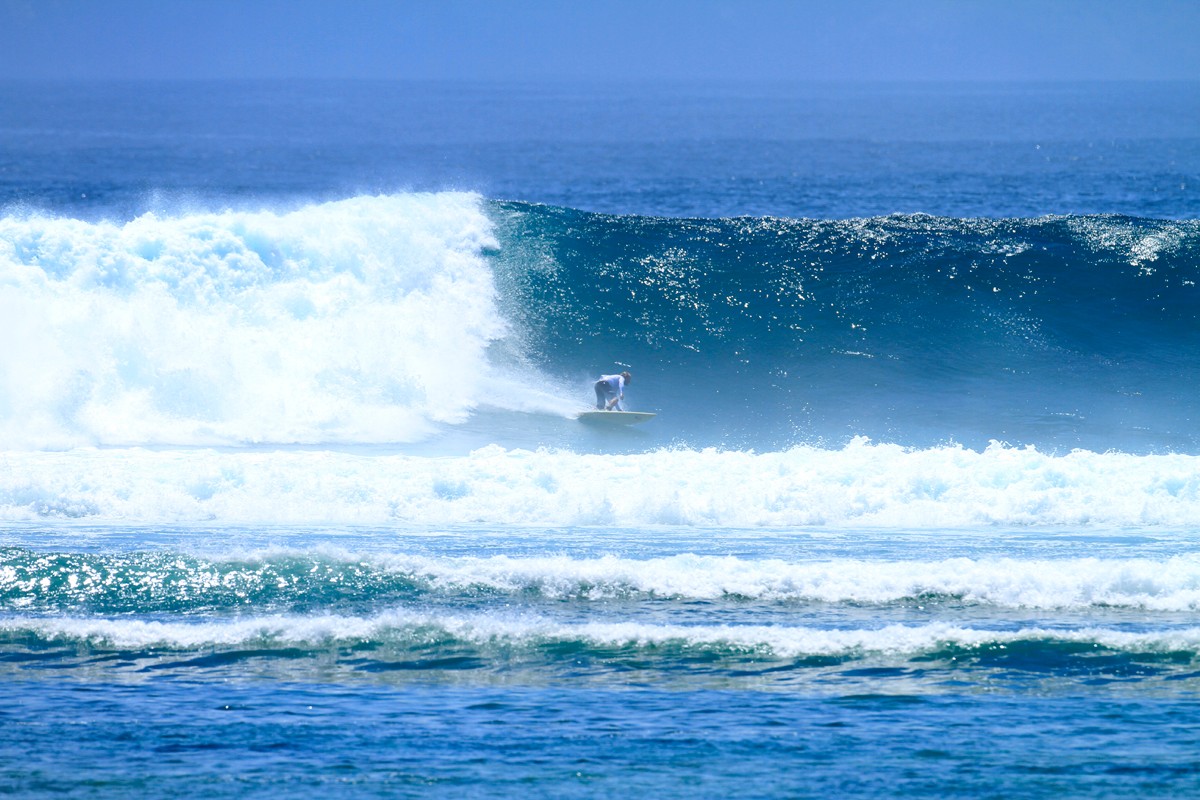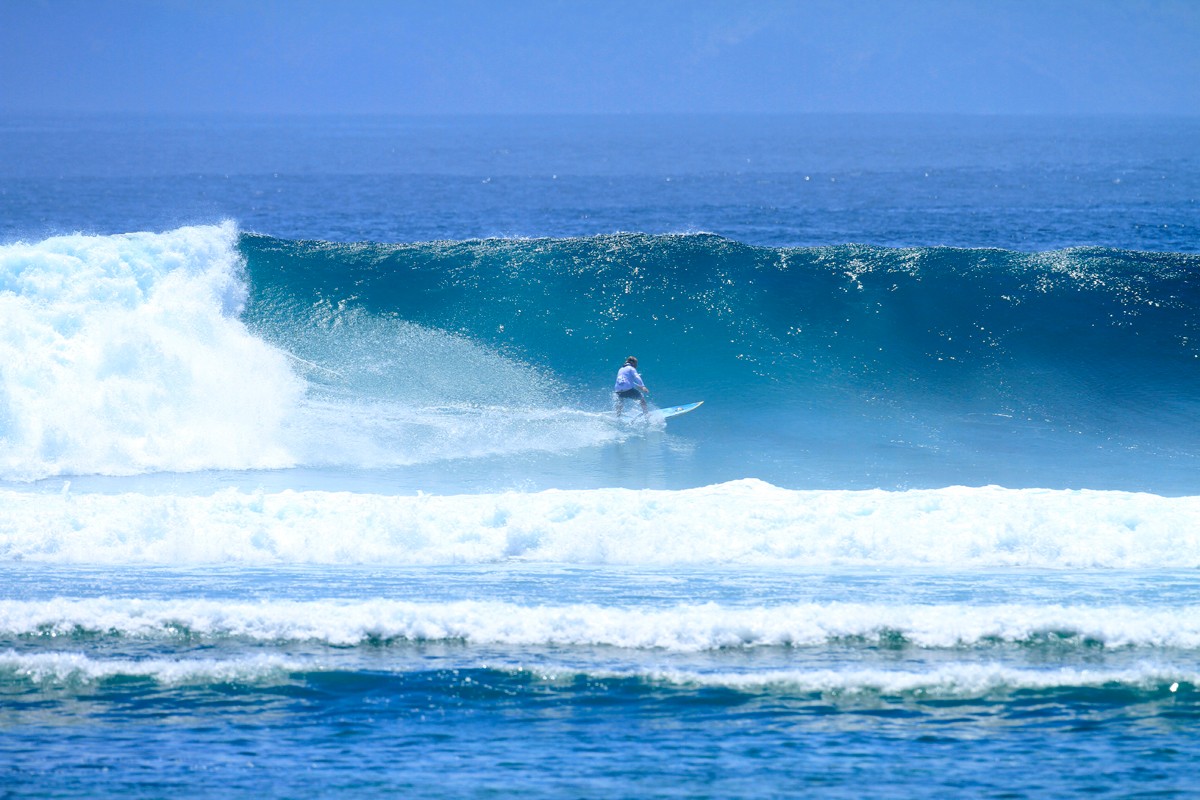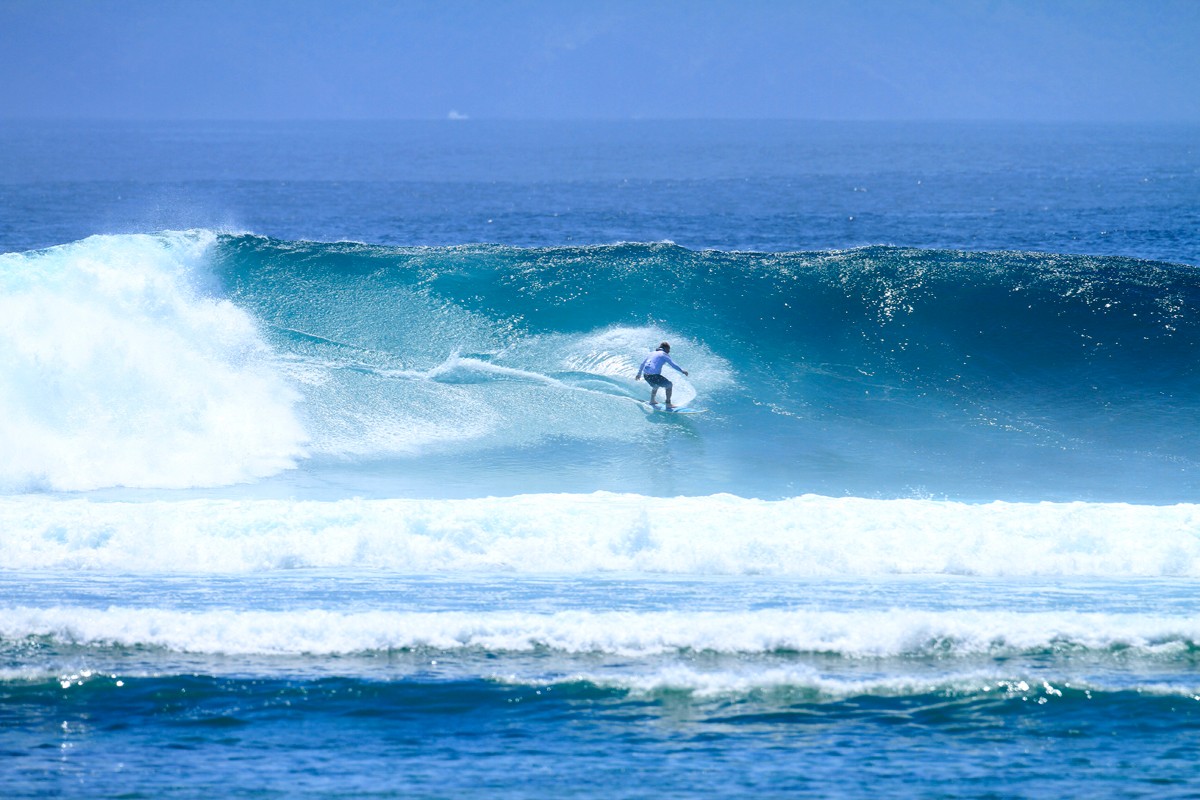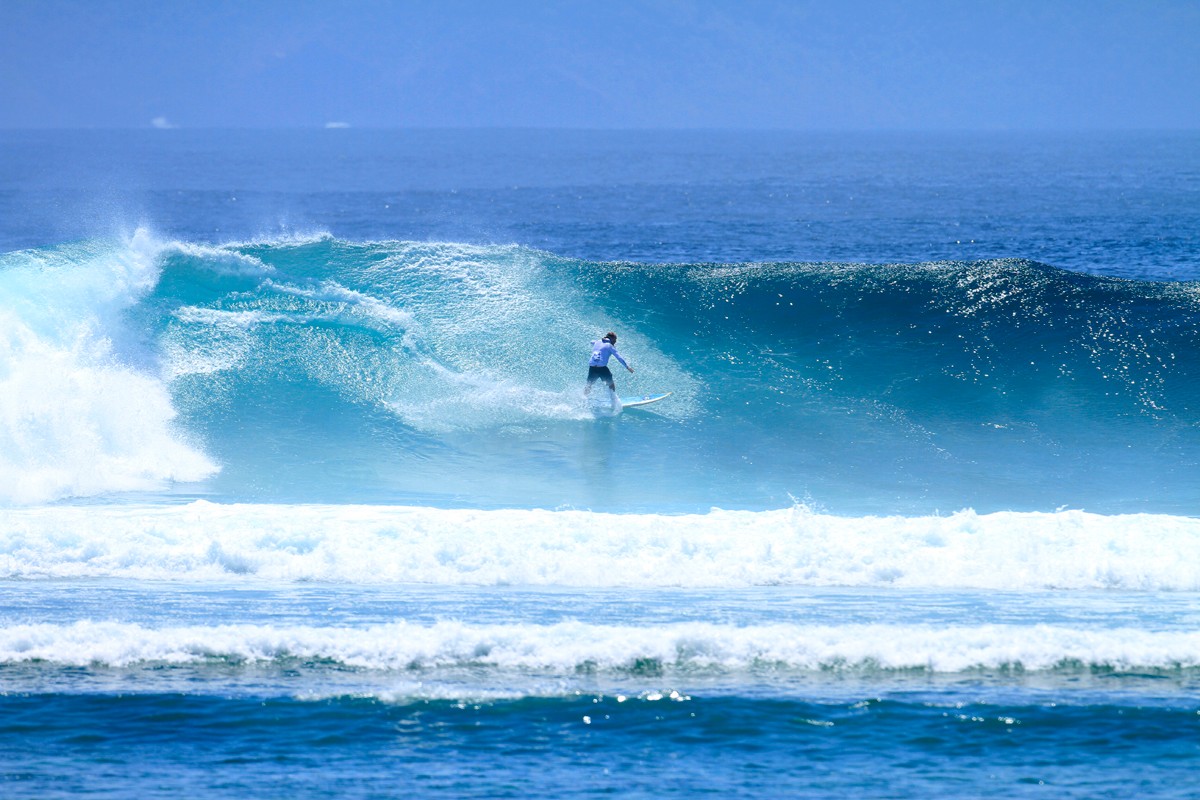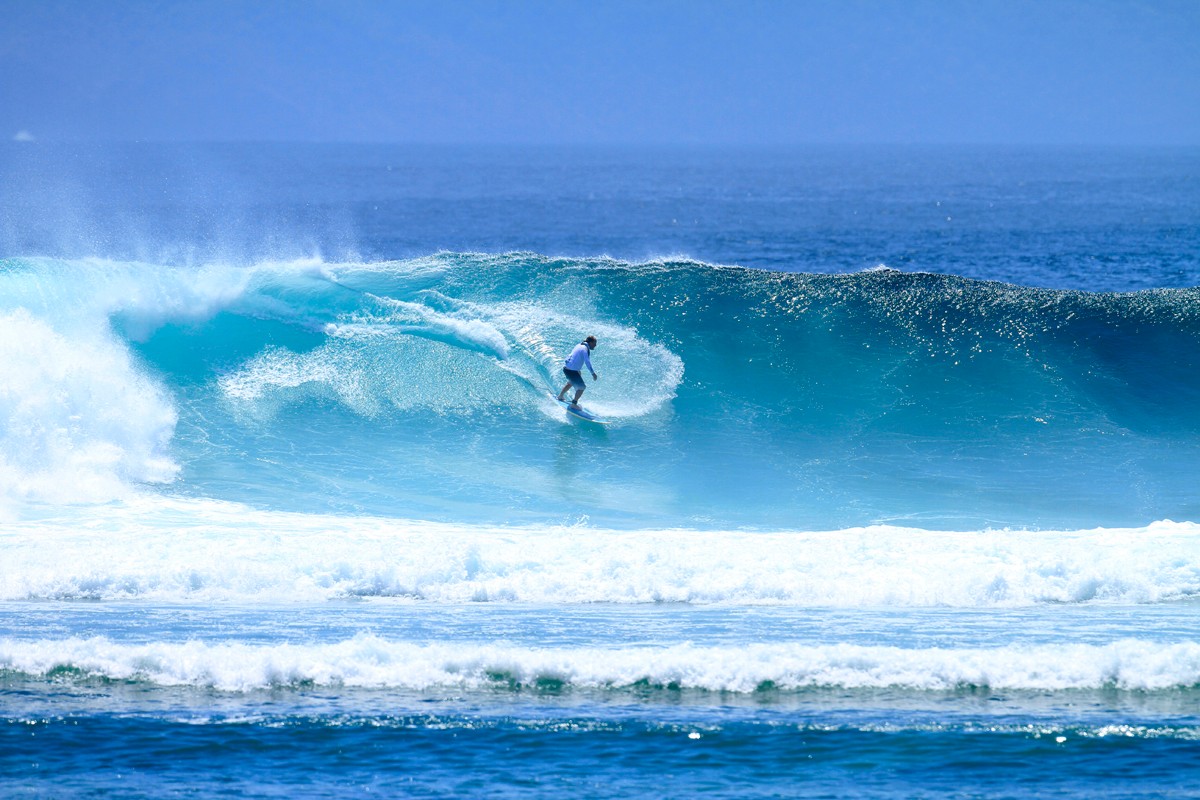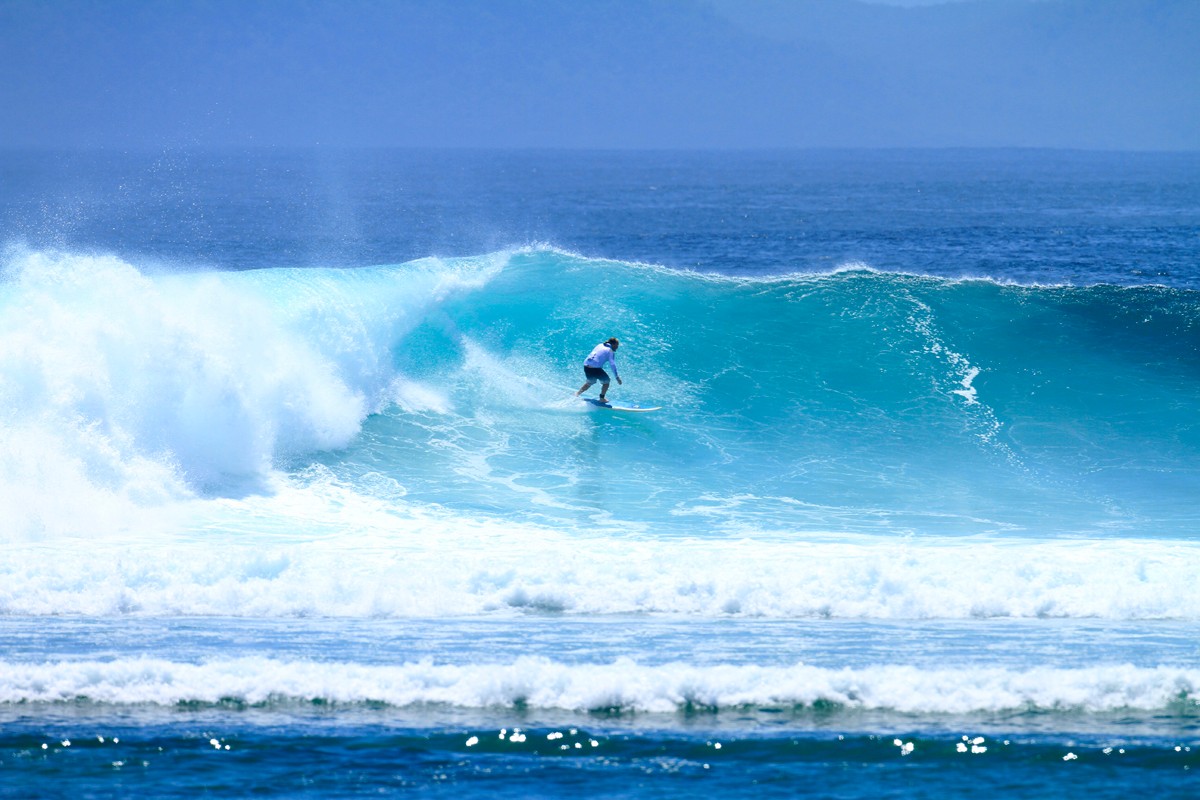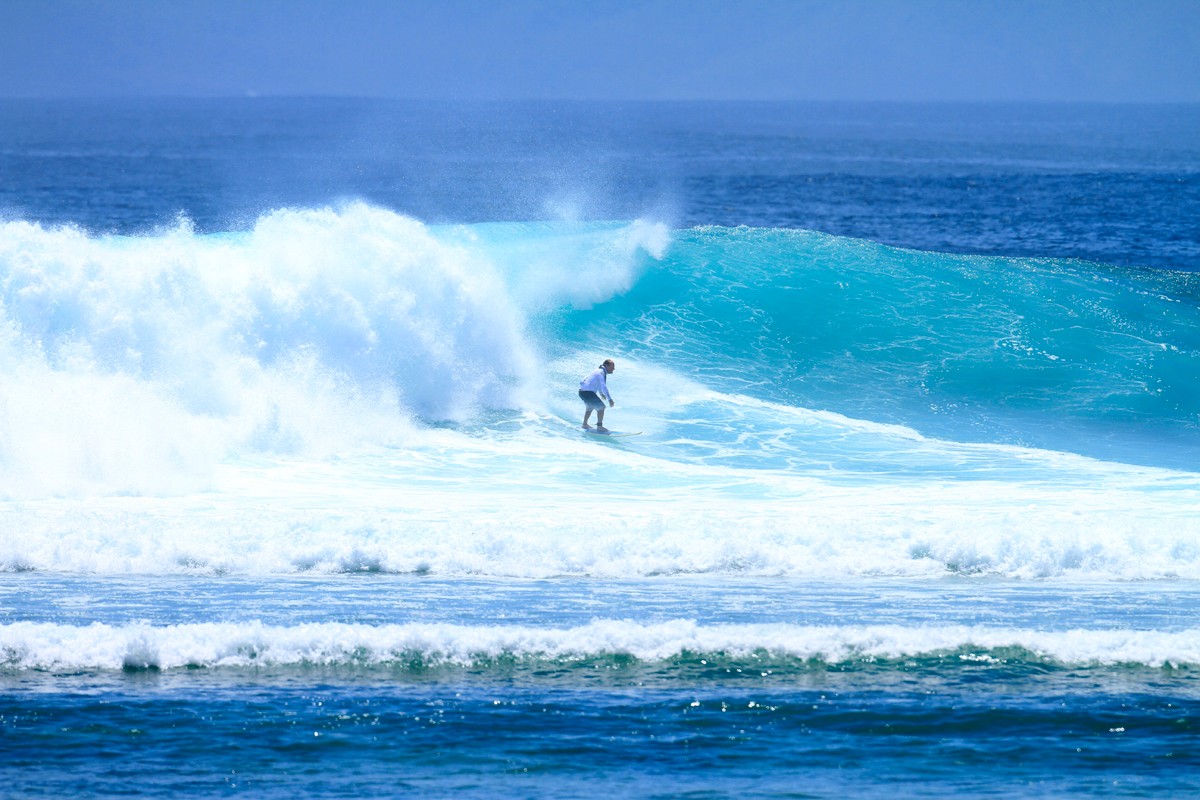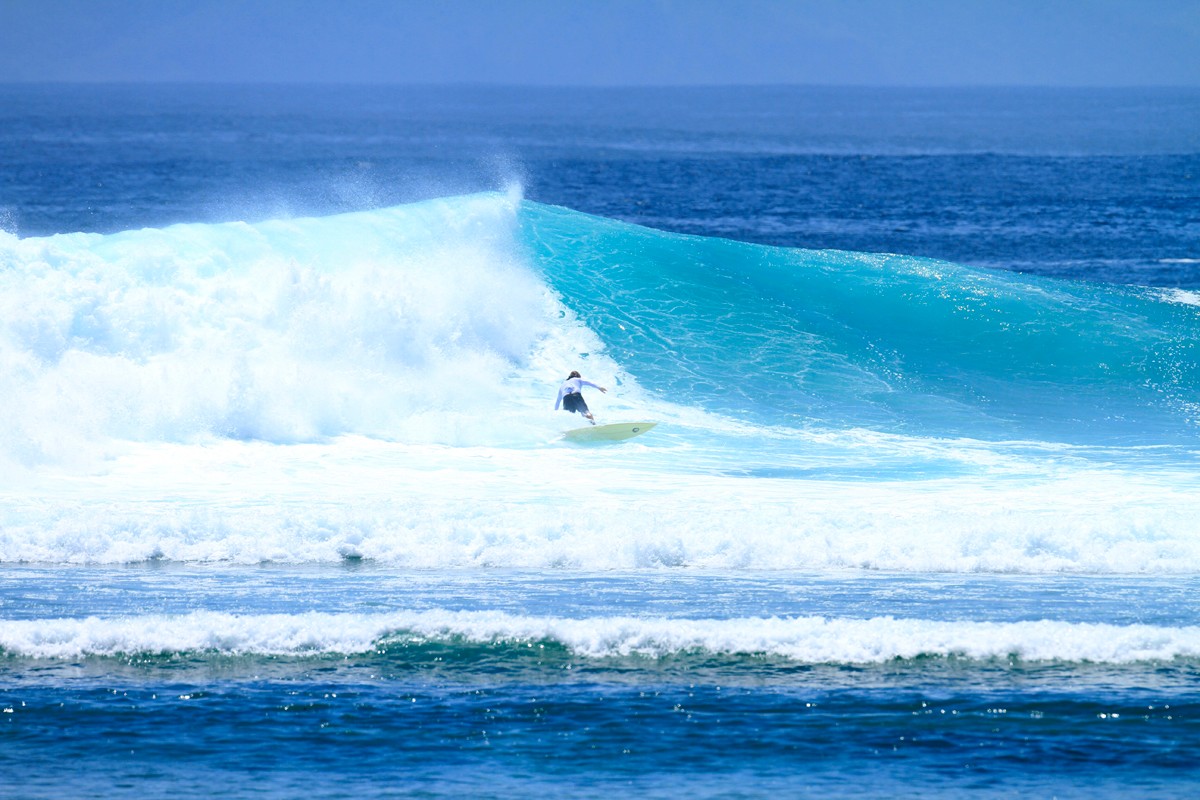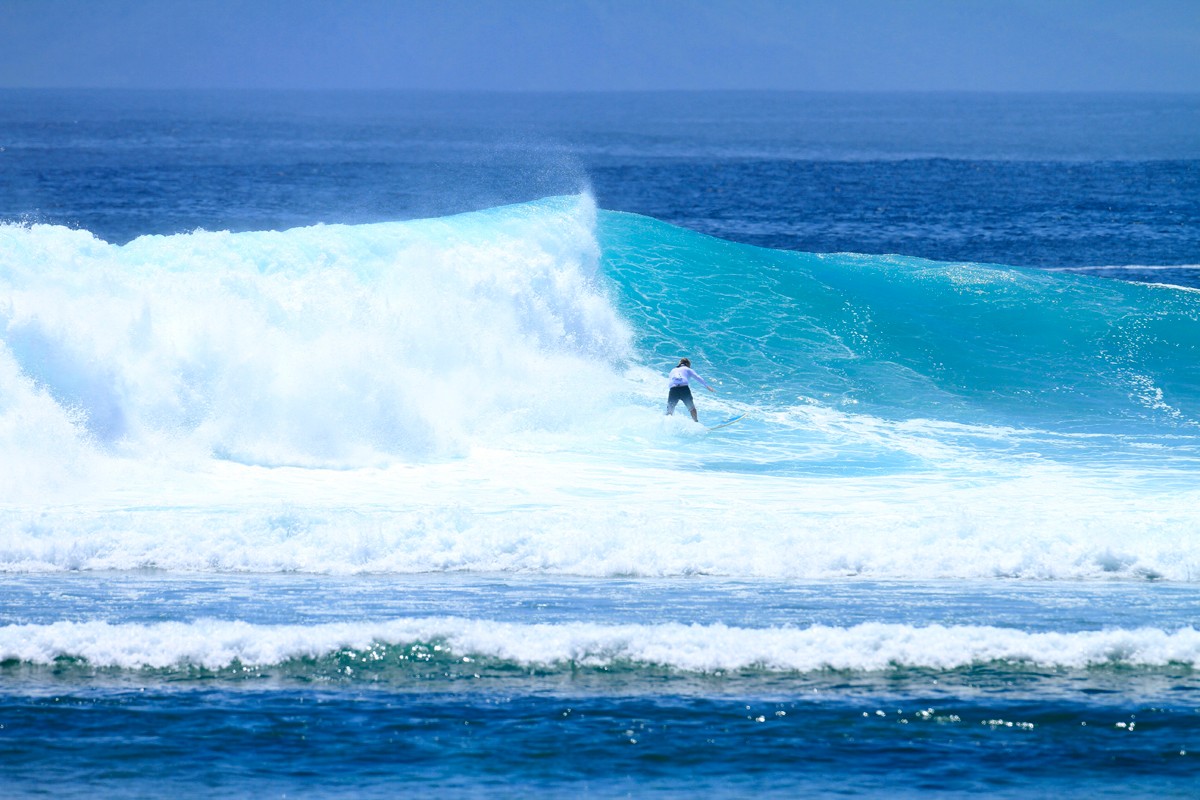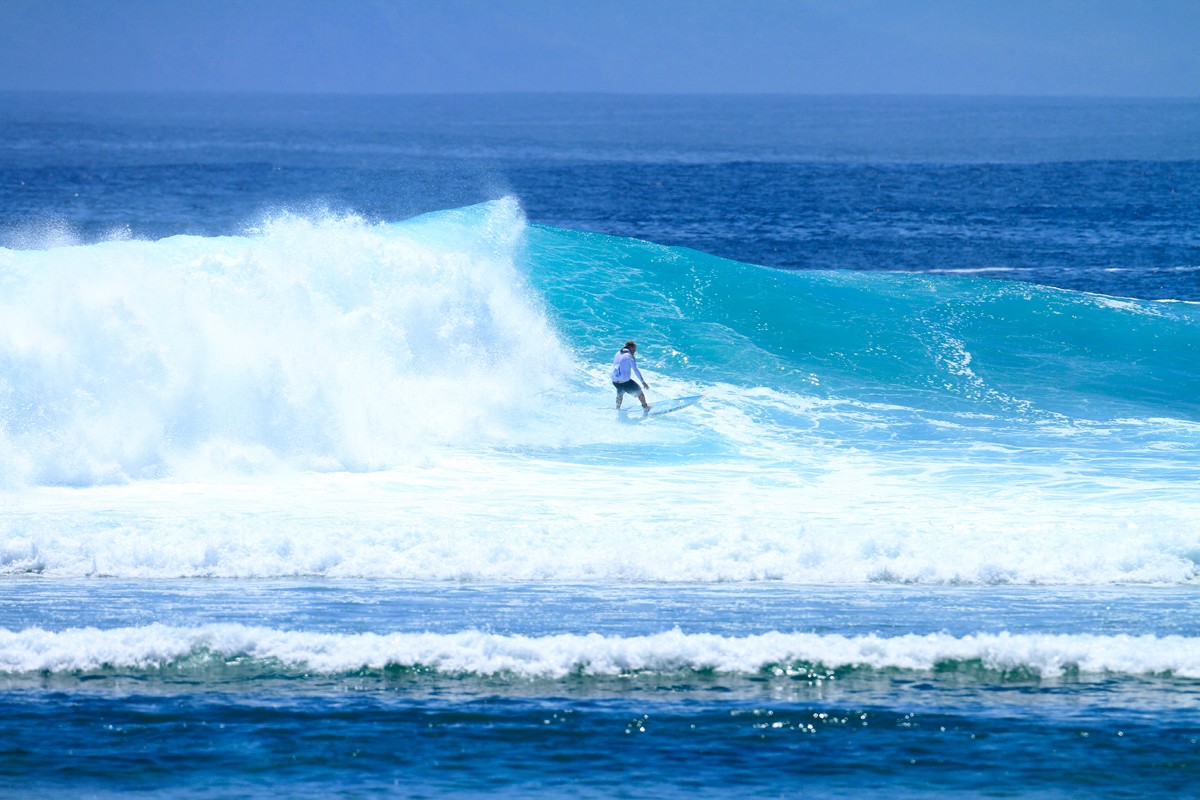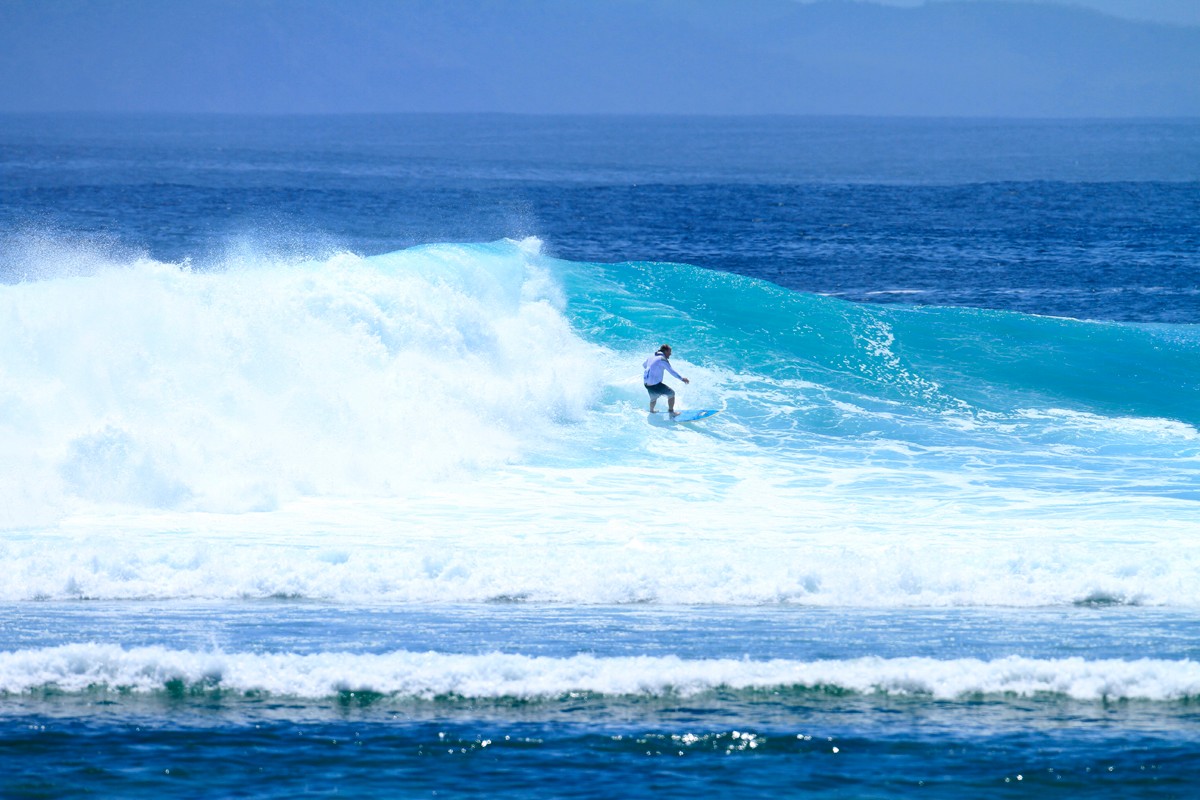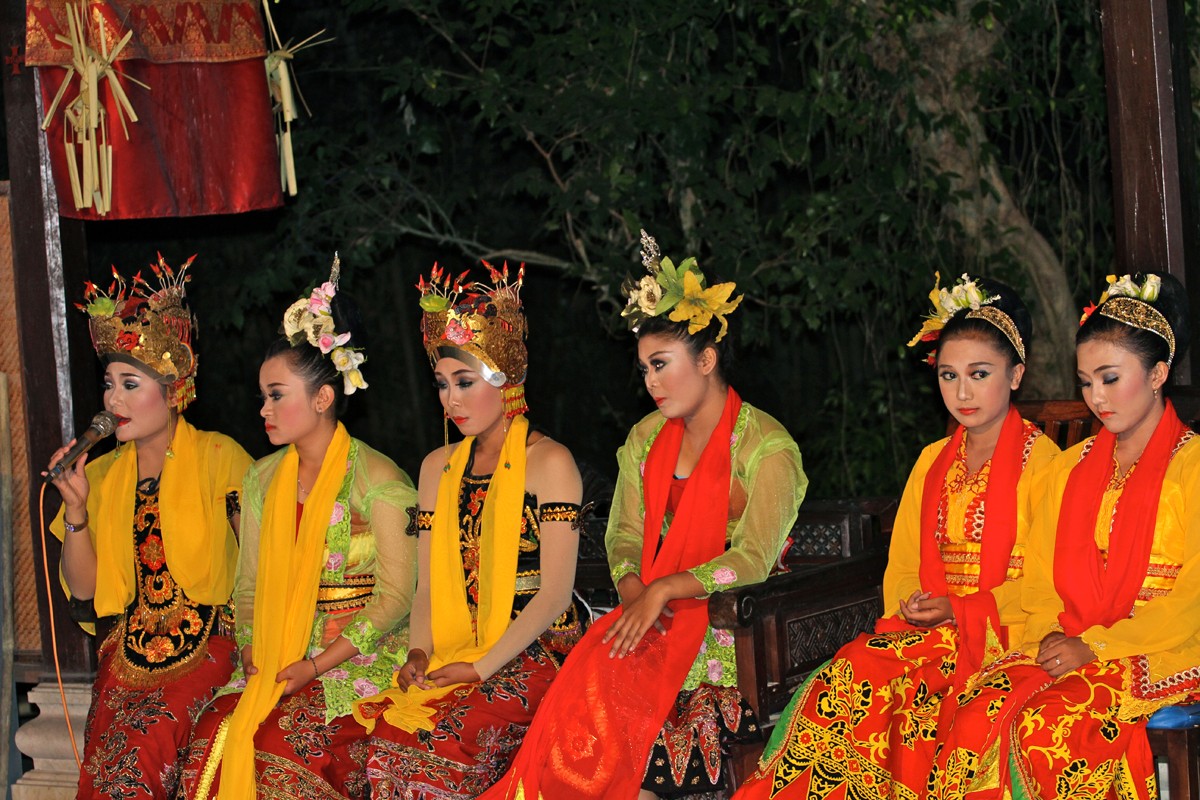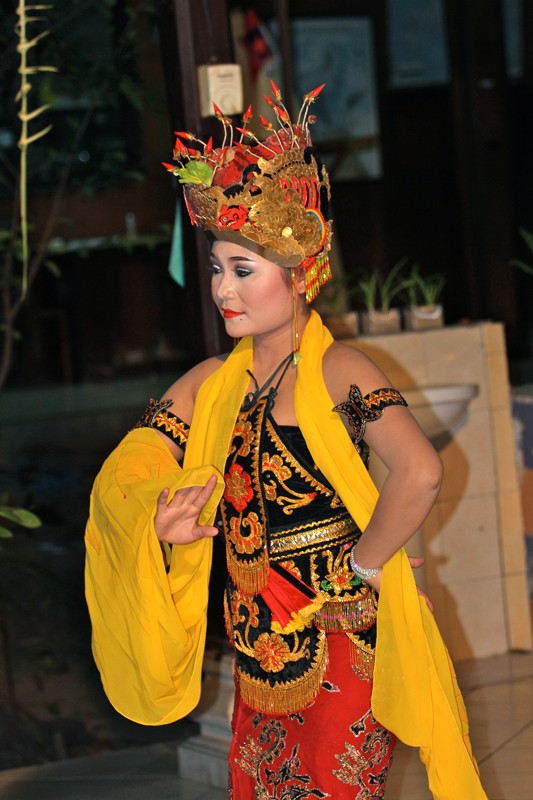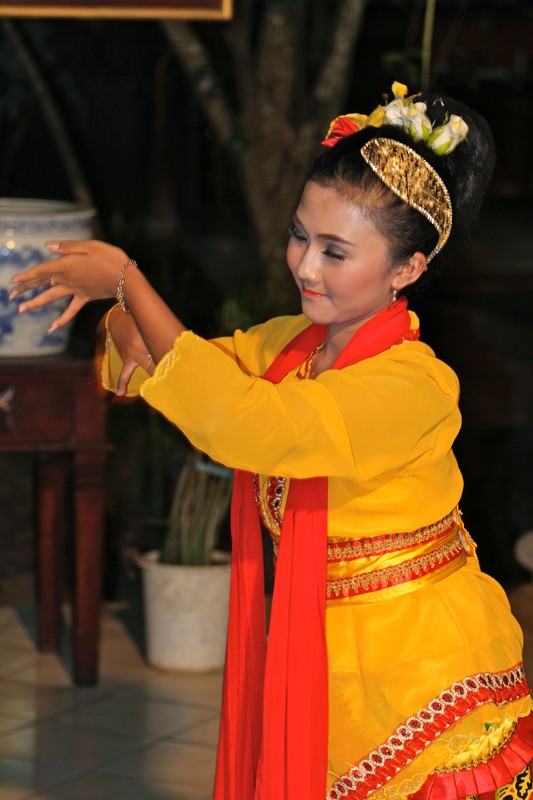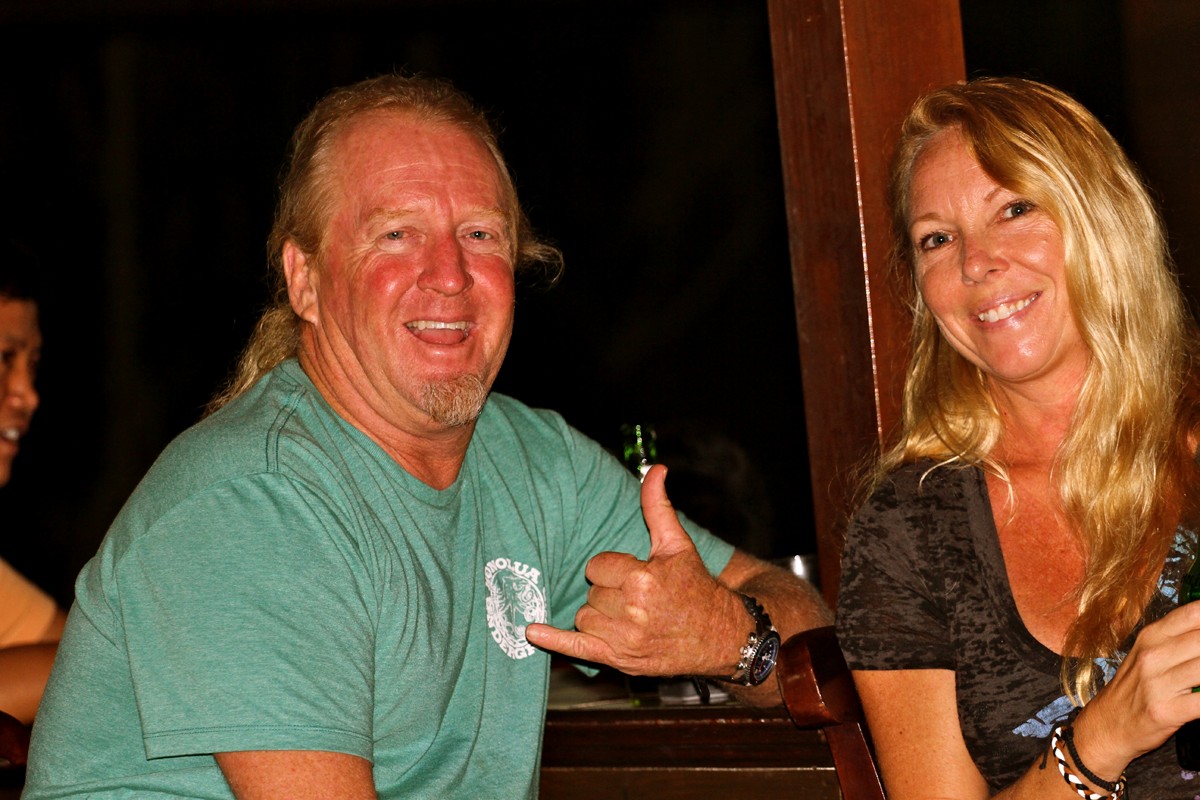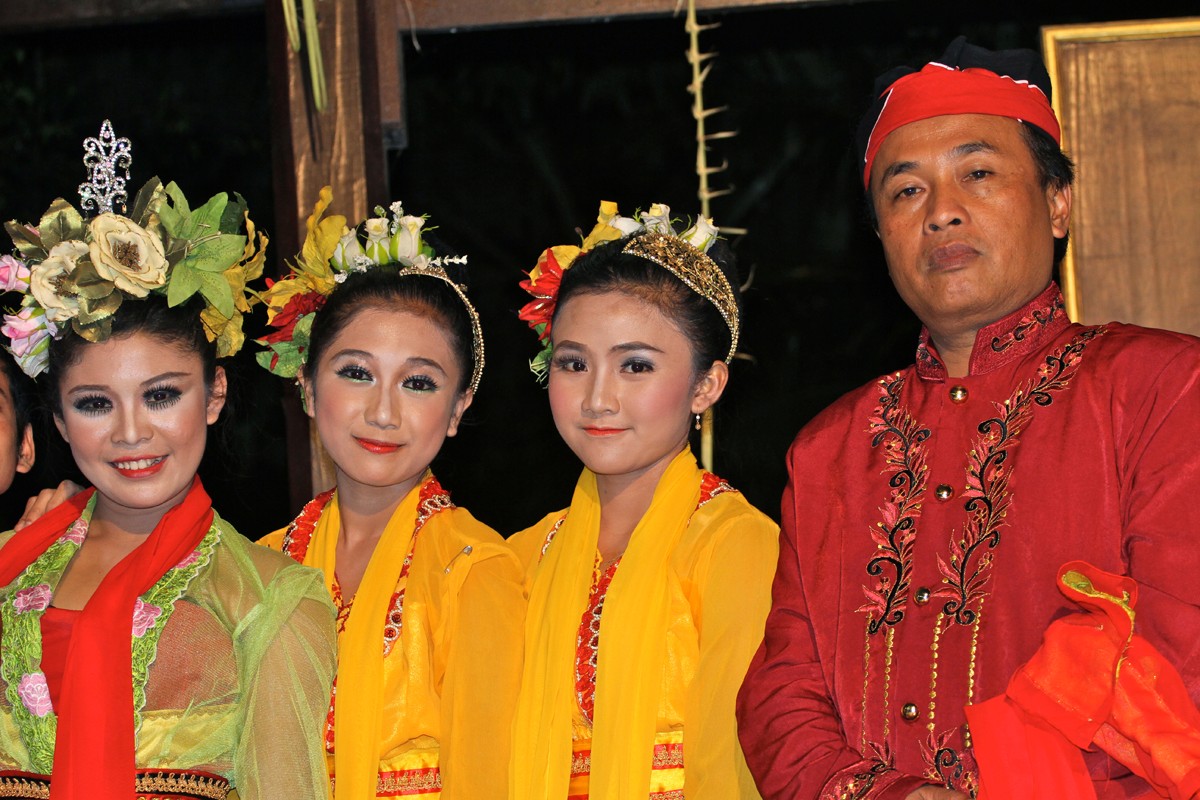 ---
2013 Part Two – P-Pass
David, his wife Patty as well as Lizzy and I headed to Micronesia during the fall and what a wonderful time we had with all our friends.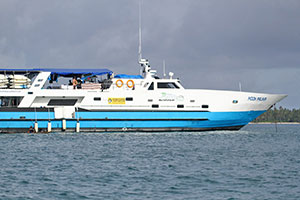 Patty is a great woman and an accomplished surfer in her own right. Her only downfall is that she gets sea sick. Well we thought that would be an issue as in Micronesia you spend 8-10 hours a day on the boat. How wrong we were – Patty just stayed in the water all day long every day! She had her lunch in the water – snacks in the water – drank water in the water – had coconut water in the water – and guess what? She got more waves than Dave and I combined!!
It was so much fun and the waves cooperated big time!!! We got sick waves, had fabulous meals and with swilly, Asher, alloise and all our other great friends around it was one of the best trips ever.
One of the things that happened early on in the trip as we all were surfing on a small day at mounts pass was that Lizzy was snorkeling around us as we surfed and all we could really see was her white butt as she was chasing around the little reef sharks that are all over the place. She kept raising her head above the water saying "there's two more over hear or " there's one right under you!" Then at some point we looked over and she was hauling ass back toward the boat and we all started yelling "where are you going?" When she scrambled up on the boat she yelled back "there's a big one out there that started chasing me!!!"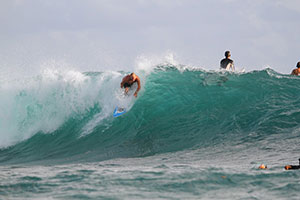 For the most part the sharks in Micronesia are like dogs – curious but harmless. But also like dogs, you occasionally find one that won't back down!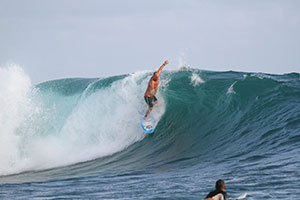 One of the other funny things that happened that day was that Patty's ass started to look bright pink. The sun there can be very strong and sun screen is a must. Patty is known to be very strong willed (to put it mildly – god love her) and when we pointed it out she responded "I'm half Samoa'n and never get burned" needless to say she had a difficult time sitting down for a few days after this and regularly used sun cream after that day!!!
David is a great guitar player and can remember tons of songs – and yes Dave I like your singing too! We had some great jam sessions and even got some of the other guests to join us as well.
In Pohnpei they enjoy Betel nuts and a drink called sacal. It is a local variety of kava and is made with hibiscus bark. It is also very strong, much stronger than the normal kava in my opinion. One night after surfing and fishing all day we decided to relax at the bar and have some sakal with the boat captain Jerry and his wife.