BUZ MOFFETT: A REALTOR THAT SURFS OR A SURFER THAT SELLS REAL-ESTATE?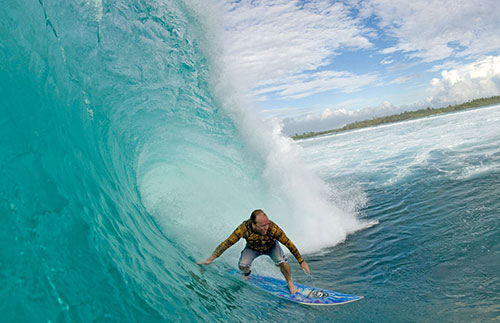 Being raised in Lahaina in the 70's was fun, to say the least. Everything was happening, the building boom, the tourist industry, the waves, Maui was becoming a world class destination. With my family being heavily involved in the building industry of the late 60's and into the 70's and 80's I could see that things where changing fast. Life is full of compromises, but where do you draw the line? Leaving Hawaii was mine.
After surfing through high school at Lahainaluna and moving to the Big Island for two years at UH Hilo I finally made it to Oahu and the University of Hawaii. Three years later and lots of surf, I was back on Maui ready to make a name for myself. Having come to the realization that surfing for a living was out of the question (the pros at that time made less than waiters) my mom convinced me that to have a real-estate license couldn't hurt. 1982 seems like a life time ago now but you know what they say "always listen to your mother".
Real-estate has been good to me. What other industry can you work in that mandates fun.
I used to joke that I made my best contacts while in the water. Guess what, its true. I have been blessed with meeting some of the most incredible people through my work and having the pleasure of helping them purchase their dream properties. Don't get me wrong, I have a strict business ethic, WORK HARD PLAY HARD.
After setting up my own office in 1991 I soon learned the down side of being the boss of a real-estate firm, if you spend all your time keeping your sales people busy you don't have time to make any sales. You may remember the early nineties were not that friendly to realtors, or any one for that matter. Back to basics, I downsized my office and started doing what I love, meeting fantastic people and helping them purchase their dream. It sure is easy to fall into that rut called reality. Home, office, cars, mortgages, kids (love the Kids) and all the responsibilities that come with "success".
Is there still time to surf? Oh Ya, you make time. Having made a yearly migration chasing the big ones through the South Pacific and the Indian Oceans I can tell you from experience that nothing motivates me to work harder than a good surf trip. Where am I now? I still spend most of my time helping friends, new and old, buy into the dream here on Maui, but I have been spending more and more time on Molokai "The Most Hawaiian Island". Just remember the next time you are in the waters of Maui or Molokai and see a guy with a big smile on his face you might be looking at the SURFER THAT SELLS REAL-ESTATE!

Click the wave to join Buz on his exotic surfing adventures in Indonesia and around the globe…